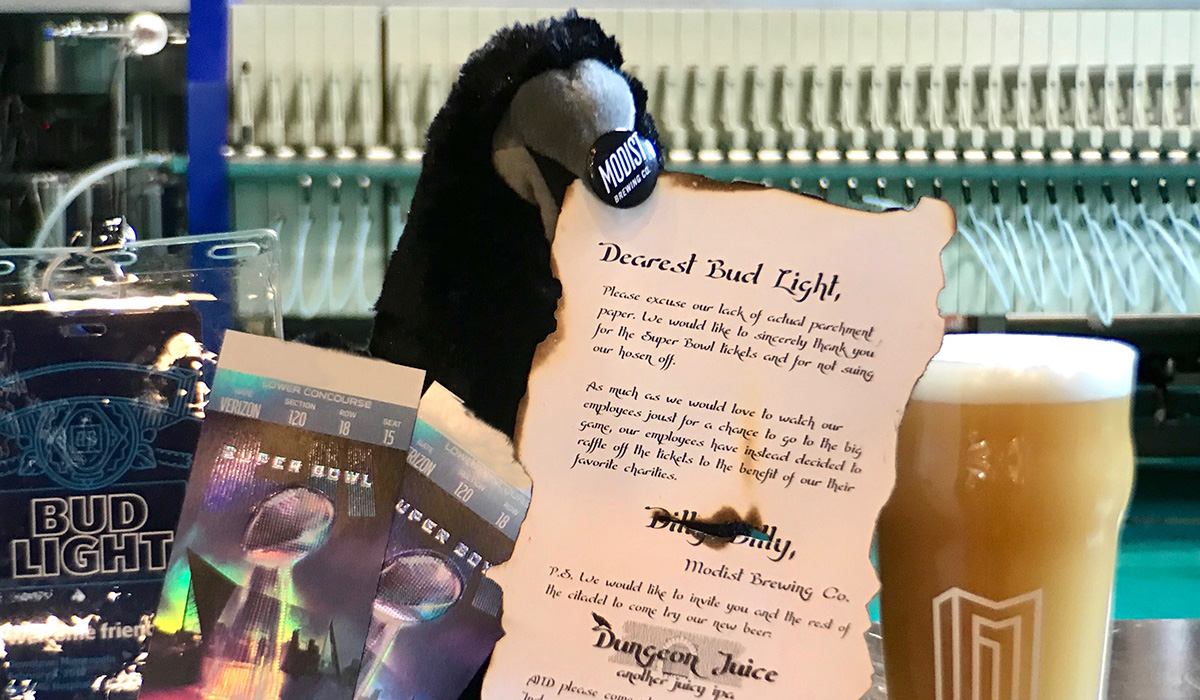 Modist Brewing Raffles Super Bowl Tickets from Bud's "Dilly Dilly" Cease and Desist
Remember the Minneapolis craft brewery that received a cease and desist notice after naming a new double IPA "Dilly Dilly" after the Bud Light commercials? As part of the good-humored peace offering that went viral in December 2017, Bud offered up Modist Brewing employees two Super Bowl LII tickets, which will be played Sunday, Feb. 4 in Minneapolis.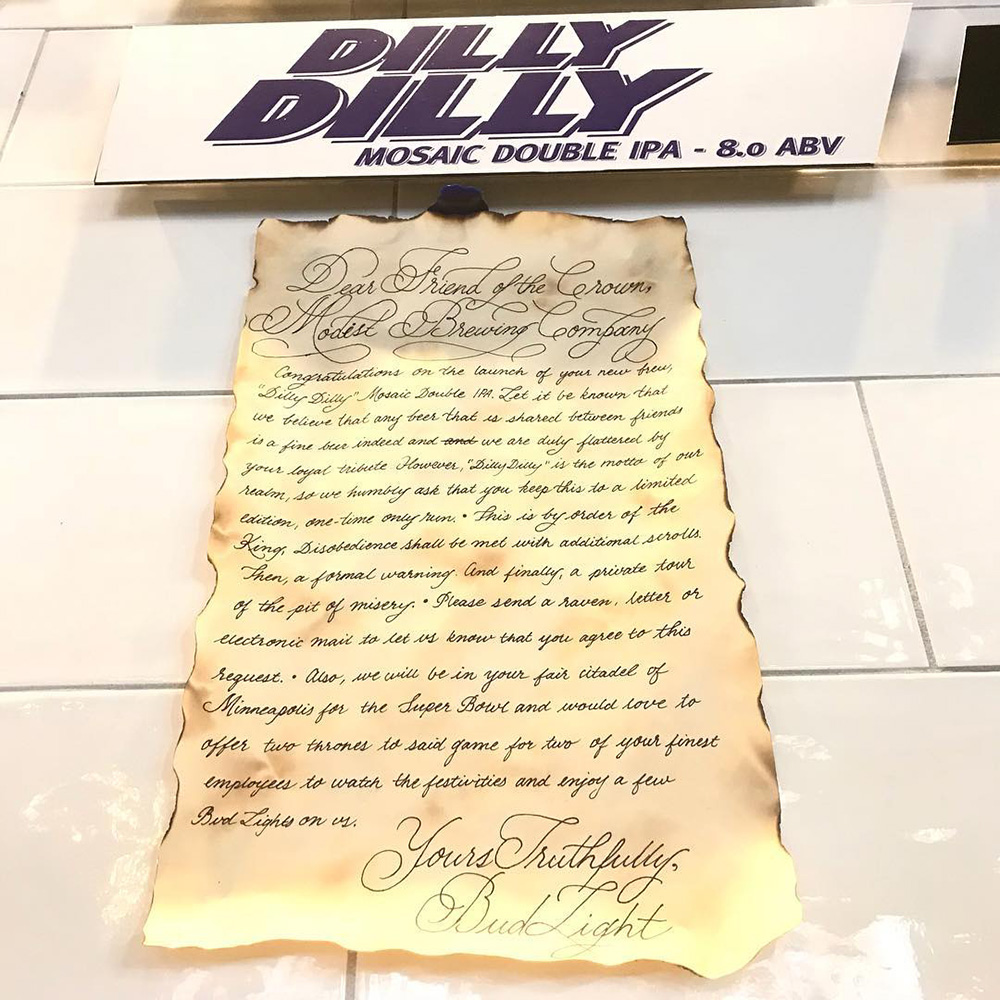 After a ton of speculation on how Modist would choose employees to take advantage of the tickets, the independent craft brewery made an announcement on social media Monday. Modist released a photo of Harry, its stuffed pet raven, holding a scroll (just like Bud's town crier character who delivered December's cease and desist) that reads:
"Dearest Bud Light,
Please excuse our lack of actual parchment paper. We would like to sincerely thank you for the Super Bowl tickets and for not suing our hosen off. As much as we would love to watch our employees joust for a chance to go to the big game, our employees have instead decided to raffle off the tickets to the benefit of our their favorite charities."
That's right. The Modist Brewing employees are giving up their dibs on the tickets, and now they're up for grabs in a raffle. Each raffle entry is $25, and there's a limit of two raffle entries per person. The brewery is limiting the raffle to 2,000 entries, which means your chances of winning are about 1/1000. The drawing is set for Saturday, Feb. 3 at 9 p.m. local time at Modist's taproom. If you're close enough to get into the raffle, check out this blog post with more about the rules.
"It's a win-win-win and we're grateful for Bud Light's generosity – they didn't have to give us those tickets." Modist Brewing Co.
"It'll also be nice to make two seats – which are currently selling for several thousand dollars each – available to two lucky Minnesotans who may not otherwise be able to afford them. It's a win-win-win and we're grateful for Bud Light's generosity – they didn't have to give us those tickets," the founders say in a statement. They agree raffling off the tickets was "an easy decision."
(VISIT: Find a U.S. Brewery)
"Rather than quibble over who among the 25 members of our company would get to go to the Super Bowl, we thought we could use the tickets as an opportunity to give back to the community that has sustained us for nearly two years now," they say. "We have a list of charities that are near and dear to our owners and employees and will be using 100 percent of the proceeds raised as part of this raffle to benefit those causes and to help focus some attention to them."
Small breweries are no strangers to strengthening their communities. In 2016, U.S. craft brewers donated more than $73 million to charitable causes.
Modist hopes the raffle will raise $50,000. They want to split the funds evenly across all 25 charities on their list.
(READ: Brewery's Biodegradable Six-Pack Rings Hit Grocery Stores)
Since I'm among the crowd groaning about spending yet another Super Bowl Sunday watching Tom Brady and the Patriots, I'm already considering Modist Brewing's classy decision the most enjoyable part of the game!
CraftBeer.com is fully dedicated to small and independent U.S. breweries. We are published by the Brewers Association, the not-for-profit trade group dedicated to promoting and protecting America's small and independent craft brewers. Stories and opinions shared on CraftBeer.com do not imply endorsement by or positions taken by the Brewers Association or its members.