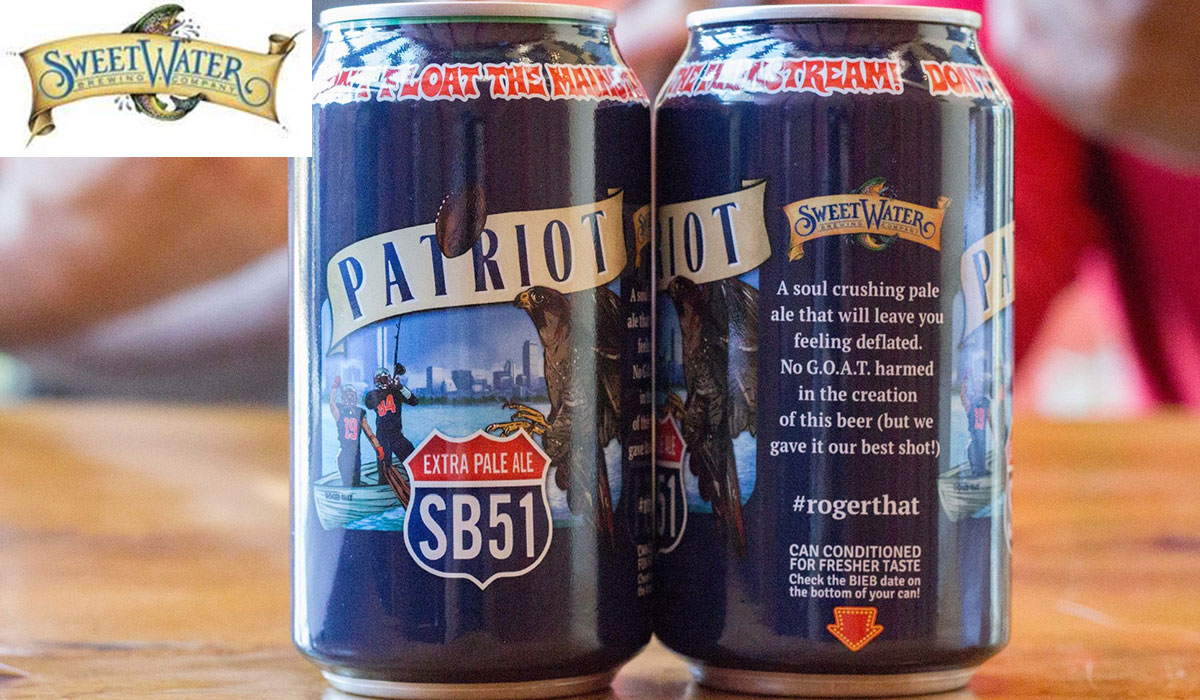 Atlanta's SweetWater Releases Patriot Beer, Makes Good on Super Bowl Bet
Atlanta Falcons fans just want to forget about the super bowl, but reminders are everywhere, including a limited release of a Patriot beer from Atlanta's SweetWater Brewing.
The New England Patriots stunning come-from-behind super bowl win still stings for Falcons fans, including those at SweetWater, who are (painfully) making good on a bet with Boston-based Sam Adams — and what a bet it was.
The stakes were high. The losing brewery would have to wear the other team's colors for a day (ouch), send a brewer into enemy territory to work as an intern, as well as rename a beer after their opponent.
(MORE: SweetWater and Sam Adams Talk a Little Smack on Twitter Ahead of the Big Game)
Last week, brewery employees showed up to work dressed in Sam Adams gear. A tap handle featuring Patriot Extra Pale Ale replaced SweetWater's signature 420 Extra Pale Ale at the brewery too, adding insult to injury for Falcons fans visiting the brewery.
By Wednesday's brewery tour, SweetWater remorsefully posted photos of "these god awful" cans of Patriot Extra Pale Ale on social media. The label describes the SweetWater Patriot beer as:
"Soul crushing pale ale that will leave you feeling deflated. No G.O.A.T. harmed in the creation of this beer (but we gave it our best shot.)" #rogerthat
(For those still Googling "G.O.A.T." — it's slang for Greatest of All Time, referring to Patriots' QB Tom Brady.)
(MORE: Craft Brewers Send a Message: Drink Beer Fresh)
it's the bet that keeps coming back to bite us in the ass @SamuelAdamsBeer. We have 100 of these god awful cans at tours for souvenir beer pic.twitter.com/hWNkJtBihQ

— SweetWater Brewery (@sweetwaterbrew) February 15, 2017
Sam Adams is enjoying the spoils of victory, saying on Twitter that Patriot Extra Pale Ale was made with "water, malt, hops, yeast and the greatest comeback of ALL time. #RogerThat."
Fans who are trying to get their hands on the SweetWater Patriot beer will be disappointed. SweetWater says the 100 cans they released sold out during Wednesday's tour. People on Facebook are begging the brewery to make more, but it's probably safe to say they're ready to put the loss behind them (and honestly, shouldn't we let them?)
CraftBeer.com is fully dedicated to small and independent U.S. breweries. We are published by the Brewers Association, the not-for-profit trade group dedicated to promoting and protecting America's small and independent craft brewers. Stories and opinions shared on CraftBeer.com do not imply endorsement by or positions taken by the Brewers Association or its members.