A Nebraska beer bar owner is making changes to his beer menu to show his support for independent beer.
Matt Myers, owner of The Happy Raven in Lincoln, is removing Anheuser-Busch products from his bar. That includes formerly independent beers AB InBev owns. He made the announcement a few weeks ago in a Facebook post.
"This was not an easy decision," Myers writes in the post. "I am aware that this decision does affect many others in the industry, such as distributors, brewery representatives, etc. I have gotten to meet wonderful people that work for AB InBev, and I want to make clear that this decision was not a personal attack made to negatively affect any of them."
(READ: What Makes a Sour Beer Taste Sour?)
What motivated the change? In an interview with the Omaha World-Herald, Myers says, "It's basically their business practices I don't agree with." He says a bill recently introduced in the Nebraska state legislature struck a chord.
"Without the money and support from Anheuser-Busch and its lobbyists, this bill would never have been submitted. AB InBev is not only attacking craft brewers at a national level, but also at personal levels such as here in Lincoln, Nebraska," he says.
"I want to make clear that this decision was not a personal attack." Matt Myers, The Happy Raven
The Happy Raven has a good rep with Nebraska beer lovers. Earlier this year, readers voted it the state's top beer bar in CraftBeer.com's Great American Beer Bars 2017 poll.
Myers says he's confident his bar staff can point customers who are looking for light lagers towards craft beers with similar taste profiles, like locally made Kölsches and Pilseners.
Beer Bars Supporting Independent Breweries
The Happy Raven is part of a growing number of beer bars that say they're committed to selling beer from independently owned breweries.
Capitol Beer and Tap Room in Sacramento is among them. They announced in late 2016 they were only going to sell independent craft beer.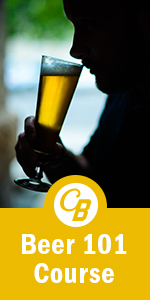 More recently, AB InBev's purchase of North Carolina's Wicked Weed Brewing in May prompted Atlanta's Porter Beer Bar to clear out beer from former independently-owned breweries.
While Atlanta's Brick Store Pub didn't make a big announcement, co-founder Dave Blanchard told CraftBeer.com they'd also made a similar decision.
(READ: 6 Craft Beer Bars That Changed Their City's Beer Scene)
"Because of the Wicked Weed purchase, we knew we had to take a stand," he told CraftBeer.com contributor Ale Sharpton.
Several beer stores, including Brawley's Beverage in North Carolina, have also made that decision. You won't see non-craft on the shelf.
Back at The Happy Raven in Lincoln, Myers tells the Omaha World-Herald he isn't trying to be part of a trend. For him, it's about where he spends his money.
"It's just, where do I want my money to go? I don't want it to go to a place that I don't agree with."
CraftBeer.com is fully dedicated to small and independent U.S. breweries. We are published by the Brewers Association, the not-for-profit trade group dedicated to promoting and protecting America's small and independent craft brewers. Stories and opinions shared on CraftBeer.com do not imply endorsement by or positions taken by the Brewers Association or its members.