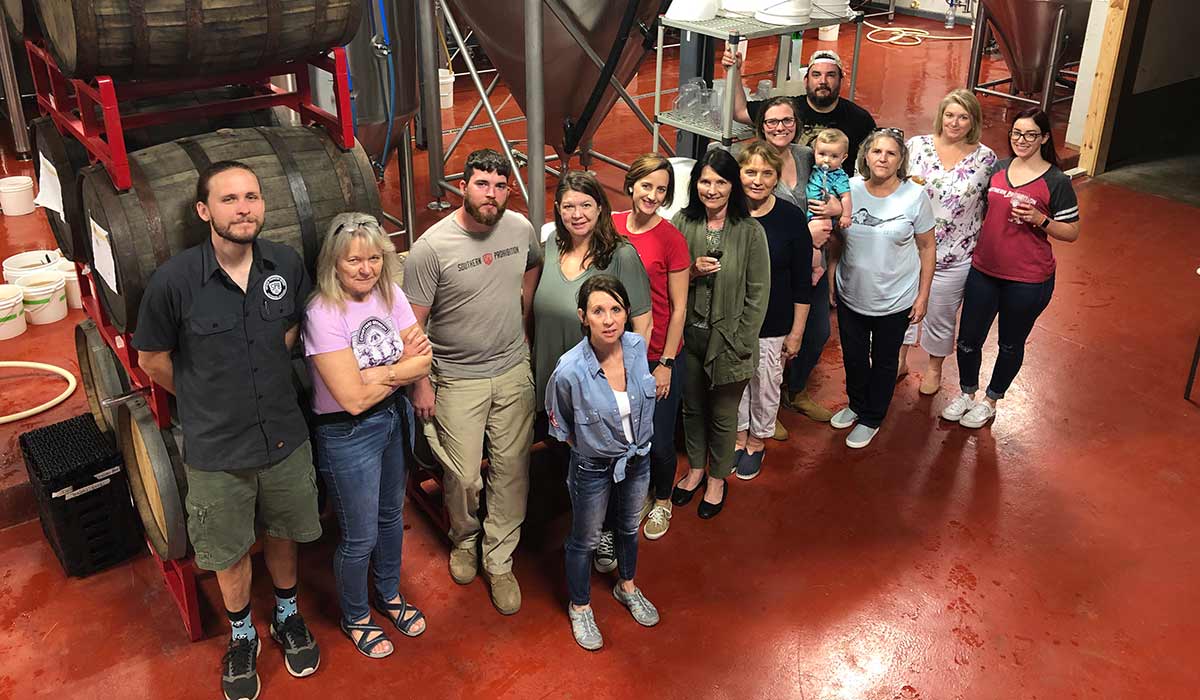 SoPro Brewing Holds 'Bring Mom to Brew Day'
It's not everyday you get to bring your mother to work and show her exactly what you do for a living. If you work in a brewery, you may really embrace the idea of bringing your mom to work (especially if it gives you the chance to prove to her that your days aren't spent drinking beer). Southern Prohibition Brewing in Hattiesburg, Mississippi, gave their employees the chance to show their moms exactly what life looks like in the brewhouse.
Bring Your Mom to Brew Day
Southern Prohibition Brewing (SoPro Brewing) is located in the heart of the south in downtown Hattiesburg. In 2018, head brewer Benjamin Green invited the brewery employees' moms to join them for a brew day. He thought it was a great opportunity to show their mothers what they do. The mom brew day was so successful, the brewery made it an annual event.
He always wanted to take part in Take Our Daughters and Sons to Work Day, a national day that allows kids to get a glimpse into the working world. Green flipped the concept around to give parents a chance to see the inner workings of the brewhouse.
"It was awesome to bring our moms to work and show off what we do every day," says Green.
Introducing Moms to 'Motherboy' Beer
SoPro Brewing planned the day around brewing a beer called Motherboy, a Berliner-Style Weisse with coconut, guava and grapefruit. Green chose it because it's an approachable beer style for non-beer drinkers.
When Green shared the beer style with the mothers in 2018, the women were surprised. Most of the moms weren't craft beer drinkers, and to the novice, coconut, guava and grapefruit sound out of place in a beer. But when they realized Motherboy beer had some of the same flavors found in the cocktails they normally enjoyed, they started to connect the dots and get excited about tasting the beer.
(More: What to Expect When Your Spouse is Expecting a Brewery)
"We utilize the coconut to keep the tartness in check while pushing what our mothers picture a beer is and can be," says Green.
Green says when they tried it, some responded with questions like "This is beer?" and "Beer can be this?"
The brewery employees explained the different techniques, processes, and ingredients craft brewers use. Since Motherboy is a sour beer, the team also described the difference between a kettle sour and other beer souring techniques.
The day also included an in-depth tour of the brewery, a chance to check out the raw ingredients used in the beer, and an opportunity to ask questions. During the tour, the moms showed interest in different aspects of brewing. The tour started at the lab where some moms showed great interest in quality analysis (QA) and quality control (QC) aspects and yeast management. Others were fascinated by the centrifuge in the cellar. All the moms enjoyed stepping up on the brew deck and adding hops to the boil.
(Recipe: Beeramisu: Tiramisu Made with Beer)
At the end of the day, the group ended their shift with a few beers and lunch. Green said that they used the time to break down the misconception non-craft beer drinkers have about beer. Some moms were drawn to a beer called Coconut Puffs, a coconut milk stout. Even though having a "dark beer" made some a little apprehensive at first, once they tried it, the moms remarked how it tasted like coconut and chocolate –they were surprised by how much they liked it.
"There's a craft beer out there for everyone. Beer's flavor profile is across the board," says Green.
Motherboy will be available in the taproom this Mother's Day weekend with distribution to follow. Green and the SoPro Brew team are already looking forward to next year's brew.
"This year was better than last year, and I can only imagine what next year entails," says Green.
CraftBeer.com is fully dedicated to small and independent U.S. breweries. We are published by the Brewers Association, the not-for-profit trade group dedicated to promoting and protecting America's small and independent craft brewers. Stories and opinions shared on CraftBeer.com do not imply endorsement by or positions taken by the Brewers Association or its members.