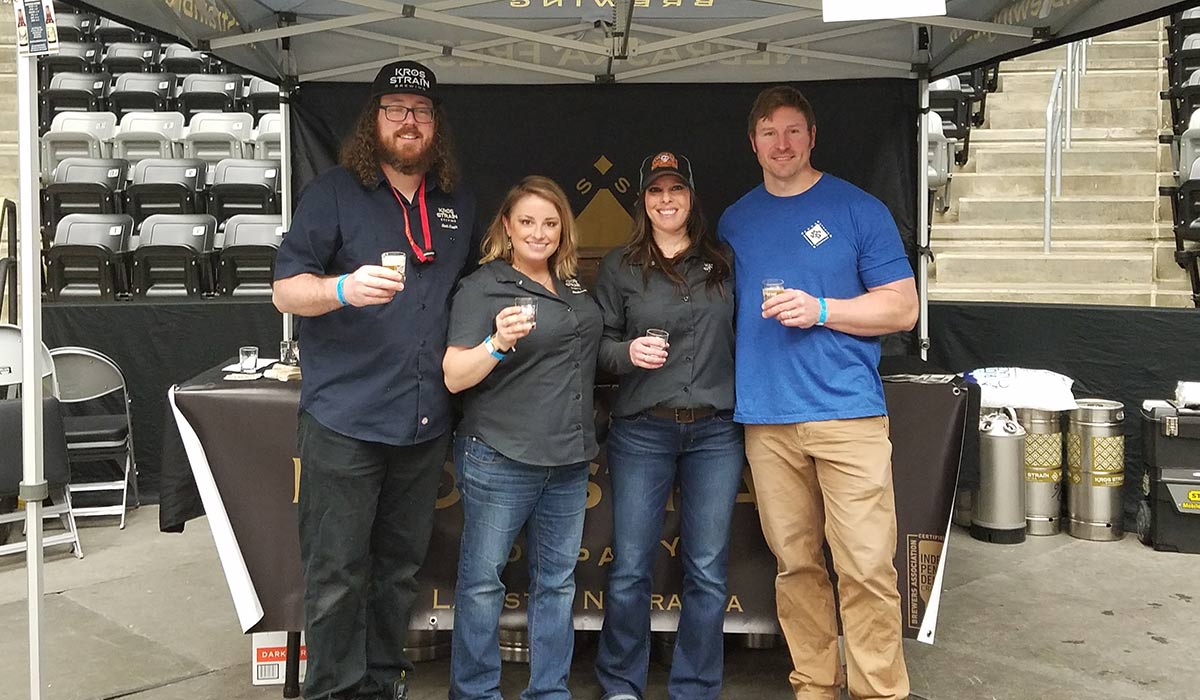 What to Expect When Your Spouse is Expecting a Brewery
You've heard this part of a brewery origin story before: A husband gets a homebrew kit, he falls in love with brewing and decides to open a brewery. The part of the story you don't hear — the part that involves the spouse, who has a fulltime job outside of the brewery, becoming deeply familiar with a ton of things they never planned on — is what Michelle Strain wants you to know.
"I didn't even know how to pour a beer," Michelle Strain of Kros Strain Brewing in La Vista, Nebraska, near Omaha, tells me. Michelle is one of the brewery's four founders, along with her husband Scott, and Bobby and Lacey Kros. Their new brewery hit the ground running by winning silver in the Juicy or Hazy India Pale Ale category at the 2018 Great American Beer Festival — the most-entered competition category — within months of opening.
Her official title at the brewery is event coordinator, but her contribution at the award-winning Nebraska brewery goes far beyond planning events. She spearheads label design and branding. She designed and built the taproom. She's the brewery's social media manager, running Kros Strain's social accounts and producing the content.
The thing is, Michelle doesn't have a lick of previous professional experience in marketing, design or branding. And the brewery isn't her only job. She's a full-time nurse in an intensive care/open heart unit.
(READ: Fans Spot Craft Beer in 'Avengers: Endgame' Trailer)
Leaning on Intuition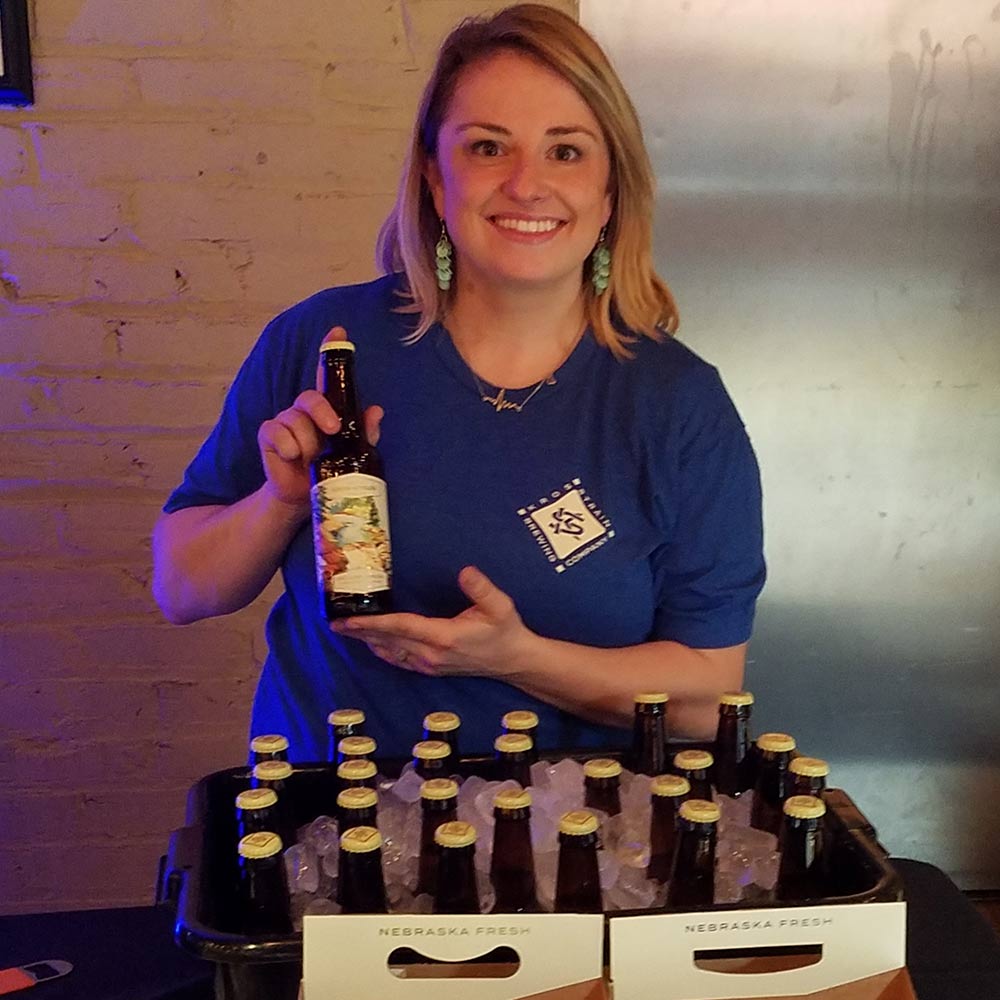 In short, after her husband fell in love with that homebrew kit, Michelle realized: "I had no idea what he's talking about." So she threw herself into learning about beer, and doing everything else she could in order to get the brewery up and running.
She didn't take classes — she's already short on time — so she used her gut to guide her. She found designs on Pinterest that inspired her. She leaned on websites and brands to spark her imagination, which led to the brewery's vibrant, bold taproom and color scheme.
"I hit Pinterest hard," she says.
Her intuition told her that she was far from alone. Surely she wasn't the only spouse who was thrust into running a brewery without any background in beer or brewing.
"There's no guide for the spouses," she tells me. So she built one.
(READ: Beer Moms Who Inspired Breweries)
Her Mission to Support and Inspire Brewery Spouses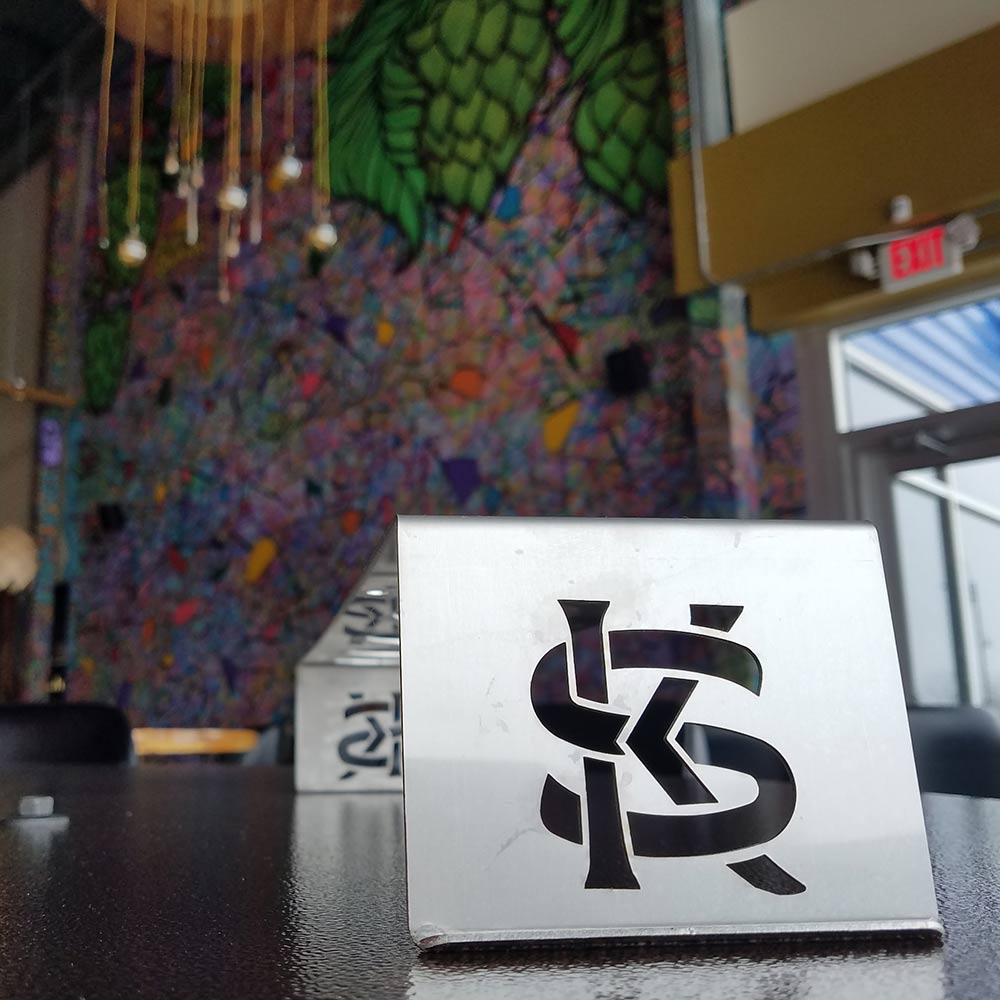 Armed with a 5-page resource guide she compiled, along with a lot of passion, Michelle Strain came to the 2019 Craft Brewers Conference on a mission to reach the other spouses who were in her shoes. She led a meet-up titled "What to Expect When Your Spouse is Expecting a Brewery."
Using technology to make life easier is one of her mantras. Her resource guide includes apps she's found to be the most helpful for creating social media to an affordable and easy event scheduling tool that's been a timesaver for her brewery.
"I really hope we can answer questions and get people on the right track sooner rather than later," she says.
(VISIT: Find a U.S. Brewery)
Her "What to Expect" meet-up attracted more than three dozen people who wanted to share their experiences and get a few tips. She hopes the CBC meet-up marks the beginning of creating a dialogue and support network for brewery spouses.
"I want to inspire people," she says.
Count me in, Michelle.
CraftBeer.com is fully dedicated to small and independent U.S. breweries. We are published by the Brewers Association, the not-for-profit trade group dedicated to promoting and protecting America's small and independent craft brewers. Stories and opinions shared on CraftBeer.com do not imply endorsement by or positions taken by the Brewers Association or its members.