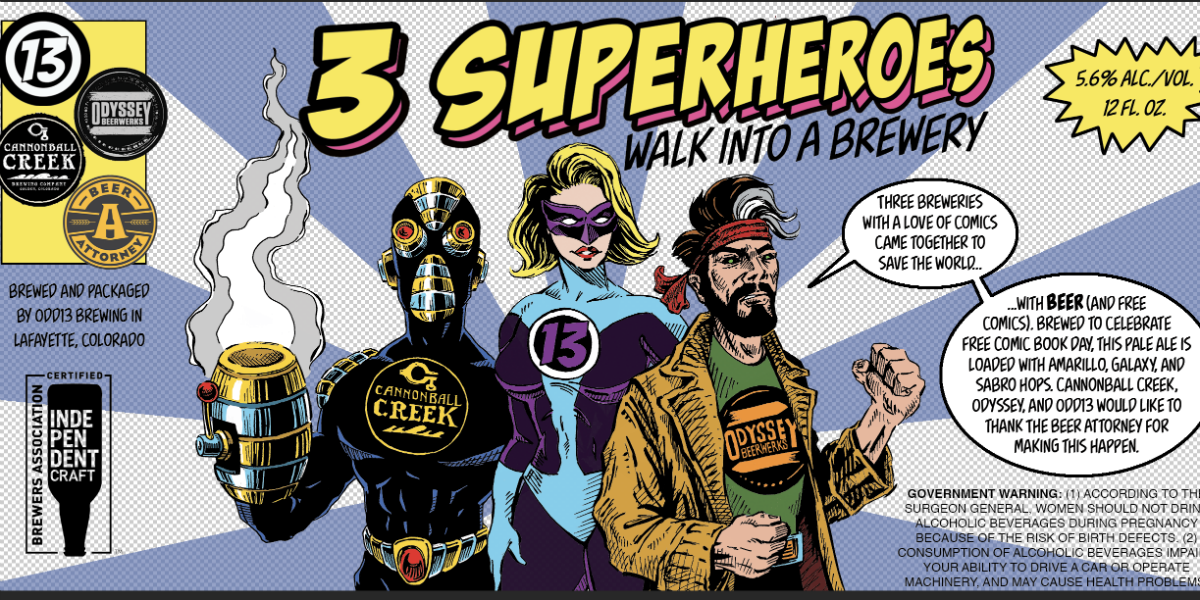 Super Brewers Collaborate on Comic Book Inspired Beer for Free Comic Book Day
In a world stricken by unquenchable thirst and general boredom, three humble brewers find courage to combine powers to vanquish diabolic thirst to a far-off realm with a delicious collaboration celebrating comic books.
Okay, so I'll work on my origin story skills. Nevertheless, it was a passion for comic books that inspired Colorado craft brewers Odyssey Beerwerks, Cannonball Creek, and Odd 13 to join forces for a beer highlighting Free Comic Book Day which is Saturday, May 4. The supercharged pale ale will be available at their respective super brewer lairs (their breweries) while supplies last.
The limited-edition beer named 3 Superheroes Walk Into A Brewery is packed with Amarillo, Galaxy and Sabro hops, which Odd 13's Ryan Scott says give the beer its super hop powers, the ZANG, WHAP and KA-POW of citrus character.
"Beer and comic books have a symbiotic relationship," says Jason Stengl of Cannonball Creek Brewing, whose origin story includes working at Mile High Comics before getting bit by the radioactive beer bug years ago.
"Both are forms of art and expression, and both have a little something for everyone," he says.
The Free Comic Book Day release should have something for everyone. In addition to the ultra-limited beer release, free comic books will be on hand as well as a commemorative shirt for the event.
(READ: The Asgardian and an IPA: How Craft Beer Got Marvel's Attention)
Three Superheroes walk into a brewery, what do they talk about?
Comics, of course! We reached out to the beer's collaborators to ask them about their dual passion of beer and comics, here's what they had to say:
What's your favorite comic?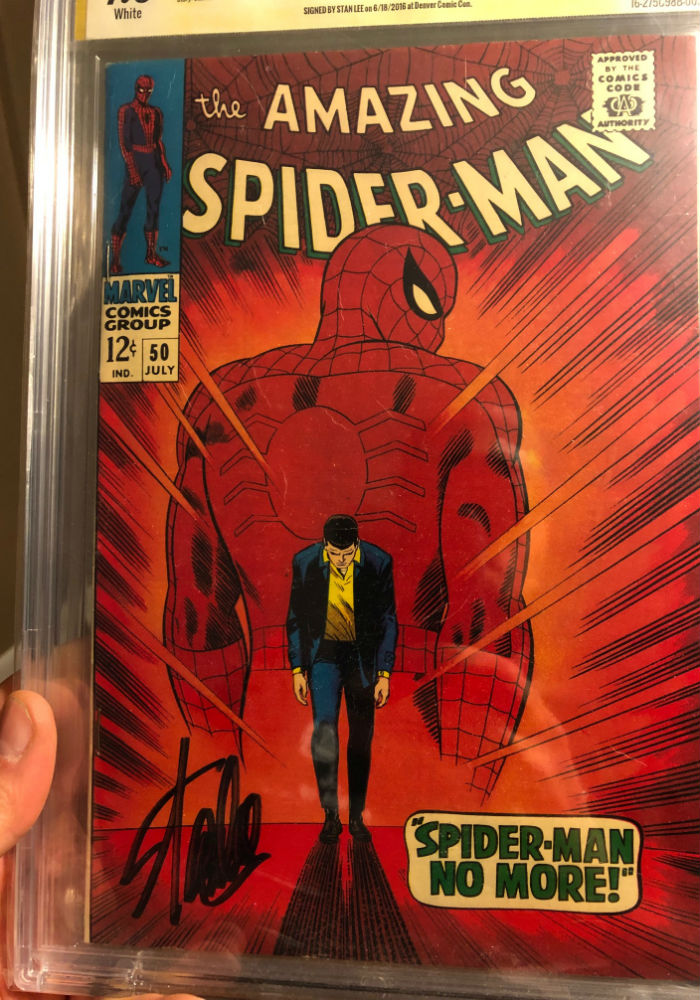 Ryan Scott, Co-Founder of Odd13 Brewing, Lafayette, CO
"I like all of the X-Men family of comics: X-Force, Excalibur, New Mutants, etc."
One need not try hard to see the comic beer connection at Odd 13, from design to beer names, the brewery is all about comics and hoppy beers.
Jason Stengl, Co-founder of Cannonball Creek Brewing, Golden, CO
Jason worked at Mile High Comics when he first moved to Colorado and has fond memories of his mother giving him a buck to buy comics (as in multiple)! He has a pretty impressive Spiderman tattoo that you can ask to see when go to the release.
Chris Hill, Co-owner of Odyssey Beerwerks, Arvada, CO
Chris' favorite comic of all time is his Amazing Spider-Man #50.
"Spidey has a crisis of conscience about whether or not the world is a better place without him being a superhero," explains Hill. "It's also my favorite cover of all time, which probably has a lot to do with it." He has a signed copy of it by the late Stan Lee.
CraftBeer.com is fully dedicated to small and independent U.S. breweries. We are published by the Brewers Association, the not-for-profit trade group dedicated to promoting and protecting America's small and independent craft brewers. Stories and opinions shared on CraftBeer.com do not imply endorsement by or positions taken by the Brewers Association or its members.