"Avengers: Endgame" raked in an estimated $1.2 billion worldwide over the weekend, but Marvel and its parent company Disney aren't the only ones winning. Creature Comforts Brewing Co., a small Georgia craft brewery, says they hope people across the craft brewing community feel a win that Marvel chose to feature craft beer in the blockbuster movie.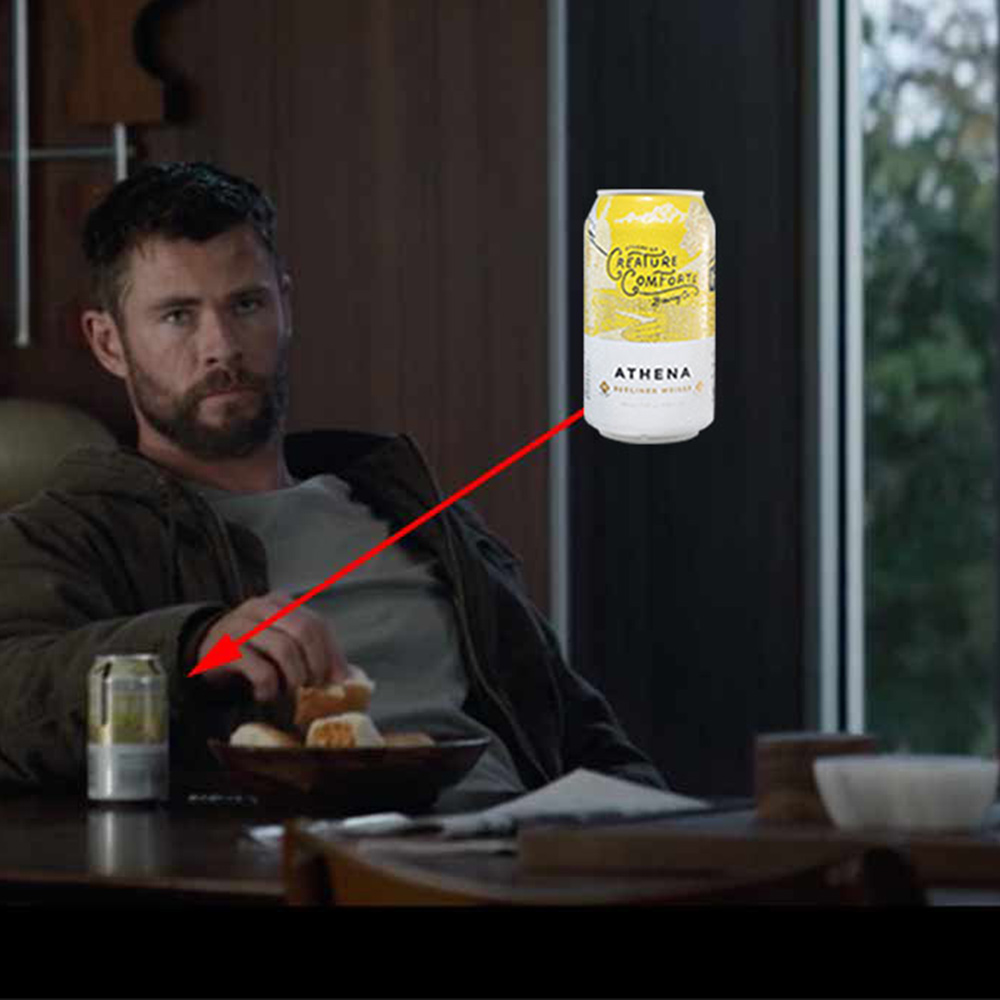 A few weeks ago, we reported how Georgia beer fans spotted Thor drinking Athena, a Berliner-Style Weisse beer from Creature Comforts in Athens, Georgia, during one of the "Avengers: Endgame" trailers. Now that the movie has been released, we can confirm that Athena isn't the only craft beer in Endgame. As Yoda would say in that other Disney-owned franchise, "There is another."
In a moment between Rocket Raccoon and Thor during "Endgame", Rocket tries to motivate Thor by offering him beer. Thor asks: "What kind of beer?" The next time you see the God of Thunder in the movie, the Asgardian is walking around with a beer can that Georgia beer lovers will instantly recognize as Tropicalia, the IPA that first put Creature Comforts on the map.
The powerhouse Marvel Studios could have staged any beer cans in the movie, but they strategically placed beers from an independently-owned small brewery in the hands of its superheroes – and that was no mistake.
Tropicalia Beer Reaches Cult-Like Status on Avengers Set
Creature Comforts Tropicalia IPA was a tough beer to find in late 2016. The brewery was hard-pressed to keep up with demand. Georgia beer geeks would chase Tropicalia taps and cans, getting to know which grocery stores carried the IPA, or obsessively monitored social media looking for growler shops and beer stores posting about new shipments.
Georgia has become a Hollywood of the South in the last decade. Some of those beer fans obsessing over Tropicalia were on the Georgia-based production team for the movies that would later become "Infinity War" and "Endgame."
The people at Marvel Films are masters at creating must-see, drop-everything events. Fans are known for overloading online ticket websites, posting homemade movie trailers on YouTube, and flooding Instagram with fan art.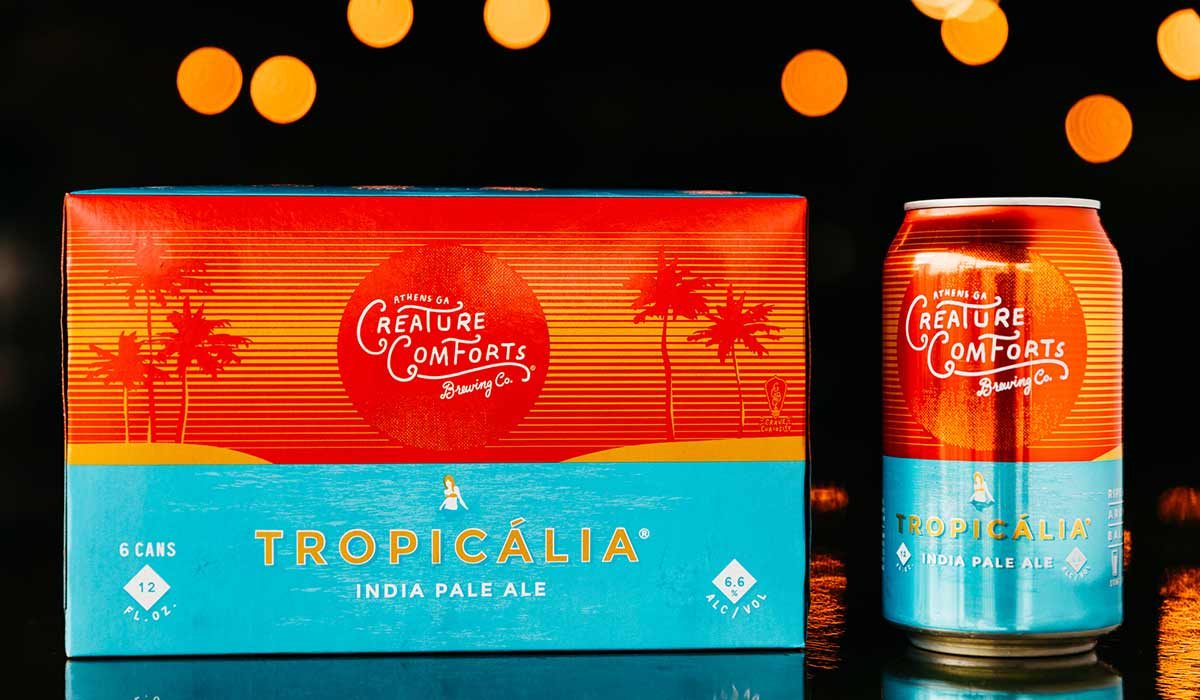 When the directors of the final two Avengers film, Joe and Anthony Russo, realized a beer had reached cult-like status on their set, they were fascinated.
"As we understand it, some of the production assistants were leaving set to meet the truck when it would arrive at a nearby beer store," Chris Herron, Creature Comforts CEO, tells me. "An assistant eventually got a Tropicalia into Joe's hand and he thought it was a great beer and thought it was interesting that it was a thing!"
Marvel Reps Ask for a Meeting with Creature Comforts
The Marvel team knew they'd have some scenes involving beer in their upcoming movies. Fascinated by the production team's fervent fandom around a beer from an independently-owned brewery – perhaps the same type of fandom Marvel is used to creating around its films – a Marvel contact sent an email requesting a meet and greet with Creature Comforts.
"They certainly knew the power of what they were going to do, and wanted to vet us," Herron says. "We had an awesome chance to share our story with them and tell them what our brewery was about."
"We are extremely grateful they chose a craft beer – a Georgia beer – to appear in the movie." Chris Herron, Creature Comforts
The brewery's head of business development, Seth Herman, met with members of the Avengers production team. He shared the brewery's story, its mission, and how it aims to create and support community, particularly through its "Get Comfortable" campaign, an on-going series of events that raises funds to fight hunger, homelessness and poverty, one of the most pressing issues facing the Athens, Georgia, community.
A few weeks later, a movie rep sent another email to Creature, requesting a few beer cans as well as one t-shirt they might be able to use in a movie. Marvel didn't say how the beers or shirt would come into play in the story itself, but they said it wouldn't put the brand in a negative light, so Creature decided to move ahead.
"We sent a bunch of t-shirts anyway," Chris says. (Now we know how director Joe Russo wound up at the D23 fan fest wearing a Tropicalia t-shirt in July 2017 – that's when CraftBeer.com first started fangirling over following the story.)
(RECIPE: Make a Grilled Cheese Sandwich with Beer)
A Win for Craft Beer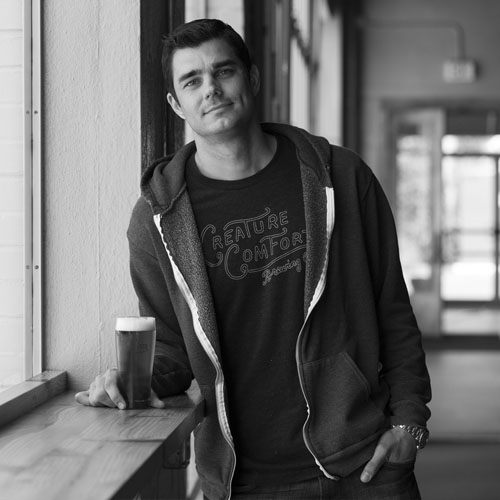 "Avengers: Endgame" was released during the brewery's fifth anniversary weekend. Herron says he never would have imagined, 5 years ago, that beers from the small Athens brewery would be featured in one of the biggest movies of a generation.
"I'll be able to sit down with my grandkids someday and say, 'Hey, let me show you this movie,'" he says, laughing.
When Athens' independent movie theater, Ciné, which features indie art flicks, documentaries, and current films that are cultural phenomena, heard beer from their neighbors at Creature Comforts was going to be in Endgame, they decided to book the film. Herron and the co-founders bought a few screenings for their employees, where he says everyone cheered when Athena and Tropicalia beer cans were on screen – as well as the "blink-and-you-miss-it" moment where Thor is sporting a Trop t-shirt under a white sweater.
"We are extremely grateful they chose a craft beer – a Georgia beer – to appear in the movie," Herron says. "The reason this happened is there are a lot of awesome beer fans in Georgia." He credits fans enthusiasm for capturing the moviemaker's attention.
If you're wondering if Thor actor Chris Hemsworth grabbed a few of those Athena or Tropicalia beers from the set to enjoy later, we'll never know. But Herron tells us Joe Russo did stop by the brewery to say hello to the staff when he was in town for a college football game – a classy move in Herron's book.
[newsletter_signup_box]
Herron says that the beers ending up in a blockbuster movie is part luck, but that it's truly thanks to decades of hard work by thousands of people in the craft beer community.
"There's a lot of people who built craft beer before us," Herron says. "We hope everyone in craft beer feels a little bit of a win."
CraftBeer.com is fully dedicated to small and independent U.S. breweries. We are published by the Brewers Association, the not-for-profit trade group dedicated to promoting and protecting America's small and independent craft brewers. Stories and opinions shared on CraftBeer.com do not imply endorsement by or positions taken by the Brewers Association or its members.