Jon Lane has lost at least 10 friends and colleagues to suicide in his 30-year career in the restaurant and service industry. Now the founder of Arizona's O.H.S.O. Brewery wants to make an impact in a personal and powerful way through beer.
"I've lost a lot of really good people that I don't think they knew it was okay to talk about it," he tells me. "They didn't want to reach out because it was taboo."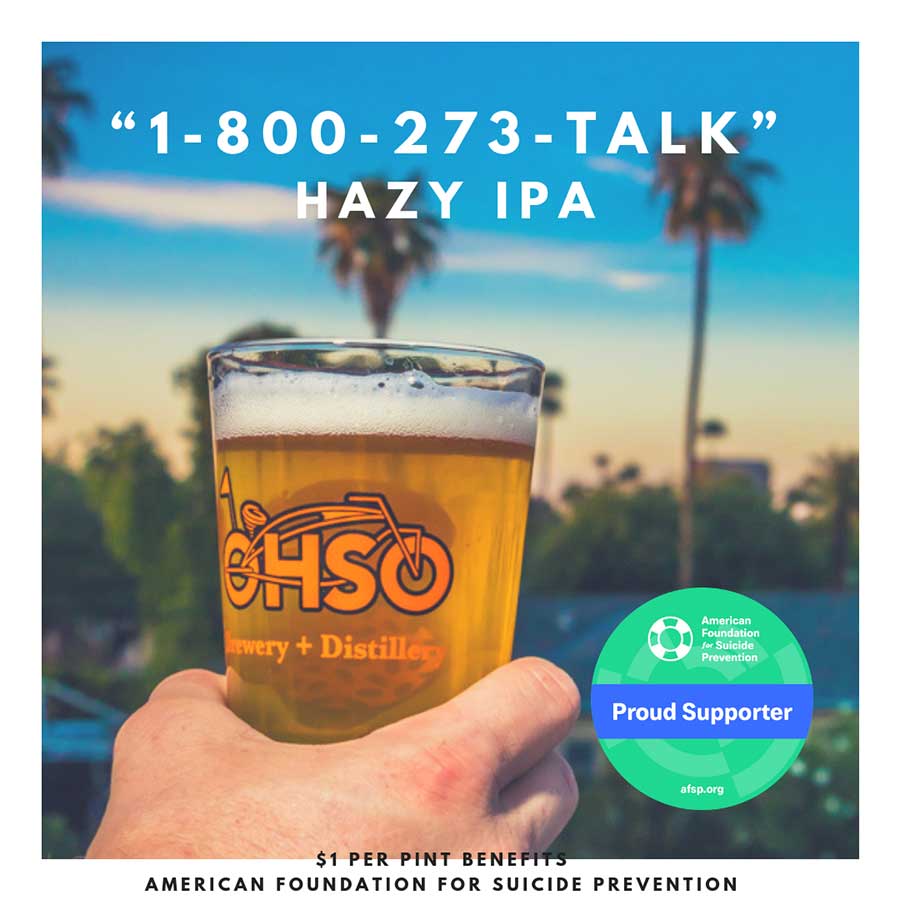 Jon wants to be part of the solution. He sees a culture shift that allows people who are struggling to realize that asking for help isn't taboo. He's starting a movement of Arizona breweries who agree with him and who also want to do something to help.
(READ: Lady Justice Brewing Dreams Big, Supports Women-Based Causes)
Starting Sept. 10, O.H.S.O. Brewing will release a beer that will be named with the National Suicide Prevention Hotline number: 1-800-273-8255. Several other Arizona craft breweries will join O.H.S.O. to raise awareness, either brewing their own beer or by renaming an existing beer with the hotline's number.
While the brewery does plan to donate a portion of the beer's sales to the National Suicide Prevention Hotline, Jon's primary goal isn't about a financial gift.
"It's not about donating, it's about awareness," he says. "This is more about people asking when they see it on a menu or a board, 'What is that?'–or Googling it and understanding, then asking some questions."
Even the Suicide Prevention Hotline beer's Untappd description will focus on how to make that difficult call for help versus offering beer sensory or style notes. Jon says when a drinker finds the 1-800-273-8255 beer on the social app, he wants the description to "urge people to reach out."
(READ: Craft Beer Documentary 'For the Love of Craft' Screenings Announced)
"I hope that people in our industry, in every industry, see this and they react in a positive way, and call that friend they haven't called in a long time that they know is struggling, talk to that person that just went through a traumatic point in their life and check in on them, check on neighbors that are struggling, or your friends that haven't had the best time," Jon says. "We all need a helping hand every now and again and literally a conversation can save a life."
Breweries Participating
12 West Brewing
1912 Brewing Co
Beaver Street Brewery
The Beer Research Institute
Borderlands Brewing Company
Button Brew House
Dark Sky Brewing Company
Desert Monks Brewing Co
Harbottle Brewing Company
Huss Brewing Company
Huss Brewing Co. Taproom at Uptown Plaza
Little Miss Brewing – Normal Heights San Diego
Little Miss Brewing – East Village San Diego
Little Miss Brewing
Little Miss Brewing – La Mesa
Local Flix Brewhouse
Lumberyard Brewing Company
Mother Bunch Brewing
Mudshark Brewing Company
North Mountain Brewing Company
OHSO Brewery – Gilbert
OHSO Brewery – Arcadia
OHSO Distillery
OHSO Brewery – Paradise Valley
Oro Brewing Company
Pedal Haus Brewery
The PERCH Pub & Brewery
Prison Hill Brewing Company
Sedona Beer Company
Walter Station Brewery
CraftBeer.com is fully dedicated to small and independent U.S. breweries. We are published by the Brewers Association, the not-for-profit trade group dedicated to promoting and protecting America's small and independent craft brewers. Stories and opinions shared on CraftBeer.com do not imply endorsement by or positions taken by the Brewers Association or its members.