Betsy Lay, Kate Power, and Jen Cuesta worked in the non-profit sector before founding Lady Justice Brewing in Denver in 2014. In fact, they came up with the idea for the brewery while brainstorming how to fund their philanthropic endeavors. The nation was just beginning to come out of a recession, and money was scarce.
[newsletter_signup_box]
"Funding was really hard to come by," explains Lay, who is also the head brewer. "Grants had dried up. It was hard to get money to support the work we were doing, and we would go out for beer after work and commiserate. One of us mentioned how great it would be if our beer money could be helping these organizations."
That casual comment hatched an idea that grew into a truly unique brewery model.
With Lay as the head brewer, Lady Justice Brewing began selling beer in 2016 as a low-profit, limited-liability company (L3C), a business designation that allows a company to funnel its earnings directly and efficiently toward charitable causes.
"One-hundred percent of our profits over cost go to Colorado organizations that support women and girls," says Lay.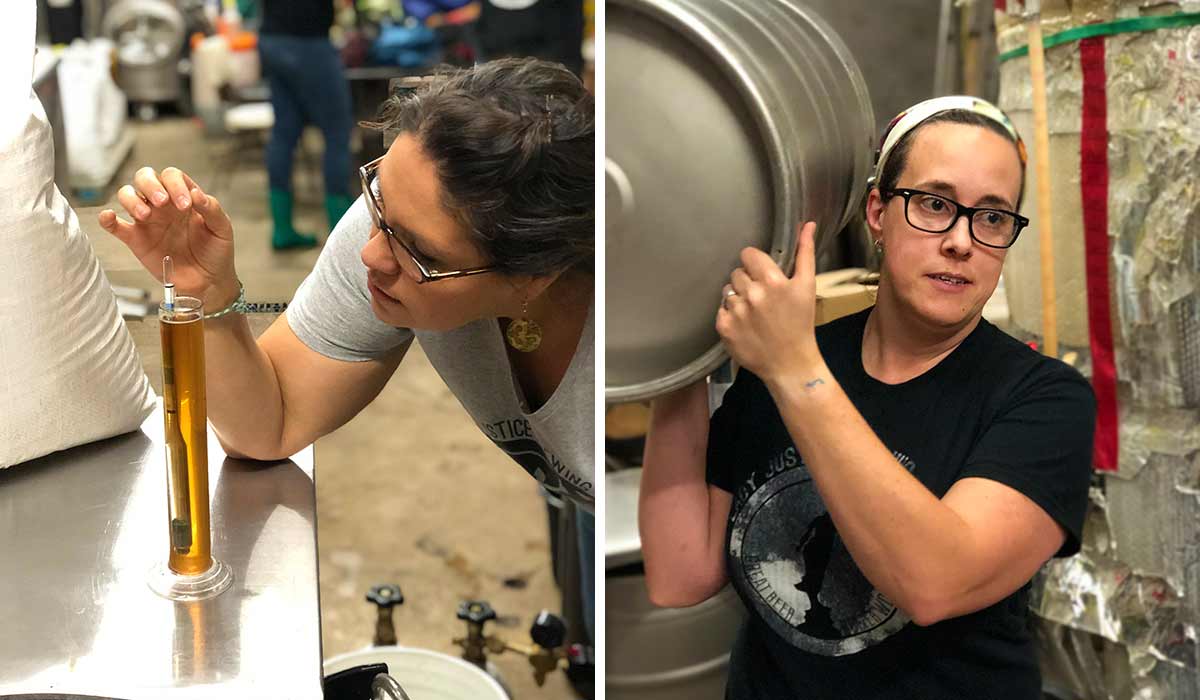 Lady Justice settled on a unique way for selling those beers, since the brewery doesn't yet have a permanent taproom. Inspired by Community Supported Agriculture (CSA) initiatives around the country in which individuals buy subscriptions for meat, eggs, or produce, Lady Justice releases beer through their CSB (Community Supported Beer) program. Members are able to pick up their packaged Lady Justice beer on monthly release days. The brewery recently concluded a six-month partnership to pour their beer in the taproom of fellow woman-owned Denver brewery Factotum, and are currently planning their own permanent home.
(READ: Drunk Driving Accident Inspires Craft Beer Non-Profit)
Beer Sales Benefit Organizations Who Help Women and Girls
Lay, Power, and Cuesta use the revenue from beer sales to help women and girls in Colorado through innovative benefit programs. Before each three-month CSB series, the team selects and announces the organizations or individuals who will receive donations from the subsequent round of giving so fans know exactly whom they're supporting. Donation requests were initially selected through grant application process, but the format is less formal now to remove barriers to application.
Lady Justice has been able to help over 40 non-profits through the program, including Warm Cookies for the Revolution, a group that highlights women in political movements, and Rocky Mountain Immigration Advocacy Network, which offers legal advocacy for immigrants in Colorado.
It's been the young people receiving help from Lady Justice who have really captured this power trio's hearts though.
"My favorite youth grant was given away in 2018," reflects Lay. "A 17-year-old girl was part of Su Teatro Cultural & Performing Arts Center, which focuses on Hispanic culture. They were going to be doing performances in Scotland. One of the reasons she gave for wanting to go was to show her seven-year-old cousin that you could be proud to speak with an accent and to have brown skin. We all cried when we read it, and we gave her the money to go on that trip."
So far in 2019, Lady Justice has given funds to Girls Rock Denver and Queenz of Hip Hop, organizations that teach confidence and camaraderie through musical education for girls in the Mile High City, as well as a group that encourages young people to vote. They have also provided textbooks for a high school civics class that wanted to attend a conference but couldn't afford the materials.
(READ: How Long is My Crowler Good?)
A Permanent Home for Lady Justice Brewing
"My cat doesn't make noise until I get on the phone," says Lay as we talk in June with the feline's yowls audible in the background.
Lay has some free time this summer, as Lady Justice's agreement to pour their beer at Factotum ended in mid-June. Lady Justice is currently looking into funding to build a permanent production and taproom home. In the meantime, they will continue to pour at festivals and will likely pursue guest tap opportunities with other breweries.
"The three of us have felt pretty good about building out a space that is essentially a community space that happens to make and sell beer," says Lay. "A space where people can gather and meet, a space where anyone can feel welcome entering. We want to be able to offer space to folks in the community who want to teach classes or [hold events]."
The brewery initially launched through a crowdsourcing campaign, an option they're considering as they look toward this next phase. They're also looking into more conventional funding options.
(VISIT: Find a U.S. Brewery)
"We're really excited to find a place of our own and build up physically the sort of community we've had," she explains. "We want to have the ability to make and sell as much of our beer as we can."
They're not alone. The Denver community is eager for the trio to have a permanent home. Some of that excitement is for the consistent access it will provide for drinking Lay's beers, such as People Power Red IPA, or Astral Aviator, a blood orange pale ale with butterfly pea flowers and glitter. More than anything though, Denver is excited for the community and civic activism the location will afford.
"The excitement around Denver has been that they're ready for us to grow bigger and faster than we expected," reflects Lay. "Everybody that we talk to is really excited to see what happens next. It's sort of this fun place to be at where we get to dream as big as we want and see what comes of it."
CraftBeer.com is fully dedicated to small and independent U.S. breweries. We are published by the Brewers Association, the not-for-profit trade group dedicated to promoting and protecting America's small and independent craft brewers. Stories and opinions shared on CraftBeer.com do not imply endorsement by or positions taken by the Brewers Association or its members.