The first lesson learned brewing beer at 9,317 feet is to mind the ABV.
"At this altitude, it gets to people pretty quickly," said Avalanche Brewing Company Owner and Brewer Austin Lashley.
Outside his brewery, on the once notorious Blair Street–famous for saloons and brothels–horses thunder down the street pulling skiers behind on the snow. It's the 7th Annual Silverton Skijoring Races in Silverton, Colo., a small, former mining town where most of the streets are still unpaved.
ABC is overflowing with patrons who spill onto the deck to watch brave young men and women in the skijoring competition where skiers are pulled by a horse. Lashley has just tapped his new seasonal, Fat Bike Weizen-Bock, a cloudy copper-golden beer that tastes as good as the unseasonably warm February day feels.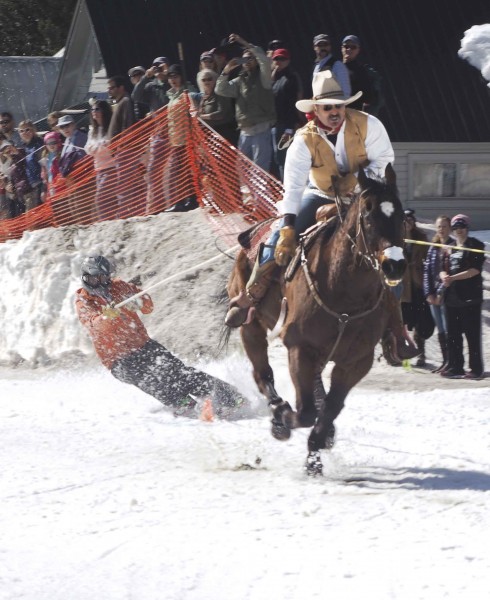 "This is 8 percent ABV, about as much as I will brew into a beer," said Lashley.  The other four beers in his lineup–a Wit, IPA, Pale Ale and Porter–range from 5 – 6.5 percent ABV and are equally complex and delicious.
Lashley's beers offer big flavors that reflect his unusual path to brewery ownership–learning his trade behind the counter of a homebrew shop in Alaska. Although he had a brief stint at Ska Brewing Co. in nearby Durango, Colo., he said it was his time homebrewing that taught him how to make exceptional craft beer.
"Instead of working with a couple of yeasts, half a dozen hops and 10 grains in a brewery, I was learning the trade in a homebrew shop–I was able to learn using 30 yeasts, 40 hops and 100 grains," he said.  "This really helped me develop my recipes and style."
Lashley is a Colorado native, a son of the desert and mountains. He grew up in Durango, a town an hour to the southwest that is cosmopolitan compared to rustic Silverton with its buildings that date back the late 1800s. He went to college back east at Dartmouth and got a degree in anthropology and religion. But by his junior year when he started homebrewing, he knew we would return to Colorado and find a way to live in Silverton, a place he and his family had visited regularly through his childhood. After surgery to fix a down hill ski injury,  he made his odyssey from Colorado to Alaska to learn the craft beer trade. But when he returned to Silverton to start his business, he made coffee, not beer.
"I bought an existing coffee shop and we expanded the menu," said Lashley. "So we had a couple of years growing that business before I opened the brewery."
With the cash flow from an established business and time to tinker with recipes on a seven barrel system with two fermenters, Avalanche opened its doors three years ago.
"I don't get crazy with my beer by adding a lot flavors," he said with a grin. "But I am working on an idea for a breakfast beer with hints of maple and bacon."
Photos © John W. Mitchell
CraftBeer.com is fully dedicated to small and independent U.S. breweries. We are published by the Brewers Association, the not-for-profit trade group dedicated to promoting and protecting America's small and independent craft brewers. Stories and opinions shared on CraftBeer.com do not imply endorsement by or positions taken by the Brewers Association or its members.