Lessons from Chris Harris, the Man Who Started Black Frog Brewery in His Garage
What should you know about opening a brewery? You'll want to talk to Chris Harris, founder, brewmaster and just about every other title at Black Frog Brewery in Toledo, Ohio.
"I brew about 10 percent of the time. The other 90 percent is everything else that goes with owning a brewery," Harris says. "Paperwork that needs to be filed. Taxes that need to be paid."
(MORE: Think Consolidation Can't Hurt Beer? Watch John Oliver's Take)
I caught Harris in the few minutes he had between his day job at the Social Security Administration before he put on his brewmaster hat to talk about his journey from legit garage brewery to a brewery with a taproom.
Harris' journey started like many you hear: a homebrewer who started dreaming of something bigger as his work buddies and friends gave his beer rave reviews. But that's when his story changes.
Building a Legit Garage Brewery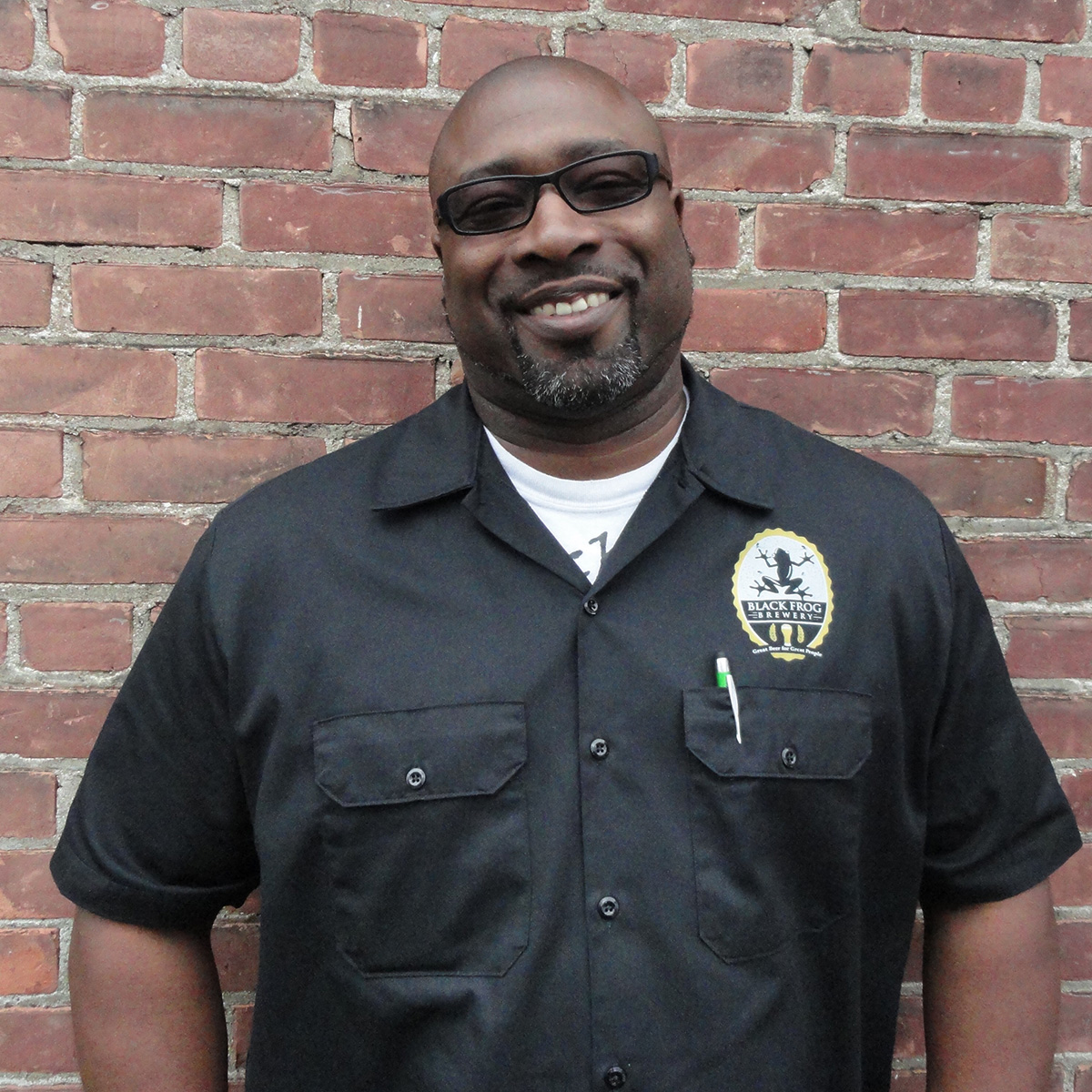 Harris first brewed on a Mr. Beer Kit. Fascinated by the process, he started researching, then moving to extract brewing and then all-grain. He threw himself into studying brewing and beer styles — and naturally, realized he was in love with it.
"You start wondering if I could do this on a professional level," he says. "I shifted my research from what type of beer to brew and styles to what would it take to open up a brewery."
He'd read about a few people who were successfully operating breweries out of garages in New England and the Great Lakes. He knew the licensing process was going to be even more involved for turning his garage into a legit brewery, but he studied up and went to work. When the state licensing worker showed up, he took one look at Harris' garage and said, "I don't think this is going to happen. I gotta contact my manager. This is the first time I've seen a brewery in a garage."
But after a few more rounds of modifications to the garage and conversations with the state, they gave his garage brewery a green light — Black Frog Brewery was born.
(MORE: CraftBeer.com's Big List of Beer Schools)
What's in a Name: Black Frog Brewery
You wouldn't have recognized Toledo 200 years ago. Before it became known as the Glass City in the late-1800s, the land here along the western edge of Lake Erie was known as the Great Black Swamp. Captain Robert Lucas gave it the nickname as he slogged through the terrain during the War of 1812.
Farmers moved in, the trees of the swamp came down and fields and manufacturing replaced it. The Black Swamp was gone, but Toledo still held onto a new nickname: Frog Town.
"Where the name came from was Toledo being Frog Town and me being African American. I put the two together," Harris explains.
Even before he started selling his beer, the name Black Frog, combined with being the first garage brewery setup in the region, earned him some early local media attention. So when he was ready to start getting accounts, he walked into a local store to talk to the beer manager about selling Black Frog beer. The manager looked up, recognized him from media coverage, and said, "I was wondering when you were going to come in and talk to me."
(MORE: The Internet Loses Its Mind Over This Beer Made with Oreos)
Local Through and Through 
The Toledo native says starting small and staying local was, and still is, part of the business plan.
"I wanted to take a different approach to the market," Harris says, thinking back to the early years. Then, he only bottled the beer — no kegs were in the market. "I know tap handles are prime space. I'm a new guy. No one knows who I am."
But the plan worked. He picked up more local stores as accounts. When he'd make deliveries, he'd share with fans on Facebook, and the bottles would sell out in days.
Black Frog's following continued to grow, and Harris' interest in brewing was still fiery. In October 2016, with the help of his wife Diane, an accountant, along with help from a PR and media guru, the taproom opened.
"I can't believe the reception I've received from the public. When we opened, the taproom was just packed to busting. It was unbelievable," Harris says. "The amount of people who came out to support us — it really touched me."
What does he say when people ask him for advice on starting a brewery? He tells them patience is the key.
(MORE: The Internet Loses Its Mind Over This Beer Made with Oreos)
"If I could just brew all the time, that would be great, but it's about being a business owner — there's more to it than brewing beer. A lot of people think that's all it is."
But it's much more than that. While Harris has a lot on his plate — there's his day job, there's brewing religiously every Wednesday and every Sunday, and then being at the taproom when its open twice a week — he's the type of guy who is still excited and humbled by what he's created. One of his favorite parts of being at Black Frog is watching people's faces when they try his beer.
"I love the reaction when people drink the beer and say, 'This is fantastic!'" he says. So the next time a road trip takes you through the former swamp city at the crossroads of Interstates 75 and 80/90, stop in and say hi. He can't wait to have you.
Editor's Note: This article was originally published in February 2017. It's been updated from the original to include the video.
CraftBeer.com is fully dedicated to small and independent U.S. breweries. We are published by the Brewers Association, the not-for-profit trade group dedicated to promoting and protecting America's small and independent craft brewers. Stories and opinions shared on CraftBeer.com do not imply endorsement by or positions taken by the Brewers Association or its members.