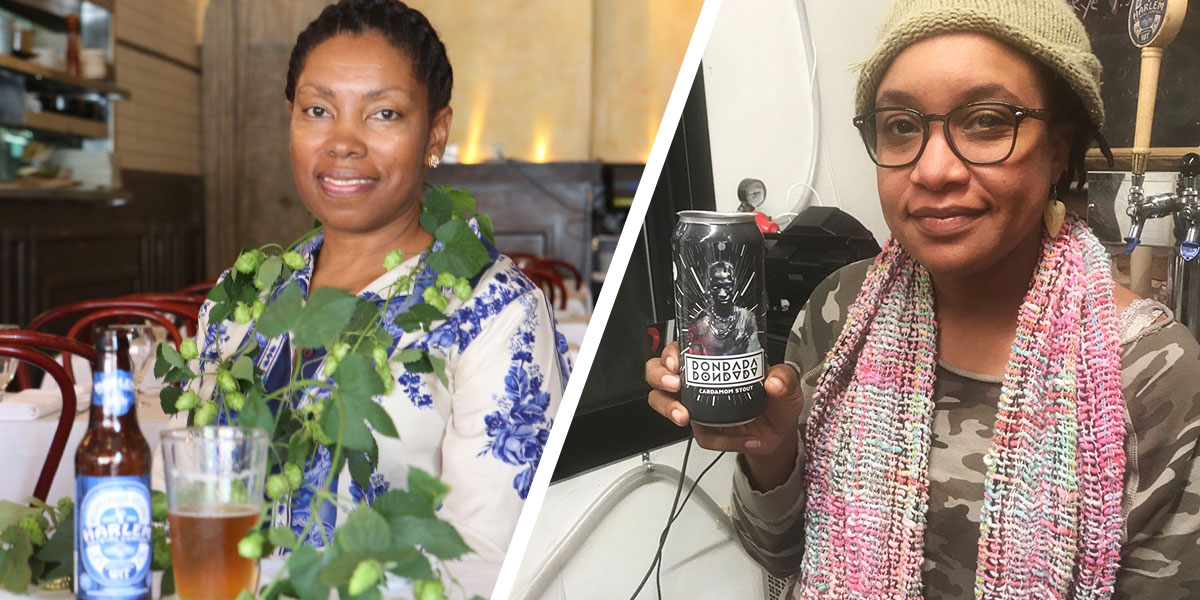 Briana Brake and Celeste Beatty on Ghosts and Beauty in Rocky Mount, NC
In eastern North Carolina, about 60 miles outside of the Raleigh-Durham-Chapel Hill triangle, an old mill in the town of Rocky Mount houses a brewery incubator. The space allows a handful of breweries-in-planning to practice their craft.
Among those at the incubator are two powerhouse brewers, Briana Brake and Celeste Beatty. The two now-friends have formed a strong bond over their love of beer and a shared vision that craft beer can bring beauty to communities where other people may only see disadvantage.
The story starts about 20 years ago in Harlem, New York.
Celeste Beatty's Harlem Brewing
A century ago, Harlem served as a cultural mecca for many black writers, artists, poets, and singers. The city provided a haven from the oppressive cloud of the Jim Crow South and allowed black culture and social activism to thrive.
This movement expanded to many areas of the country and across the world to Paris. Even after the Harlem Renaissance, the neighborhood continues to hold meaningful significance to the black community. It should come as no surprise that the city that birthed the Harlem Renaissance would become home to the first black woman in the U.S. to own a brewery since the craft beer boom.
One day, Celeste Beatty pulled a homebrew kit she'd received as a gift out of the closet of her Harlem studio apartment. Her first batch of beer didn't turn out well, but she didn't give up on perfecting the recipe.
Beatty's passion for beer grew, allowing her to combine her love for food, gardening, and community into one glass. Inspired by surrounding entrepreneurs, Beatty opened Harlem Brewing in 2000. Beatty describes it as a lonely landscape. There weren't many independently-owned breweries in the region at the time–Brooklyn Brewing and Boston Beer Company were among a small handful. When she shared her plan to open the brewery with others, they couldn't understand how Beatty would be able to compete with more established breweries.
Luckily, Beatty had the support of the neighborhood and people in it, including Sylvia "The Queen of Soul Food" Woods, founder and owner of the soul food eatery Sylvia's Restaurant. The restaurant put Beatty's beers on the map. The Woods family gave her the chance she needed to get her business off the ground.
Since then, Beatty has created beers that celebrate the rich cultural heritage of Harlem, including 125 IPA named for 125th Street, the main thoroughfare through Harlem; 125th street is home to the Studio Museum Harlem, the first museum devoted to works of art from artists of African descent and other notable buildings, including the Apollo Theater.
Though Beatty has a strong love for Harlem's history and culture, eventually she would find herself back in her birth state of North Carolina.
(More: Women Flourish in Atlanta's Craft Beer Scene)
Briana Brake: Blending Afrofuturism with Craft Beer
In 2013, Briana Brake was in the midst of law school in North Carolina when her love for homebrewing began. When Brake's mother became sick, she had to put law school on hold, but she was able to devote more time to homebrewing. The more she worked at it, the better her beer got, and she soon realized that she didn't want to go back to law school.
Brake started researching whether she could turn her new passion into a career. During her research, Brake came across an article about Beatty. Being a Durham native, she was excited to see that Beatty was also originally from North Carolina and had attended Shaw University.
In fall 2016, Beatty was judging on a business panel at Shaw University. It was there that the women met and immediately hit it off. Days later, Brake invited Beatty to help her brew a batch of beer. Things started falling into place, and Brake realized she could make her dream of brewing professionally a reality.
Brake would eventually create Spaceway Brewing. The name is an ode to Afrofuturism, an unapologetic imagining of arts, culture, and technology-infused with ancient African traditions and black identity. One well-known example of Afrofuturism is Marvel's blockbuster "Black Panther," a film that blends African culture with technology.
Brake recognizes the parallels between the scarce representation of minorities in pop culture and the craft beer industry. With the Spaceway brand, Brake says she hopes to "destroy the space between us" through craft brewing education, innovation, events, and community ownership. But first, she needed a home for Spaceway Brewing to grow and take flight.
(More: Founders of Montclair Brewery Celebrate Culture Through Craft Beer)
The Ghosts and the Beauty of Rocky Mount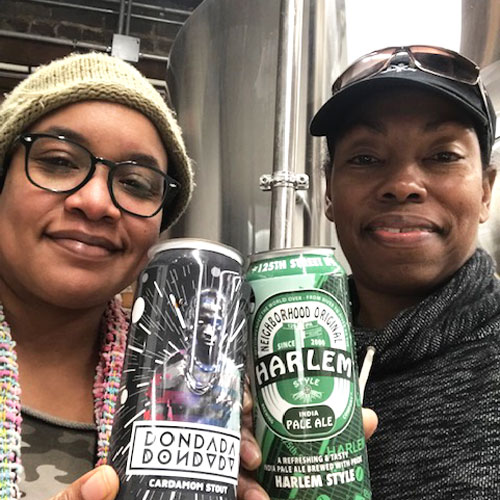 A year after the two women met, Beatty spoke on a homebrewing panel during the Art of Cool Festival in Durham, North Carolina. Following the festival, the duo met with Sebastian Wolfrum, executive brewmaster for the Rocky Mount Mills, to discuss the brewery incubator space at the historic Rocky Mount Mills. Brake's grandparents were from Rocky Mount so she was familiar with the area, but she was hesitant. It had a history she found hard to confront.
In a story that's all too familiar, Rocky Mount depended on the cotton mill named for the town. Built in 1816 by enslaved people, the Rocky Mount Mill once served as the top-tier business for the area. When textile manufacturing moved overseas in the 70s, the mill struggled to stay afloat and eventually closed in 1996, striking a severe blow to the town's economy. In the 80s, Rocky Mount's downtown experienced urban decay, and the area deteriorated.
The history of the Rocky Mount Mill was a struggle for both women. Over its three decades of operations, the mill thrived from using a black workforce. Enslaved and freed blacks built and worked in the mill until the Civil War where they created uniforms for Confederate soldiers. For Beatty and Brake, the mill's history hangs thick in the air forever reminding them of the past.
"I stepped foot on the ground, and it was beautiful, but I still had the weight of knowing what it was before. This place has a lot of ghosts that are not being talked about," says Brake.
"You feel the spirit of the people every day," says Beatty.
Since the town's decline in the 80s, the city has grappled with having an unfavorable reputation, but Rocky Mount is now undergoing revitalization. In 2007, Capitol Broadcasting Company purchased the 82-acre campus to develop a mixed-use community that would include restaurants, lofts, event space, and a brewery incubator. The Rocky Mount Mill restoration will not only provide a space for the community to live, work, play and connect, but to change the perception of the town.
For Beatty, there were many connections between her first brewery, Harlem Brewing, and Rocky Mount Brewing. Both started in neighborhoods seen as undesirable because of their reputation as dangerous areas. From experience, Beatty understands that an area's reputation doesn't always reflect the true heart of the community. Rocky Mount is also the birthplace of jazz pianist and composer Thelonious Monk, and Beatty couldn't say no to brewing in the same hometown of a legend.
"There are beautiful people in places that have challenges." Celeste Beatty
"There are beautiful people in places that have challenges," shares Beatty.
Beatty and Brake moved into the brewery incubator with the caveat that they would work with the owners to acknowledge the Rocky Mount Mills' solemn history.
Fostering Inclusion and Growing Community at Rocky Mount Brewing
The incubator allows startup breweries to work on their craft without the immediate need for expensive equipment since the space includes everything they need to get started. The incubator includes a contract production facility that allows brewers to brew, ferment, keg, can/bottle, and distribute. The space is home to six breweries, including Rocky Mount Brewing.
Craft breweries are a big draw in North Carolina. According to the Brewers Association, North Carolina is home to more than 290 breweries and brewpubs. Only six other states have more breweries than North Carolina. With that, Rocky Mount Brewery is one of two black-owned breweries in the state of North Carolina and one of less than 50 women and minority-owned breweries in the country. Briana is the head brewer and CEO, while Celeste is the co-brewer and adviser.
Under the Rocky Mount Brewing name, Brake brews for Spaceway Brewing and Harlem Brewing South. The current focus is to open a taproom in the downtown area of Rocky Mount. Eventually, Brake plans to outgrow the incubator and return to Durham to open her own space.
Beatty and Brake share a love of beer and encouraging community growth while celebrating black culture both past and future.
"People of every culture have reached out to us. We're all united by beer and [a desire for] community," says Beatty.
Beatty and Brake hope to bring a festival to the area and open up mentoring opportunities for women interested in brewing and the craft beer industry. Their goal is to provide more educational and training events and foster more diversity in the brewhouse.
CraftBeer.com is fully dedicated to small and independent U.S. breweries. We are published by the Brewers Association, the not-for-profit trade group dedicated to promoting and protecting America's small and independent craft brewers. Stories and opinions shared on CraftBeer.com do not imply endorsement by or positions taken by the Brewers Association or its members.