Gary Gulley never expected he'd be calling his wife to tell her their Chicago brewery, Alarmist Brewing, had won a gold medal at the Great American Beer Festival®.
"She started crying on the phone," he says. "Then our [taproom] glycol chiller went out 3 hours later."
The road to success is never easy. Gulley and Alarmist Brewing are proof of that. Even after capturing a GABF gold medal for Le Jus, the Chicagoland brewery's entry in the Juicy or Hazy IPA category, there was no rest. But any success rarely comes from taking the easy road—just ask Gary Gulley.
[newsletter_signup_box]
Life-Altering Moments Spur Gut Decision
Nestled in Chicago's quiet Pulaski Park neighborhood, Alarmist Brewing is a small operation with a homey taproom in the back of an industrial park. Perhaps the noisiest part of the operation pre-Great American Beer Festival 2018 had been the consistent cadence of Chicago Transit Authority buses that run by the taproom.
The journey from when Gulley first started homebrewing to winning a gold medal for Le Jus is a memorable one. Gulley started homebrewing in Texas in the early 90s. In his own words, the first beer he ever brewed was "crap. I would never make it here in a million years, but I might frame [the recipe] at some point."
After life in Texas, Gulley and his family moved to Chicago and he joined the Chicago Beer Society in 2008. Gulley says he became engrossed with brewing after joining but wasn't ready to fully commit. He had a stable job, a mortgage and a family.
Then, his entire life changed. First, his wife Bridget was diagnosed with breast cancer. One month later, he lost his job. He says these two life events provided the impetus he needed to drop everything and brew.
It also provided the clarity for Gary and Bridget that no job would determine their fate. He knew at this point that he needed to be his own boss; the only option available then was to open the brewery they had dreamed about.
"[It] has been the best decision we have ever made," said Gulley.
(MAP: Gold Medal Winning IPAs from 1989 to 2018)
Down the Hazy IPA Rabbit Hole
First dubbed Panic Brewing before he had it to change it due to trademark disputes, the newly-minted Alarmist Brewing started brewing professionally in February 2014. Through trial and error and a relentless pursuit of producing excellent beer, Alarmist gradually gained their foothold in the Chicago craft beer scene.
A big turning point in the journey was the hiring of their second employee and now head brewer Aaron Dahl. A seasoned homebrewer, Aaron's brewing experience helped Alarmist grow even faster, eventually leading to the opening of their Northwest side taproom at 4055 W Peterson in 2017.
At the time of the opening, Alarmist's two biggest beers were Pantsless and Phobophobia, a Belgian-style ale. 2017 was also around the time that the New England-Style IPA trend started to enter national consciousness.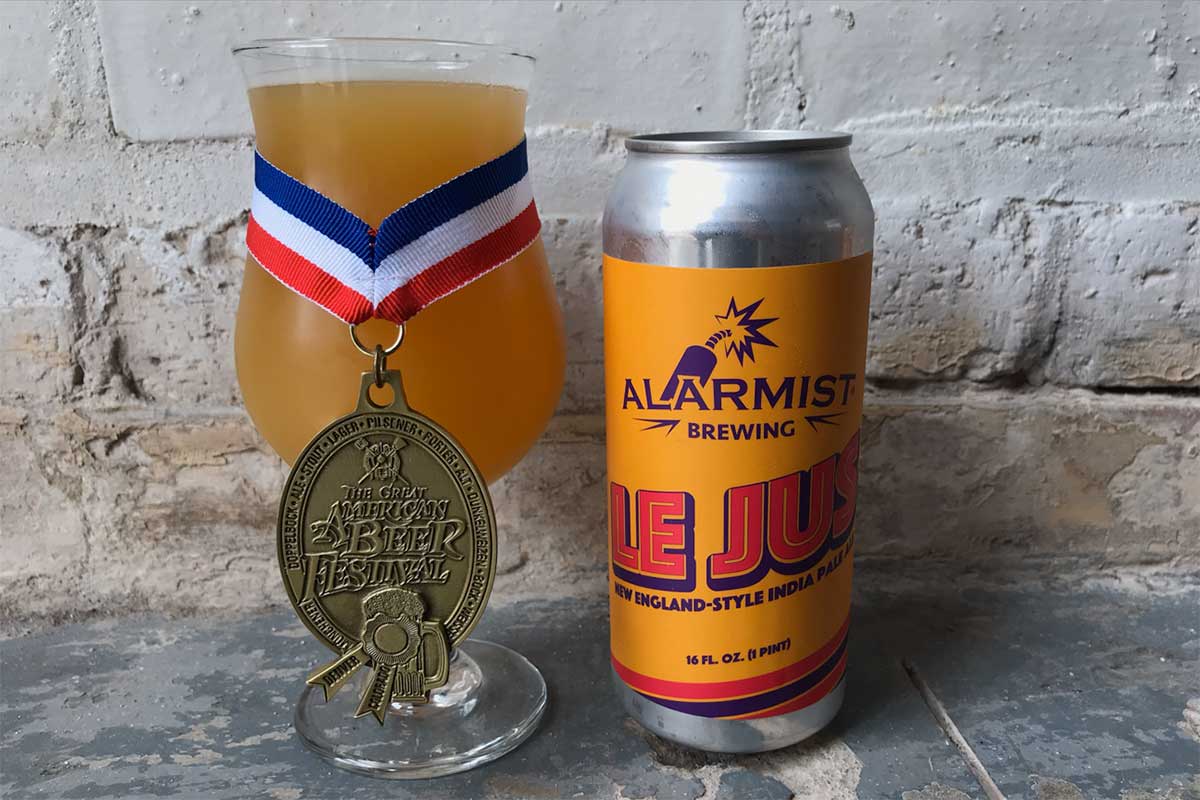 Gary and Aaron were both skeptical of the style and decided not to make one. But then they had a chat with BJ Pichman, formerly of Forbidden Root, who Gulley says showed them how "cool a well-crafted NE-IPA could be."
After that meeting, Gary says Aaron went all-in.
"He went down the rabbit hole…[He] tried every hazy IPA he could find, talked to everybody, researched everything," Gulley says. "It was awesome to see."
The result of this quest was Le Jus, an intensely-hoppy, juicy, yet refreshingly simple New England-style IPA that set the Chicago beer scene ablaze.
(VISIT: Find a U.S. Brewery)
Triumph Culminates in Surreal GABF Medal Moment
Gulley was not in Denver the morning of the GABF award ceremony, but his cell phone started buzzing with texts and calls.
Months earlier, before rushing to a local festival, Gulley hastily dropped off 10 freshly-canned Le Jus beers at Revolution, who had offered the extra space in their GABF beer shipment to other Chicago-area local breweries also entering their beer in the festival competition. Gulley remembers that once the stress of getting the beer shipped had subsided, his mind switched to other priorities.
Then, the GABF medals were announced.
"All of a sudden I started getting text messages [about the award ceremony]. I got one particular text from a buddy asking me if I wanted him to go on-stage and accept [our] medal. Of course, I thought he was messing with me at the time," he says. "Then [Aaron] texted and I started getting tons of congratulations texts from all of my brewery friends."
Gulley knew he needed to share the news with his biggest supporter.
"I called my wife. She said: 'We won? You won?'" he says. She started crying on the phone.
The gold-medal moment was a surreal one. All of the struggles. All of the uncertainty. In that moment, all it had paid off. And in that moment, everything had changed.
Then he spent the Sunday after winning on the roof of the brewery fixing the glycol chiller.
CraftBeer.com is fully dedicated to small and independent U.S. breweries. We are published by the Brewers Association, the not-for-profit trade group dedicated to promoting and protecting America's small and independent craft brewers. Stories and opinions shared on CraftBeer.com do not imply endorsement by or positions taken by the Brewers Association or its members.