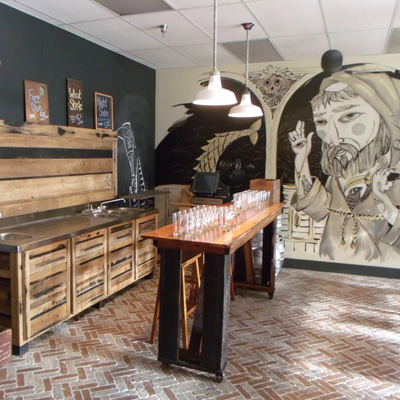 Coppertail Brewing Co.
On a sunny and humid Florida evening in Ybor City, just as the sun is setting over nearby Tampa Bay, rays of fading light touched on an elusive creature housed in a warehouse off of 2nd Avenue. This creature has been rumored for a while, popping up at odd times to refresh tired Tampans with quality ingredients and outstanding beer. This creature is the stuff of legend, and while it has reared its head occasionally, the Coppertail has now settled in and made Tampa its new home.
Coppertail Brewing Co. is a labor of love for owner Kent Bailey and brewer Casey Hughes, who have been waiting months to bring the brewery online and christen the former mayonnaise factory, olive cannery and warehouse into new brewery life. The team has been undergoing construction, delays and more construction in hopes of finally pouring forth frothy and foamy ales.
As Bailey says on the company Facebook page, "Coppertail is dreaming of the impossible…like a couple of homebrewers putting everything on the line to start their own brewery. We believe in Coppertail."
On August 20, 2014, that belief gave life to a brewery and kicked off with Bailey tapping of a firkin of kumquat Free Dive IPA and saying a few words to a crowd of onlookers:
"We're here. We have beer in the tanks…and I think we actually have a brewery going as of tomorrow."
And that tomorrow is bright as a bona fide Florida sunrise. Coppertail Brewing has quite a bit of beer capacity to speak of, bubbling to life with a 50-barrel brewing system. Hughes will have his hands full keeping up with demand for Coppertail's beers, but keeping up with demand is not new for Hughes. The native Floridian at the helm of Coppertail brewed his way through the Florida Keys since the 1990s. Hughes then moved to New Jersey to brew at Flying Fish Brewing Co., win some awards, and ultimately make his way back to the Sunshine State during its craft beer heyday.
Coppertail Brewing's Core Beers
Wheat Stroke
A hazy wheat beer that promises a nice bit of citrus with some light-bodied fun. This beer has an aroma and flavor of bread, citrus and some light fruit. Light in body, this one starts citrusy and finishes clean.
Free Dive
An aptly-named IPA for too many of these six percent ABV beauties can certainly deliver a free dive. This one starts off with caramel and pine on the nose, followed by bits of orange, grapefruit and kumquat. The flavor does not disappoint with noticeable caramel backbone behind an assertive punch of tropical fruit, pine, grapefruit and 'quats. Nice body and a citrusy finish to this wellspring of hops.
Unholy
This one is called Unholy for a reason: the alcohol is definitely there, but goes virtually undetected. This devilishly big beer is their take on a classic Belgian-Style Tripel that hits the palate like a light-bodied lullaby. The nose is aggressively hoppy for the tripel style, which is usually a hop-mild style of beer. The flavor does not disappoint, as the hop bitterness pushes through the flavor and into the finish.  The caramel, apple and sweet malt in the body let you know this is a tripel, while the hops make it drink like a session IPA. A true monster, this one was well-named and should come with a caution label.
Night Swim
Night Swim porter pours as deep as the Bay on a dark summer night: black with dark foamy ripples. The aroma starts with black coffee and earth followed by sweet chocolate, dark chocolate and then some cacao nibs to round it off. The flavor delivers on the promises the nose makes. As dark waves of chocolate lap against the palate, Night Swim delivers a dark chocolatey and roasty porter with depths of flavor from nose to finish.
From start to finish, Coppertail's lineup has a beer for every taste and a taste for every beer. Look for Coppertail to begin shipping kegs into distribution the last week of August 2014, and expanding outward from their first accounts as soon as they are able.
Bailey says that Coppertail will add a few more accounts each months and a few new beers to the special release calendar, including a Stone Crab Stout (made with real stone crabs), a Berliner weisse and a French Saison. Like the mythical beast itself, Coppertail Brewing is quickly becoming a reality in the Tampa craft beer scene.
---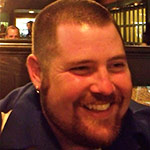 Mark DeNote is a wandering beer writer who keeps a home in Florida and an eye on the road in search of fresh, local beer. Mark is a teacher at heart, and enjoys talking about beer and beer history almost as much as tasting beer. Mark is the author of The Great Florida Craft Beer Guide and he edits, reports, interviews and writes the story behind craft beer on the web at FloridaBeerNews.com.
CraftBeer.com is fully dedicated to small and independent U.S. breweries. We are published by the Brewers Association, the not-for-profit trade group dedicated to promoting and protecting America's small and independent craft brewers. Stories and opinions shared on CraftBeer.com do not imply endorsement by or positions taken by the Brewers Association or its members.