"You just need to start your own brewery," said M.J. Silva. Her husband Chuck had called her on his way home from work one afternoon. A successful brewmaster at a popular San Diego brewery, he wasn't thrilled with the new direction of the company. He was ready for a change.
[newsletter_signup_box]
Reflecting on that conversation, Chuck says, "I had the realization that I didn't have to stay where I was." He'd called M.J. that day to let her know he was ready to start updating his resume and his LinkedIn account for a job change. That was the key moment that prompted the action of transforming the idea Silva Brewing into a reality. "It all happened in that phone call," Chuck says.
Starting a brewery is not a small task, even for a professional brewer. Starting a brewery as a recently married couple is an even larger task and one that some might find more challenging than they can handle. That's not the case for M.J. and Chuck. They are a couple that knew what they wanted and took the right steps to get there.
(READ: A Conversation with Nancy Palmer, Craft Beer Industry 'Defender')
The Role of Personal Development
Chuck is skilled at making high-quality beer, but the couple also attributes their success to personal development and self-improvement. It's something they both dove into in early 2014 and continue today. "We started meditating, visualizing and journaling," says Chuck. This not only helped them set goals for what they wanted as a couple, but also what they wanted for their brewery.
Exercise was another key component. "You have to take care of yourself. The most important part of our business is that we are healthy," says M.J. Not only do they depend on each other, but now they have employees that depend on them, too.
Even with self-care and exercise as priorities, the couple warns that these habits are easily lost in the first year of launching your own business. It requires a concentrated effort to keep them going. "It's crazy how the business does that to you," says M.J. She says they began gaining weight and they weren't sleeping well. Now they schedule their exercise and set aside morning time for their meditation and journaling. "It makes a world of difference in our spirit, attitude, health and energy," says Chuck.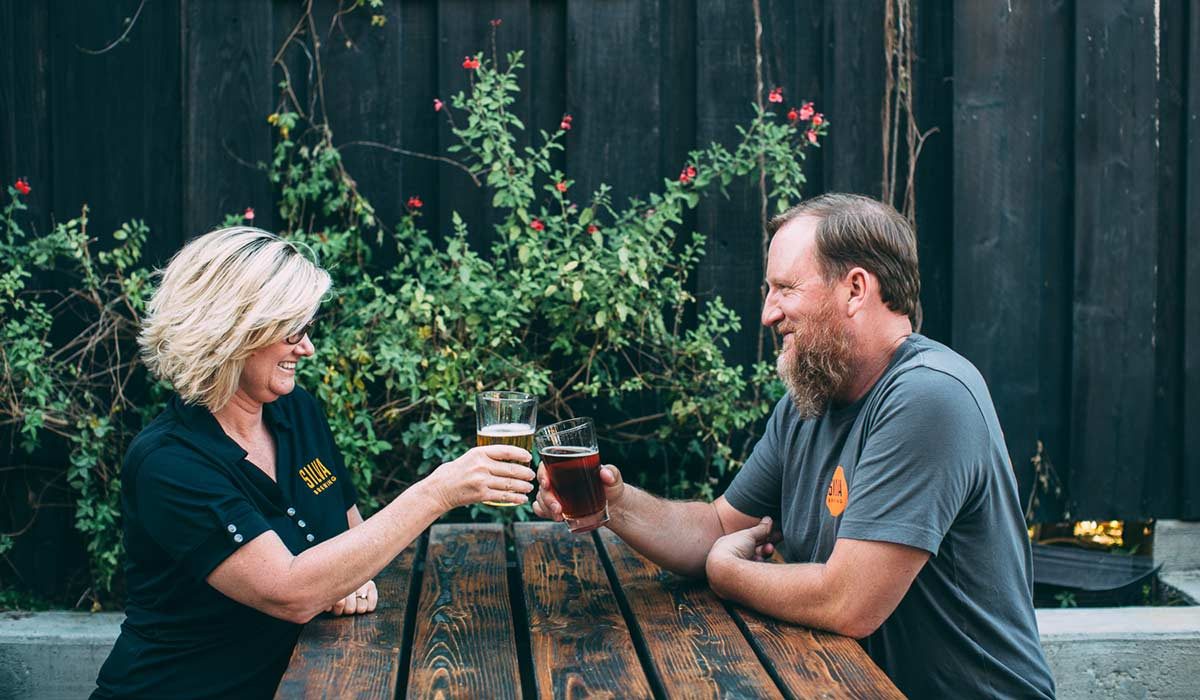 Identify Strengths and Recognize Weaknesses
Chuck emphasizes that it is important to understand what you are missing from your business. He and M.J. have duties within the brewery that play to their skills and strengths as well as duties that involve collaboration. He handles the production and beer sales while M.J. focuses on the tasting room and social media. They collaborate on naming their beers and marketing. Once they understood what they could do, they were able to identify gaps that needed to be filled. Next came the decision of whether they wanted to outsource the work or learn to do it themselves.
(TRAVEL: Finding Local Beers at Hotels is Getting Easier)
Set Aside Time to be a Couple
"It's a lot of work. It's a lot of fun. And it's a lot of work," says M.J. They agree that you have to schedule time to simply be a couple and not a couple talking about the business. They commit to taking a Sunday afternoon off every other week to enjoy cooking and relaxing on their patio with no work talk allowed. They also tack on a couple extra days around travel for business to enjoy the destination, camp, and have time for themselves away from the brewery.
Let Your Inspiration Guide You
"We keep things simple and eloquent," says M.J. They strive for simplicity, flavor and the elegance to shine through in both their beers and the environment they create for their customers. "For the love of beer," says M.J. "That's our motto and it's what keeps us going every single day."
CraftBeer.com is fully dedicated to small and independent U.S. breweries. We are published by the Brewers Association, the not-for-profit trade group dedicated to promoting and protecting America's small and independent craft brewers. Stories and opinions shared on CraftBeer.com do not imply endorsement by or positions taken by the Brewers Association or its members.