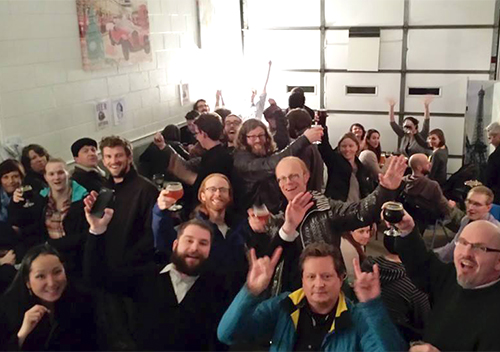 J Wells Brewery—The Smallest Brewery in Boulder
There are many small craft breweries who rely on word-of-mouth, grassroots marketing to get their name out into the market. Head to a bar in Boulder, Colo., and a local may steer you to J Wells Brewery—you should take their advice.
While established craft breweries are often expanding, building new facilities and increasing production, nano-brewers like J Wells might slip under the radar. Fortunately, craft beer enthusiasts willing to search for the finest brews enjoy the hunt and understand that great things often come in small packages. In J Wells' case, it's a 1.5 bbl system in a garage.
With the motto, "Life's too short for ordinary beer," Jamie Wells owns and operates the facility.
"I am an independent brewery and have no outside investors besides my family (less than 10 percent is owned by my mother)," said Wells. "I built the entire brewery with a little over $50,000 in investment from my retirement. I currently work six days a week brewing, or pulling taps" And he's always more than willing to pour a beer and chat with guests in the taproom.
One might assume the selection could be lacking—because running a one-man brewery isn't easy—but with six rotating taps, J Wells showcases dedication.
"We specialize in IPAs, pale ales and British bitters," said Wells. "I am strongly influenced by west coast beers (IPAs) and the malty beers of England."
So what about quality? Jamie says working on such a small system is the closest to homebrewing as you can get while still being a pro.
To help out, he has six volunteers: five work in the taproom and one as an assistant brewer. But with the growing popularity of J Wells, this doesn't necessarily mean Jamie gets a few days off.
The layout of his garage-based brewery is such that visitors can sit at the bar with their beer and watch him brew. And anyone who's been to the taproom will likely tell you they've met him.
Jamie's pretty candid about how he gets things done—including how exactly he went from amateur to pro. In total, the parts for the brewing system cost around $1,300, and include:
55 gallon stainless steel drum
50 feet of angle iron (1″ and 2″)
55 gallon HDPE drum (blue)
55 gallon HDPE drum (white)
chugger pump
march pump
60 plate chiller
30 plate (12″X24″)
A whole bunch of copper and fittings, sodder, flux etc.
Water heater blanket for hot liquor tun
For those homebrewers hoping to someday go pro with a nano-brewery, J Wells proves that creating a quality craft brewery is possible—but it's a labor of love. Find out more about J Wells Brewery.
---
CraftBeer.com is fully dedicated to small and independent U.S. breweries. We are published by the Brewers Association, the not-for-profit trade group dedicated to promoting and protecting America's small and independent craft brewers. Stories and opinions shared on CraftBeer.com do not imply endorsement by or positions taken by the Brewers Association or its members.