During college, Matthew Peetz wanted to be a wildlife biologist. Instead, he ended up devoting his career to a different type of wild creature. A gift of a homebrew kit changed his trajectory, and studying yeast became his passion, turning him into the "Yeast Whisperer."
Inspired by Failure
Peetz graduated from college with a Bachelor of Science in biology and a minor in sustainable development. A friend gave him a homebrew kit for graduation, and he started brewing his own beer. His first beer was an amber ale. It wasn't good.
"It was an absolute failure," he says. Regardless, he was excited. He realized brewing was the perfect blend of science and art.
He also loved the fact that brewing was something anyone could do.
(More: Breweries Experiment with Local Wild Beer Yeast)
"There's no barrier to brewing," says Peetz. "The field is open and level for everyone."
Fermentation and yeast became a passion. He kept trying and experimenting—even after he exploded five gallons of beer all over his house and harvested dandelions for an infused beer (which was also terrible).
He returned to school and obtained a Master of Science in biology in 2012. During his studies, he worked with a researcher specializing in the science of brewing. He fell in love with beer and never looked back.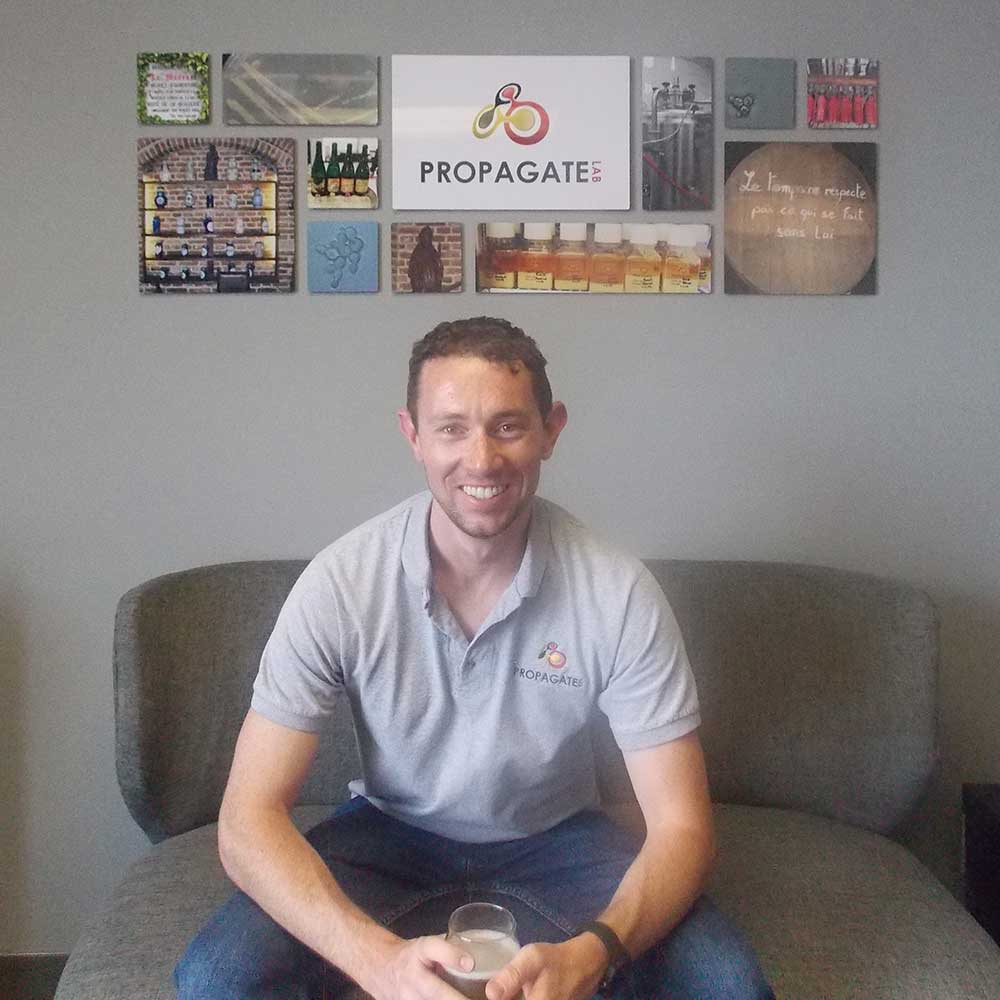 A Career in Yeast
Over the years, Peetz has specialized in yeast at a range of organizations and businesses, from the University of Colorado's Anschutz Medical Campus to the Brewing Science Institute to Gevo, a biofuels company. In 2015, he co-founded a brewing business that grew bigger than he wanted and took him away from working with yeast, so he left to start a new company in 2018—Propagate Lab™, LLC in Golden, Colorado.
At Propagate, Peetz focuses on quality, openness and a full range of yeast strains. Unlike many labs, Propagate welcomes visitors.
"We have an open lab," says Peetz. "We're transparent and want people to see how our product is made."
There are 65 different yeasts in the catalog, although Peetz has a list of more than 200. He calls himself a hoarder when it comes to yeast.
(More: Don't Drink Another Beer Before Reading This)
"It's kind of like having a zoo," he says. "All these creatures do something different."
Even so, he says 90 percent of what people buy is about a handful of yeast strains.
In addition to yeast, Propagate sells bacteria to breweries to produce acidity and tartness for sour beers. It offers a kit for seltzers, an area of growth for craft breweries. Peetz also advises breweries on fermentation, equipment, recipe creation and more.
"Matthew really knows what he's doing and always has great suggestions on what yeast strain to use for a particular style beer," says owner and brewer Jason Bilodeaux of Over Yonder Brewing Company in Golden and a Propagate client. He reached out to Peetz based on positive word of mouth reviews. "He's also very approachable, which is important to me being new to this industry," says Bilodeaux.
More Ways to Share His Knowledge
These days, Peetz is an accomplished brewer who not only advises craft breweries, but also teaches. He began lecturing in Denver-based Regis University's Applied Craft Brewing Certificate Program when it started in 2014. Three years later, he became its first permanent director.
He shares his passion for yeast with his students, colleagues and clients.
"Yeast is the least respected ingredient," he says, "yet it's the most complicated one."
He notes that yeast makes 10,000 different flavor compounds and wants people to know how much it contributes to beer's flavor. His mantra is that brewers make the wort—the sugar water at the beginning of the brewing process—and yeast makes the beer.
(#SeektheSeal: Independent Craft Brewer Seal)
Kelissa Hieber, head brewer and owner at Goldspot Brewing Company in Denver, agrees. She completed the certificate program in 2015 and now teaches in it. She's also a Propagate client.
Hieber uses yeast blends for Goldspot's unique beer styles and has worked with Peetz to create the perfect flavor profile and balance. She partnered with him on one brewing collaboration that used a yeast at a much lower temperature than normal, which changed the beer entirely.
"We would have never thought to use the yeast in that way without Matthew," she says, "and the beer was amazing."
Peetz also uses his knowledge to provide feedback to brewers as a professional beer judge. He's been judging homebrew competitions for about five years and served as a judge at the 2019 Great American Beer Festival.
In addition to working with yeast, he loves being part of the tight-knit brewing industry and knowing his customers.
"Most people see other brewers as collaborators, not competitors," says Peetz. "Plus, you're making something you get to enjoy in the process."
CraftBeer.com is fully dedicated to small and independent U.S. breweries. We are published by the Brewers Association, the not-for-profit trade group dedicated to promoting and protecting America's small and independent craft brewers. Stories and opinions shared on CraftBeer.com do not imply endorsement by or positions taken by the Brewers Association or its members.