Bonsai trees are iconic because of the aesthetically appealing shapes and designs they can be trained into by patient caretakers whose attention to detail is nearly unparalleled. The art of bonsai design bears an uncanny resemblance to craft brewing in that respect, which is how Bonsai Brewing Project in Whitefish, Montana, got its name.
No, they aren't serving Japanese-style beers here. Co-owners Graham Hart and Keela Smith are carefully crafting beers with flavors that can only be coaxed out by focusing on the details and keeping things small, just like their bonsai-designing counterparts.
"It's about being able to carefully manipulate as you go because you see how it's growing and how it's doing," says Hart. "It's not about growing bigger, it's growing stronger."
(Chart: Easy Tips for Beer and Pizza Style Pairings)
Bonsai Brewing Project, located just north of downtown Whitefish, is thriving as it goes into its sixth year of business. Like its namesake, the brewery has been very intentional about its growth.
From Homebrewer to Sierra Nevada Beer Camp
Although Hart bought his first homebrewing kit from a local coffee shop when he was 18, it wasn't until his mid-20s when his dad asked for a homebrewing kit for Christmas that the idea really gained legs.
"We made a batch of beer together and it came out pretty good, but he was just too busy and didn't really have time for it. I thought it was great though," Hart says.
From there, Hart tweaked and grew his homebrewing system for several years before quitting his construction job with his dad and going to work at a local brewery. That brewery started growing and packaging, which prompted Hart to pursue his own brewery. With the help of a winning video entry that sent him to a "beer camp" put on by Sierra Nevada, Hart was off and running.
"I couldn't even begin to list how much stuff I learned in three days of being there," says Hart. "Also, we road tripped there and went to something like 48 breweries in 21 days. The amount of stuff I saw – it's unfathomable how much I learned in that small amount of time."
Building a Brewery in Their Hometown
Whitefish natives who are currently engaged, they knew home was where they wanted to be.
(Related: Malteurop will #MakeMaltSexy)
"There was only one brewery in town that had been here since the 90s," says Hart. "We really wanted to do something here, but we didn't have the ability to do it full out."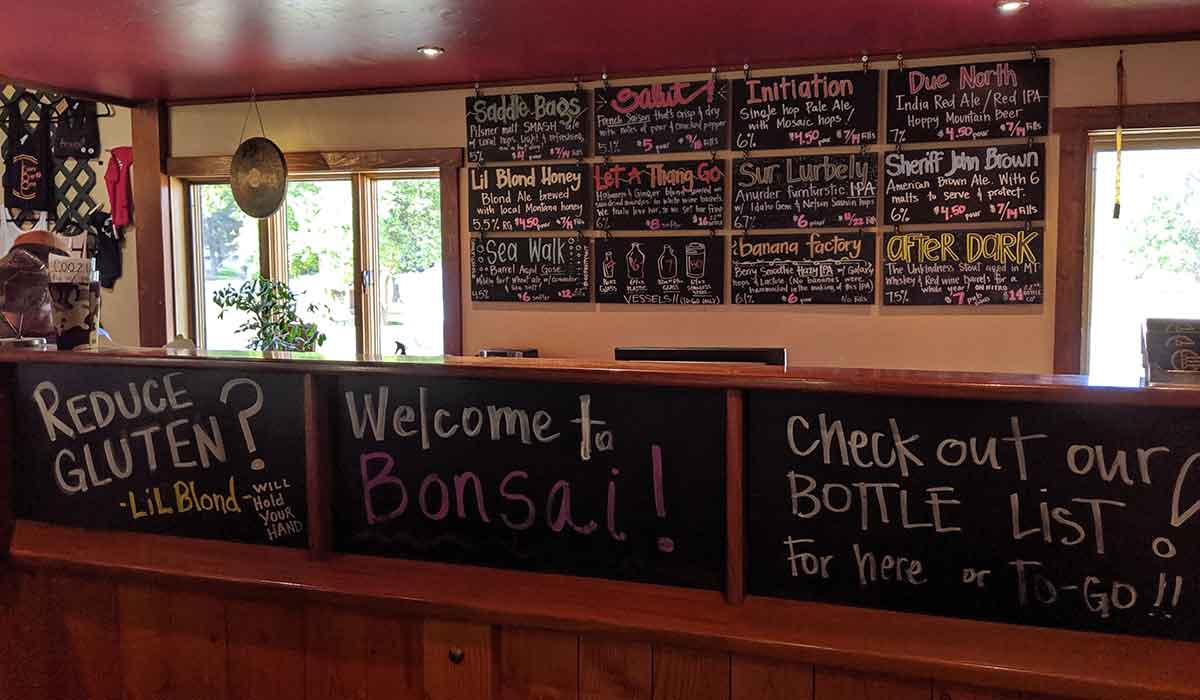 Hart says most of the plans he saw for breweries called for at least $1 million in startup funding, but he kept scaling the plans down until a nano brewery operation seemed workable. That's when he found an abandoned kitchen in the local mall. It was only 1,000 square feet–and the mall was only 20 percent occupied–but the rent was affordable at $600 per month.
With the help of a Kickstarter campaign that raised nearly $3,000 more than their $15,000 campaign goal, they opened in the space in early 2014. Hart and Smith credit being lifelong locals with getting people in the door initially.
Then Hart and Smith were dealt a curveball: the mall declined to renew their lease after the first year; a bigger tenant wanted to lease the space. They had only started getting traction and making some money, and suddenly they had just a couple of months to find a new place.
(Related: Going 'All In' Pays Off for Montana's Lewis & Clark Brewing Co.)
They went back to a place they'd previously wanted to lease but hadn't been able to afford only to find out it was no longer available for lease–it was up for sale. A family friend ultimately bought it for them.
"The deal was he'd let us buy it in the future for what he put into it and apply all our rent toward the eventual purchase price," Hart says.
The friend had also offered to invest in a bigger facility, but ultimately Hart and Smith decided to stay small. Two years later, they were able to purchase the building from him and get their own mortgage.
Bonsai Brewing Project Intentionally Stays Small
Bonsai Brewing Project has grown to producing 400 barrels a year. Although Hart says the current facility could double that number, his current plans are to top out at 500-600 barrels a year.
"That would be perfect for us. I'm the only brewer, so that's my limit. Once it gets higher than that, I'd have to bring more people in and it would change the whole plan," Hart says.
"Part of the reason we've been fairly successful is that Graham and I are both so hands on," Smith says. "We're on the floor a lot. We're constantly drinking the beer. We're constantly engaging with our clientele, and I think that's a big benefit."
Bonsai Brewing Project keeps 10-12 beers on tap at any given time, with at least five rotating taps that are constantly changing. A summer favorite was Let a Thang Go, a habanero and ginger blond soured on sundried mangos in white wine barrels. There was also a barrel-aged gose called Sea Walk, a mildly tart wheat ale with coriander and sea salt.
Hart and Smith's mission remains focusing on the details, not simply trying to grow as big as they can. Instead, they're making small moves that are carefully calculated to yield very specific results, just like the Bonsai artists from which they draw their inspiration.
CraftBeer.com is fully dedicated to small and independent U.S. breweries. We are published by the Brewers Association, the not-for-profit trade group dedicated to promoting and protecting America's small and independent craft brewers. Stories and opinions shared on CraftBeer.com do not imply endorsement by or positions taken by the Brewers Association or its members.