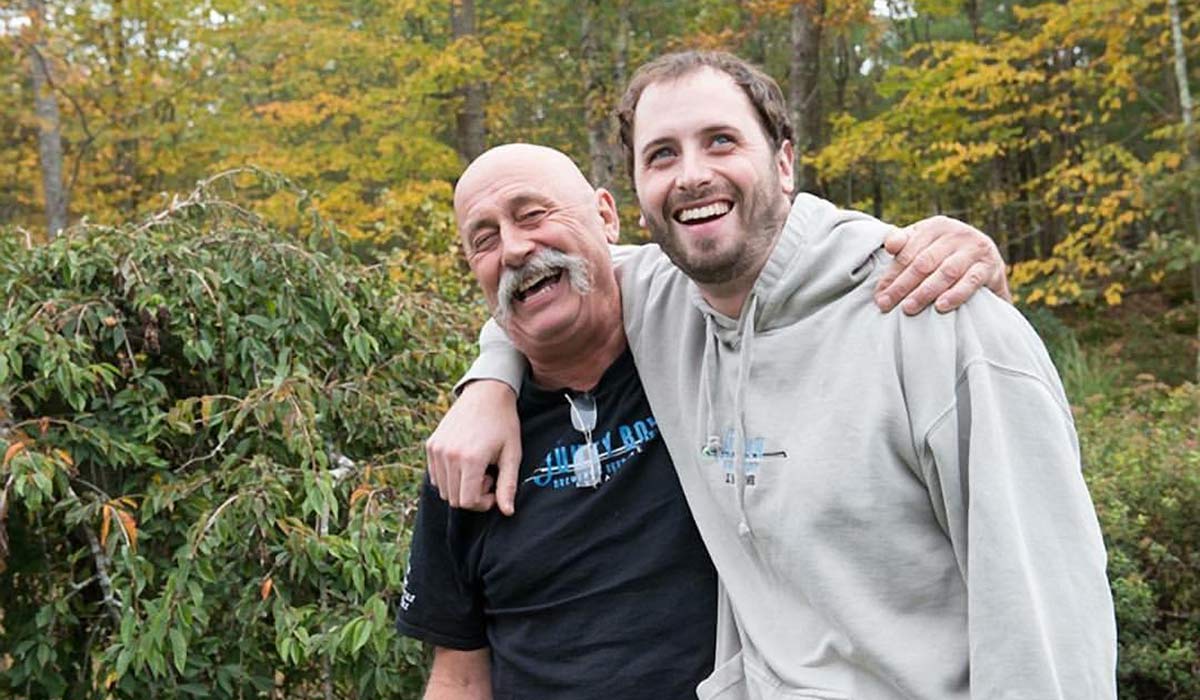 Opening a Brewery Helps Father and Son Heal Years-Long Silence
You wouldn't be off base to say that Abraham and Paul Lorrain owe some of their success as brewery owners to a fight that spawned seven years of silence between them.
The father-son duo, owners of Funky Bow Brewery & Beer Co., which sits on a 25-acre organic farm in Lyman, Maine, had a big enough argument when Abraham was 20 (he's now 36) that they didn't speak for years.
The brewery they started after reuniting has become a weekend hot spot, with a rental luxury yurt onsite and tentative plans to open a second location in Portland, Maine.
Looking back to that fight, Paul says of his son, "He was a kid." Then he adds, "In the barn there's a saying: There can only be one bull in the barnyard."
(Related: Growth Continues According to 2019 Mid-Year Craft Brewing Report Card)
Abraham was struggling with, well, life. "I wasn't doing anything," he says. "I wasn't making money … I didn't really have a plan."
At some point the two "had a big enough fight where each other's feelings were pretty hurt," he says.
"Then life gets in the way," Paul adds.
Years later, Abraham was applying to graduate school and thinking about moving out of Maine. He decided he wanted to talk to his dad "one more time," he says, and he sent his dad a letter.
The two met up for beers in Portland, Maine. Several months later, his dad bought him a homebrewing kit for Christmas.
Abraham put the kit to good use, using his background in microbiology and biochemistry to brew batch after batch in his dad's garage.
"I was still working in the lab at The University of Southern Maine under a federal grant, studying oceanic bacteria, cyanobacteria," Abraham says. "One day my dad called me up and asked if I wanted to start a brewery. I immediately said yes."
Abraham scrapped plans to move to California to pursue his Ph.D., opting to stay in Maine and work with his dad.
Funky Bow Brewery's Early Days
Funky Bow opened in 2013 with a three-barrel system producing 120 barrels a year; the Lorrains now produce 4,000 barrels each year. The taproom is in a 150-foot greenhouse with a pizza oven, picnic tables, bar and stage.
In the beginning, "People kind of drove up the driveway thinking they were going into someone's house," Abraham says. The brewery on the farm, with people drinking around a bonfire, and kids and dogs both welcome, resembled a party or family reunion.
Funky Bow, while off the beaten path, is only about a half mile from a major highway. "We're pretty well situated," Abraham says.
(More: Busy Bees: Breweries Experiment with Beekeeping to Create Local Flavor)
Abraham's mom, Alice, started making comfort food – lasagna, macaroni and cheese, meatballs. The Lorrains gave it away to customers.
"And people would hang around and drink and eat the food," Abraham says. And Funky Bow's numbers grew.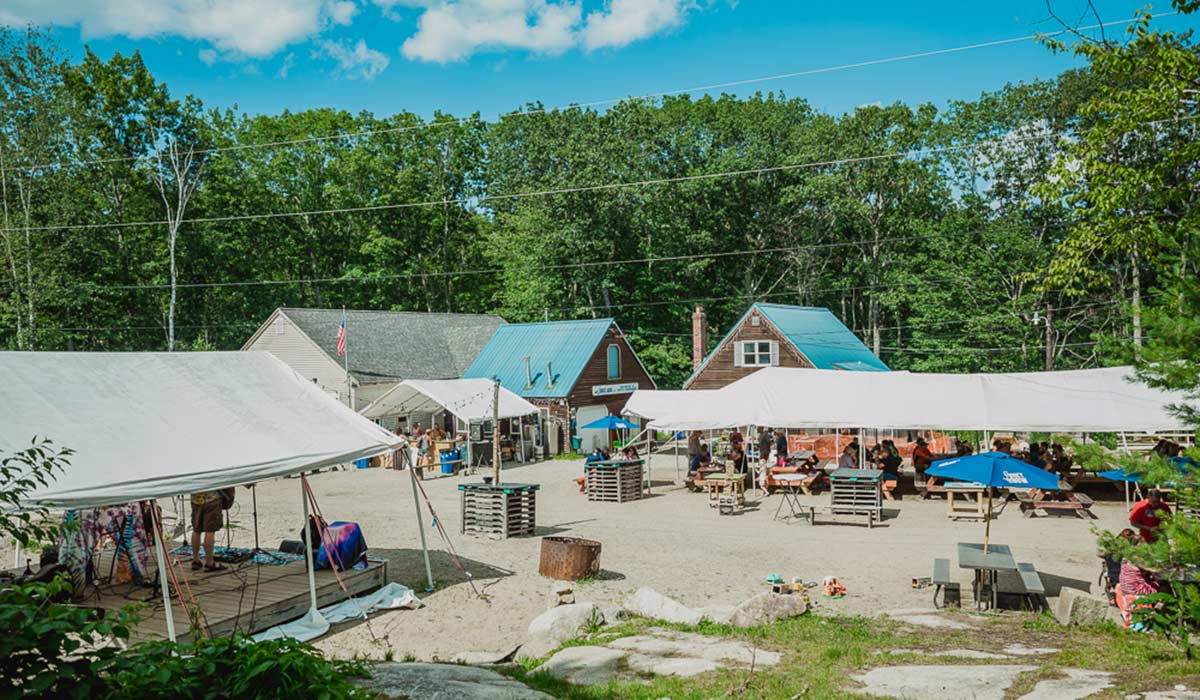 Eventually, Alice stopped cooking for the brewery and Paul bought the old, wood-fired pizza oven. He gave the pizza away, too.
Funky Bow now attracts between 600 and 1,000 visitors per weekend. The Lorrains host growler nights every Friday, Saturday and Sunday, with live music, pizza and tours. Funky Bow also teams up with organizations like the Center for Grieving Children and animal rescue groups for fundraisers.
"Pretty much anyone that approaches us, we'll help them with what we can," Abraham says.
Not bad for once-inexperienced brewers in a community of only 2,000 people.
"I was just a scientist and he called himself a dirt farmer," Abraham says. "So we surrounded ourselves with people who know more than we do."
Appreciating the Past
The Lorrains credit designer Glen Halliday's creative branding with helping the brewery reach new heights. Halliday, of GH Design Co. in Windham, Maine, created colorful cans that evoke Funky Bow's down-on-the-farm, in-the-woods atmosphere, mixing stringed instruments with starlit skies, rocking chairs and campfires.
The Lorrains distribute the beer throughout the state and in New Hampshire, Massachusetts and Rhode Island.
Paul says the Funky Bow name came from his 10 years of fiddle lessons, while Abraham "dabbles" in guitar.
The Lorrains say their So Folkin' Hoppy IPA and G-String American pale ale make up about 80 percent of their production. Hoedown, a popular Kolsch-style ale, "is becoming a year-round beer for us now, and I would say is becoming part of that 80 percent," Abraham says.
(Visit: Breweries Near Me)
Being rural brewery owners, however, has its challenges.
Paul says Funky Bow loses about 40 percent of its customer base once summer is over, and has lost some business simply due to increasing competition.
According to the Maine Office of Tourism, the number of craft breweries in the state "has exploded to more than seven dozen" in the past three decades.
"Everybody thinks it's easy, and everybody thinks we're getting rich," Paul says, noting neither is true.
Yet the Lorrains thoroughly appreciate what evolved from that fight 16 years ago. Paul half-jokes that his biggest fear is "having to get a real job."
Abraham notes that visitors on brewery tours often ask about Funky Bow's origins. And it's a story for which the Lorrains are grateful.
Every night, Abraham says, he thinks "how much I appreciate just having this opportunity to spend [time] with my dad that's pretty much unparalleled to anybody I know."
CraftBeer.com is fully dedicated to small and independent U.S. breweries. We are published by the Brewers Association, the not-for-profit trade group dedicated to promoting and protecting America's small and independent craft brewers. Stories and opinions shared on CraftBeer.com do not imply endorsement by or positions taken by the Brewers Association or its members.