Brewers around the country use honey in ways that create flavors far more complex than sweetness. Many care so much about those delicate nuances that they have started apiaries, a sure-fire way to give them honey that can only be found in their area, to create flavor profiles that can only be found in their beers.
It's not required that you manage hives to create a great honey beer, but brewers find that doing so keeps them in better touch with the honey's origin and taste for producing more creative beers. Some breweries keep bees to support their farmland. The honey has become an important byproduct that's fueled innovation in brewing. For others, the honey is the motivation — and they are happy that in seeking it, they can support a healthy agricultural ecosystem.
How Honey Influences Beer and Brewing
Regardless of the location of a hive, bees travel. Their destinations lead to the pollination of flowers, fruits, nuts and vegetables. Flavors from each come back with the bee to the hive and eventually make their way into the honey.
Through their honey, bees bring a sense of terroir to a beer.
"You're drinking the land," says Jacob Meglio, co-founder of Arrowood Farm-Brewery in Accord, New York. They are the first organic certified farm brewery in New York and they aim to showcase agriculture in their beers. Their beers represent seasonal change and their honey is an ideal ingredient that amplifies those differences from beer to beer.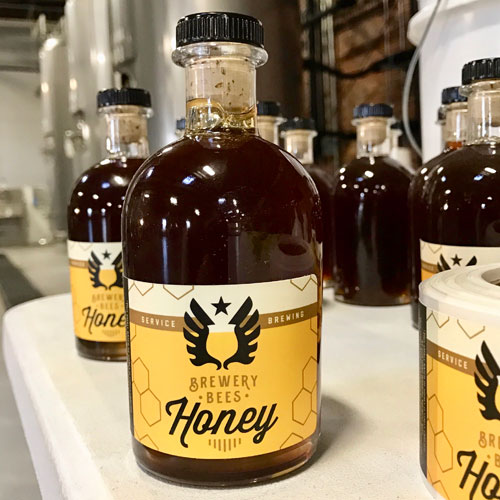 To the trained palate, the flavor variations in honey can be striking. Brandon Jones, brewer and blender at Yazoo Brewing Company in Nashville says, "Our honey definitely has buckwheat and pepper characteristics. There is a little citrus, but it's more of pithy grapefruit."
The brewery manages hives near the farmlands of West Nashville and have found that their bees spend time in an area rich with herb gardens along with pine and sap trees. For Jones, it's been rewarding to say that they have something truly unique. No other brewery has honey exactly like this to use in production. Their Abeille Wild Ale is an oak-aged tart saison that undergoes a secondary fermentation with the honey to create a brew with notes of citrus, pepper, wildflowers, and pear.
You won't get the same results twice. That is one certainty when using local honey. Meredith Sutton is the co-owner of Service Brewing Co. in Savannah, Georgia. They have brewed their Old Guard Bière de Garde for five years as a spring seasonal.
"Each year we have used a different type of honey. We have used yaupon honey, clover, orange blossom and even one that was a mix of Tupelo and wildflower. The honey adds its own personal touch to each batch, so each spring our Old Guard has a slightly different flavor profile from the year before," she says.
(READ: Daughter of Fallen Marine Creates Beer to Support Desert Storm War Memorial)
Lessons Learned By Brewers
The honey harvested from their bees and the beers that result are rewarding, but managing hives can present more challenges than a few bee stings. Sometimes these challenges can be a bit heartbreaking.
Service Brewing Co. has taken a break from keeping hives for the time being. Sutton says, "Every summer I have lost my hives due to mosquito spraying. Two years ago I decided to take a break for this reason. It's an expensive hobby. When you are a natural beekeeper–meaning I do not use any pest control in my hives–you invest so much time in protecting your colony without chemicals. The fact they they are killed by that very thing is a real bummer."
Savannah has a long history of fighting mosquitoes and while there are areas that are protected from spraying, the traveling nature of bees makes it nearly impossible to keep them safe.
Even if spraying isn't common in your area, there is more to keeping the bees happy and healthy. Michael King, brewer at Rogue Ales & Spirits says, "It's important to keep hives near the source of flowering plants (hops, fruit, vegetables and flowers). The area has to be well ventilated and far away from pesticides and roads as possible."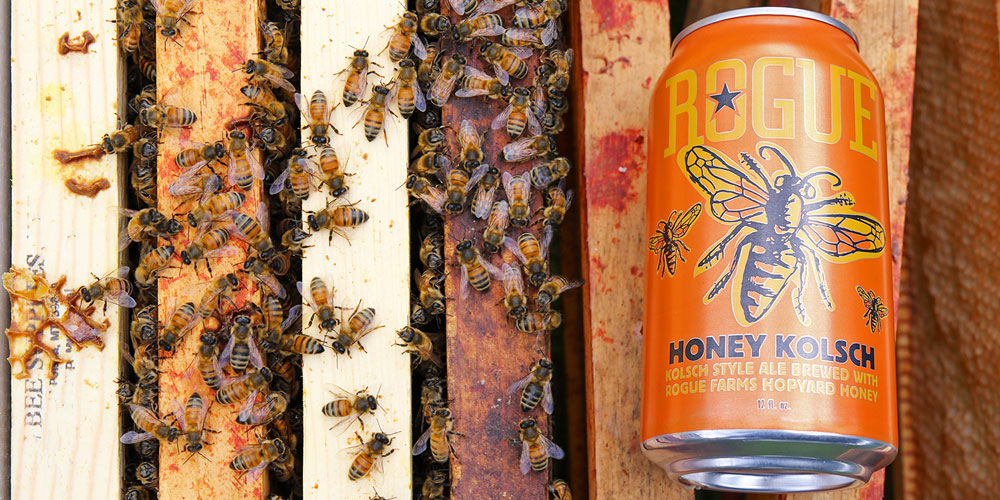 The Oregon brewery started keeping hives as a way to provide pollination to fruits, vegetables and other products grown on the farm. The honey from their hives is a bonus to use in their beers.
Once you have the right location, colony collapse and low production of honey are still risks. Karen Killough is co-founder of Vista Brewing in Driftwood, Texas. Their apiary provides honey for their beers such as the Dreamweaver, a braggot that they made with last year's honey harvest. They expect to experiment with a new style with the 2019 harvest coming in July. The apiary is also used for teaching the community how to keep bees. The brewery partners with local BeeWeaver Apiaries to host educational classes on beekeeping.
"The biggest challenge in managing our apiary has been the Texas heat. Some years, rain and forageable plants are plentiful. Other years, lack of rain and forageable plants create challenges for the bees to produce a bountiful honey harvest," she says.
(READ: How Long is My Crowler Good?)
Brewing Beer with Honey
Once brewers have the honey with its locally influenced flavor characteristics, how to produce the best beer with it is an individual process. The first step? "Taste all the honey!" says Service Brewing's Sutton.
It's an essential step emphasized by Jones of Yazoo as well. He admits that it may seem basic, but we are often quick to trust labels and descriptions from others. Taste the honey and taste many kinds of honey so that you can start to identify the subtle flavor differences. Orange blossom and wildflower are varieties many are familiar with, but there is also radish, lavender, blackberry, meadowfoam, avocado and almond honey.
King shares that they prefer wildflower honey at Rogue. It has a strong flavor that carries through to the final product. They expose the honey to as little heat as possible and avoid adding it directly to fermentation, unless the intent is mixed fermentation.
At Vista Brewing, they add the honey just before pitching the yeast. They also warm the honey by keeping it in a warmer environment so that it is easy to pour. This is a practice also adopted by Yazoo Brewing to help reduce the loss of product due to crystallization in the bottom of buckets.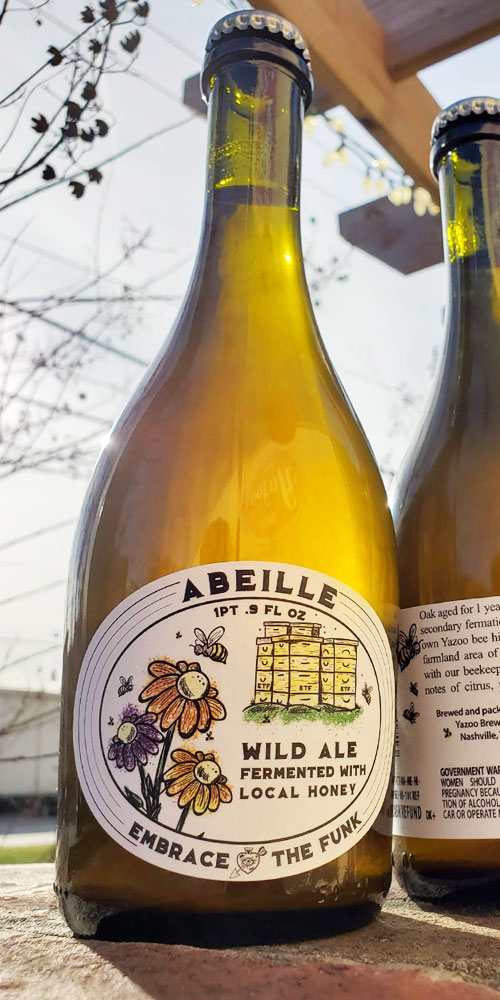 Jones uses their honey during post-fermentation at Yazoo.
"The honey has beautifully nuanced characteristics. I would rather not boil or steam those off," he says.
Producing this type of honey beer is a longer process, Jones explains. By the time the honey is added, the yeast is dormant and it takes some time to referment. It also requires some recirculation of the honey to keep it from settling.
He also challenges some things that have grown as common knowledge when it comes to using honey. For example, many are taught that a champagne or wine yeast is required when brewing with honey.
"In my experience, this simply isn't true," he says. At Yazoo, they use ale yeast with much success. He says that you can use a neutral yeast, but don't feel as though it is a requirement.
Arrowood bottle conditions their Bees Porter with honey. Meglio says, "Honey is a nice ingredient because if you give it enough time, it will ferment into alcohol. It's interesting to experience the flavor of honey without the sweetness."
Fermenting complex sugars takes time. The longer it ferments, the drier a sugar will be. The bottle conditioning also influences the mouthfeel of the beer differently than other sugars. He shares that the carbonation results in bigger, champagne-like bubbles versus the smaller, velvety bubbles you'd get from maple syrup.
(READ: Trendy Rosé Beers Reach New Drinkers)
Future of Bee-friendly Beers
While some ingredients in beer are clearly trends that come and go, honey does not fit into this category. If the innovation in beekeeping by breweries and the use of honey at different steps in the brewing process isn't enough of an indication, there is the support for brewing with honey from organizations such as the National Honey Board. They have worked with breweries the past few years to host an invite-only event called the Honey Beer Summit that gathers brewers in Austin and St. Louis to learn about beekeeping, brewing with honey, and honey beer tasting.
Beer experiments are also going beyond honey for brewing to yeast from bees, and beer and food pairings centered around honey and honeycomb. Arrowood's all-New York farmhouse saison uses isolated yeast strains from their apiary. Meanwhile, Vista Brewing pairs their apiary education with special honey-centric beer and food pairings like fresh comb honey on top of local goat cheese over their chef's warm spent-grain sourdough served alongside a wine-barrel aged Brett ale, which is Karen's favorite.
So don't let honey in the name or description of a beer fool you. As interest and experimentation with bees, honey and beers continue, chances are you will end up with something complex and enjoyable that also benefits the land and is anything but boring.
CraftBeer.com is fully dedicated to small and independent U.S. breweries. We are published by the Brewers Association, the not-for-profit trade group dedicated to promoting and protecting America's small and independent craft brewers. Stories and opinions shared on CraftBeer.com do not imply endorsement by or positions taken by the Brewers Association or its members.