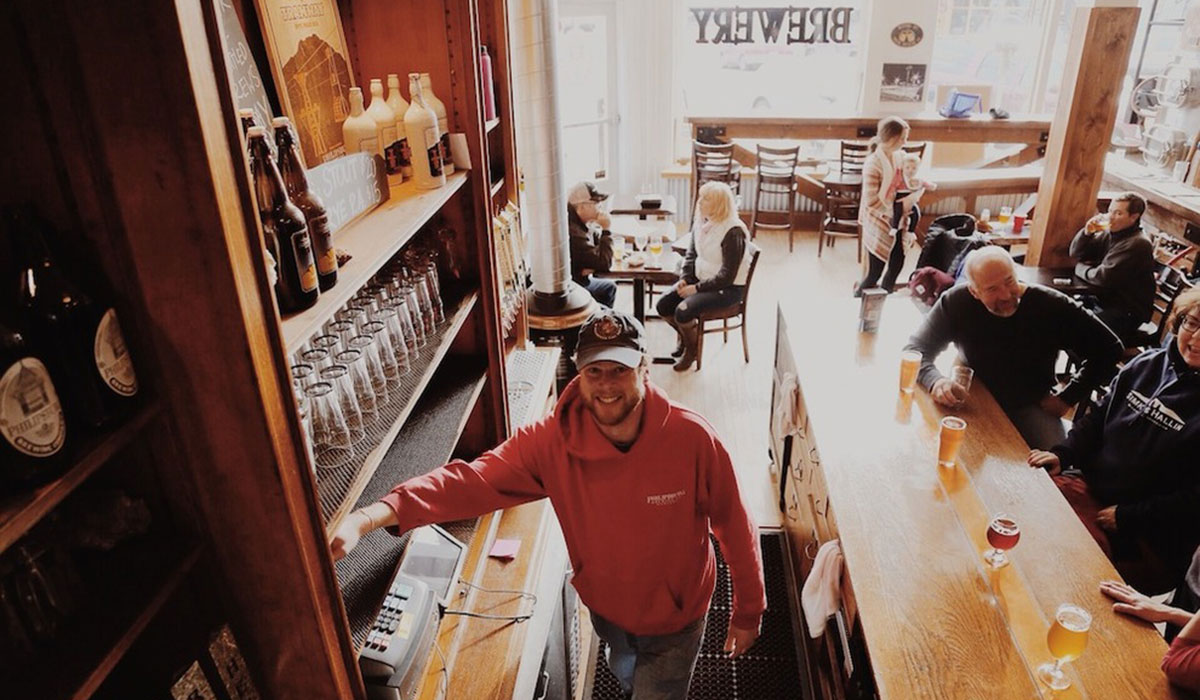 Philipsburg Brewing: Making Local Beer in a Charming Montana Town
You might think everything's big in the Big Sky State of Montana, but Montanans like to keep a few secrets, and one of them is that size doesn't matter.
In a state with barely a breath over one million people spread over 147,000 square miles, Montana has nearly 200 towns with less than 1,000 residents. And a half-dozen of these towns have their own brewery, but one in particular, Philipsburg, has two breweries, technically.
(VISIT: Find a Brewery Anywhere in the U.S.)
Philipsburg is a charming 19th-century mining town with a population of 800, and it's considered a gem for residents and visitors alike. The town sits about 30 miles off of I-90, southeast of Missoula, Montana (also home of the Big Sky Brewing). The town is nearly dead center between Yellowstone and Glacier National Parks, and it lies in the heart of Montana sapphire country. In its prime, Philipsburg boasted over 2,000 residents, but when the price of silver crashed in 1893 the town evaporated to hardly over 100. And for the last 120-plus years, it's been making a comeback.
It's here that Philipsburg Brewing Company would lay its claim for quenching the thirst of local and visiting beer drinkers. In 2012, the brewery opened in the historic Sayrs Building at the corner of Broadway and Sansome Streets thanks to founders Nolan Smith, Cathy Smith and Rob Jarvis. With an ornate Victorian façade, the building is arguably the symbol of downtown Philipsburg.
"We're so lucky to have this corner of Montana where people love to be outside as much as they love drinking local beer," says Cathy Smith. "We are where we are today because of locals, and we're constantly seeing new visitors thanks to this charming town."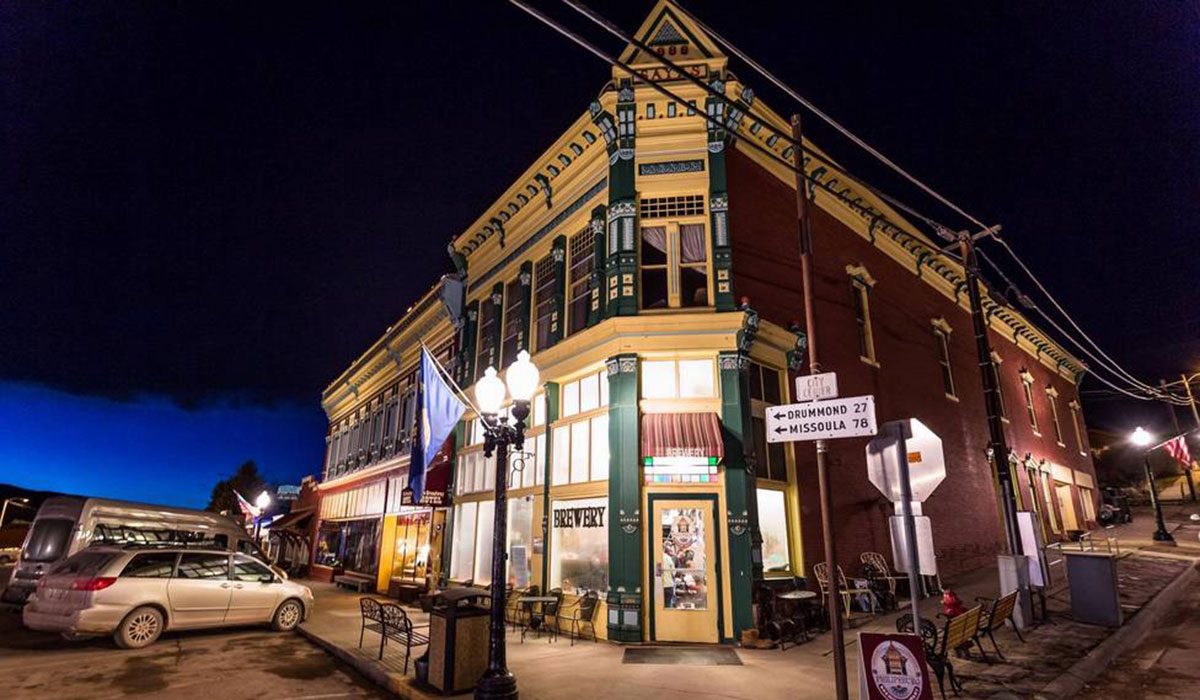 For four years, the 10-barrel brewery produced no more than 900 barrels of beer annually, but it spun those precious gallons into gold, and silver, and bronze, respectively. In their short tenure, Philipsburg Brewing Company has won gold and silver medals from the North American Brewers Association and Best of Craft Beer Awards, a silver medal from the World Beer Cup, and a bronze medal from Great American Beer Festival.
Regionally, Philipsburg Brewing Co. beers fair very well. Its Rope Swing Saison won Best of Show, Best of Montana, and Best Saison at the 24th Annual Garden City BrewFest in Missoula in 2016. It's a brewfest that had 70 beers competing, most of them made in Montana.
(MORE: 12 Breweries in Historic Locations)
Made in Montana Means Something
Being a beer made in Montana carries a certain reputation. For one, Montanans like beer. The state receives a variety of "Top 10" accolades for its breweries-per-capita, gallons produced per adult, America's Best Beer Town, etc. However, Montanans like something else just about as much as beer, and that's playing outside, so not only do Montana breweries have to make good beer, they have to offer it in ways that are fit for consumption out-of-doors.
"This is a major factor why Philipsburg Brewing Company expanded in 2016 and started bottling its beer in Ball's Alumi-Tek aluminum bottles," says Maddy Mason, sales & marketing manager for Philipsburg Brewing Company.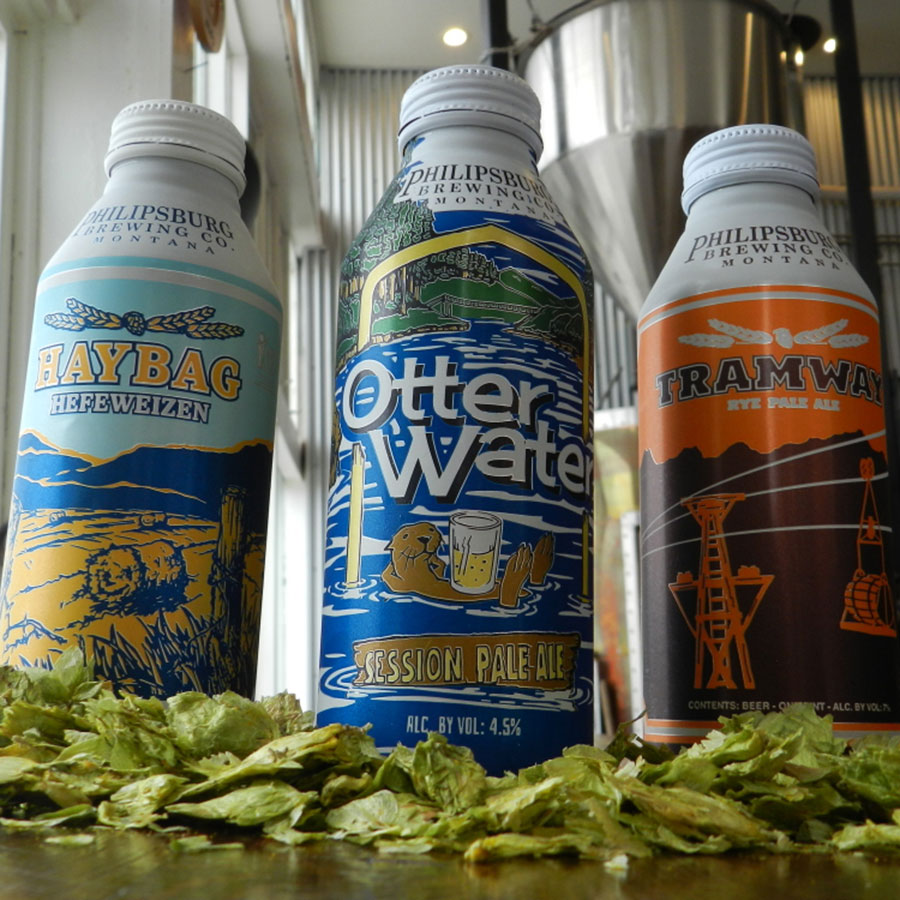 This is the point at which Philipsburg got its second brewery. No more than a mile away from the original brewery, Philipsburg Brewing Company opened a 50-barrel production brewhouse with a full aluminum bottling line. The new brewery is producing 3,000 barrels annually and bottling over a thousand cases every month.
"No one is using this kind of bottle at this kind of scale," says Mike Elliott, head brewer for Philipsburg Brewing Company. The Alumi-Tek bottle features a recyclable aluminum bottle with a screw-top lid, ideal for having in the boat while fly fishing Montana's blue-ribbon trout streams. Not only does it keep the beer in the bottle, but a few Montana rivers have a ban on glass containers.
Welcome to The Springs
The new brewery location, dubbed "The Springs," is actually a very old brewery location. It was the site of Philipsburg's original brewery, Kroeger's Brewery, which operated in the 1870s. In fact, the original hop tower still stands on-site, as does the original brewer's house, which Charles Kroeger lived in from 1875 to the early 1900s.
The nickname "The Springs" comes from the fact that the brewery sits over a network of 11 different mountain springs running underground that produces 300 gallons of water per minute. The Kroeger Brewery decided the springs made excellent beer, and the brewery was right, up until it was shut down by Prohibition.
(BEER TRAVEL: A Beer Lover's Guide to Albuquerque's Wells Park Breweries)
Mysteriously, the original brewery burned down shortly after it was shut down, and the lot sat empty until the 1990s, when a group from Missoula opened a bottled water plant fed from the same springs. Called Montana Silver Springs, the bottled water company operated from 1994 to 2004.
Fast forward a decade, Philipsburg Brewing Company saw an opportunity to harness the springs to make more beer and bought the site in 2014. To help with their million-dollar-expansion, the Smiths and Jarvis secured a $50,000 matching grant from the state's Growth through Agriculture program.
With the new bottling line distribution for Philipsburg Brewing Co. was able to more than quadruple and add Helena and Bozeman to its footprint. The first beer to be bottled was Tramway Rye Pale Ale, a flagship for the brewery. Next, the brewery bottled its Otter Water Session Pale Ale, followed by the latest offering, Haybag American Hefeweizen. All three styles are sold in 4-packs of 16-ounce bottles.
All of Philipsburg Brewing Company's beers are made with Montana 2-Row barley and 100 percent whole leaf hops. In addition to the aluminum bottles, beers are available on tap throughout the western half of Montana and occasional special releases, such as Badfinger Imperial Stout, are hand-bottled in 750ml.
CraftBeer.com is fully dedicated to small and independent U.S. breweries. We are published by the Brewers Association, the not-for-profit trade group dedicated to promoting and protecting America's small and independent craft brewers. Stories and opinions shared on CraftBeer.com do not imply endorsement by or positions taken by the Brewers Association or its members.