The landscape in Albuquerque, New Mexico, does not prostrate to subtlety. Ten-thousand-foot peaks rise high above the urban valley's east side, petroglyph-etched volcanoes flank the city to the west while the Rio Grande Bosque, a lush strip of cottonwood forest, lines the oldest neighborhoods in town.
With a setting this striking, it makes sense Albuquerqueans (Burqueños, if you're in the know) would also have a flair for the dramatic.
(MORE: 10 April Fool's Day Pranks from Breweries)
"Albuquerque is a place of bold people, colors and flavors," says Jesse Herron, a local entrepreneur whose company, Albuquerque Tourism & Sightseeing Factory, offers various city tours, including a craft beer excursion aboard a 14-passenger bicycle. "We like our food spicy and flavorful, and so it's obvious for our craft beers to reflect our bold character."
However, that boldness is not always on showy display. Hidden within former warehouses along defunct railroad spurs and retired machinery, edgy breweries share real estate with maker spaces in the industrial neighborhood of Wells Park, which abuts downtown and the city's original settlement, Old Town.
"Downtown and Old Town get all the attention from tourists," says Herron. "But Wells Park's breweries capture the understated spirit of today's Albuquerque."
Here's our walkable guide to Wells Park's breweries.
Bow and Arrow Brewing Company
Bow and Arrow opened its doors in February 2016 after years of planning.
"I had to jump through extra zoning hoops to locate here," says Shyla Sheppard, owner and CEO. "I was committed, though, because it was also an investment in my own neighborhood."
Built in the former Chaparral Electrical Warehouse, the award-winning architectural design elements of this brewery and taproom meld the industrial vibe of the neighborhood with the earthy tones and textures of the Southwest.
Upon entering, you walk through a short corridor with a series of windows into the brewery that progressively widen as you near the cavernous tasting room. "We've created a sense of anticipation with those glimpses into production because we want to foster appreciation for our craft," says Sheppard.
During happy hour (Monday-Thursday, 3-6 p.m.), the suit-and-tie crowd from nearby downtown can be found mingling at the long tables underneath rustic chandeliers. There is also an upstairs area, complete with a kitchen, available for private parties. Throughout the building, Native American themed art is displayed. The brewery's logo itself is part hop cone, part arrowhead.
The nods to indigenous elements do not end with décor. A glance at the menu reveals names like Sun Dagger Belgian-style Saison and Hoka Hey India Pale Ale, "hoka hey" being a Hidatsa indigenous expression that translates to "get ready." For some homegrown flavor, try the Flint & Grit English Mild Hybrid, an English ale hybridized with local roasted blue corn. There is also a kombucha/lager blend for unconventional palates.
(MAP: Find a Brewery)
Tractor Brewing Company
From Bow and Arrow, walk south on Sixth St. two blocks. Turn east on Haines Ave toward Fourth St. Head south on Fourth St. for half a block. Tractor Brewing Company is on the left.
This brewery began in 1999 in the nearby town of Los Lunas and relocated its entire 15-barrel operation, vintage tractors and all, to a vacant furniture showroom in Wells Park in 2014, after negotiations fell through to secure the then-empty site on which Rio Bravo Brewing Company now sits.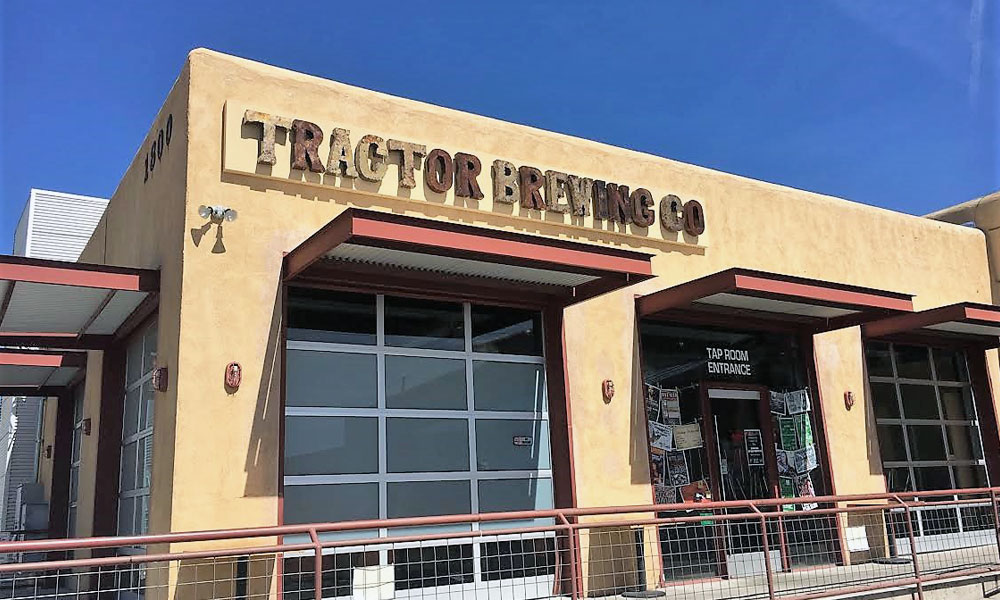 The brewery is well known for its support of local arts organizations through its Beers for a Better Burque Program. Regular community events here include live music, poetry slams, open mic nights, movie nights and Art Fight, which is a live art competition. The monthly rotating artwork on the walls is from local artists and it is worth noting the brewery does not collect a commission from art sales.
"Community is a strong component of everything we do," says Tim Torres, quality assurance manager. "Even our relationship with the food trucks is part of that. We get to solely focus on what we do best, brewing and serving beer, and they provide delicious food to our customers."
As for the 24 beers on tap, Torres is especially proud of the Pilsner #15 and Milk Mustachio Stout, which he says is "full of flavor and character and people really like the visual density when we put it on nitro."
A barrel-aged sour debuts in spring.
(MORE: Are Experimental Hops the Future of IPA?)
Rio Bravo Brewing Company
From Tractor, head two blocks east on Hannet Ave. to Second St. then head two blocks north. Rio Bravo Brewing Company is on the right.
Established in 2015 in a former Firestone Tires plant on a sprawling 14,000 sq. ft. site, almost half of this brewery and taproom is outdoor patio space. On warm days, the beer garden is bustling with people, but things get significantly sparser when temperatures drop.
The owners, Randy and Denise Baker, are serious about their motto: "Live Bold." From the tournament-size shuffleboard to the enormous fans above the bar, nothing about this place is small.
"With the jelly jar lighting and rolled trusses, this place feels like a huge Post-World War II bunker and it's definitely way bigger than we planned, but it works," says Randy.
Going big was not without challenges. "We tried for days to scrape off all the old, green paint from the floors and finally gave up," says Randy. "But people always compliment the green floors now. It also got us to recycle some green tables that a local restaurant, Dion's Pizza, was getting rid of."
Expect to find strong flavors on tap. The Level 3 is a nuke-strength hoppy IPA (7.5% ABV, 110 IBU) and the Grab 'Em by the Putin Russian Imperial Stout boasts a sensational 13.5% ABV. For the less brawny, the Randy Shandy hits the spot. Also worth a taste is the popular Piñon Coffee Porter, a collaboration with the New Mexico Piñon Coffee Company.
(MORE: Estimated Blood Alcohol Content Calculator)
Dialogue Brewing
From Rio Bravo Brewing, Dialogue Brewing is a two-block straight shot south on First St. Created by artists, film-makers and restaurateurs, this six-month-old brewery and taproom is part Burning Man dreamscape, part industrial minimalist experiment.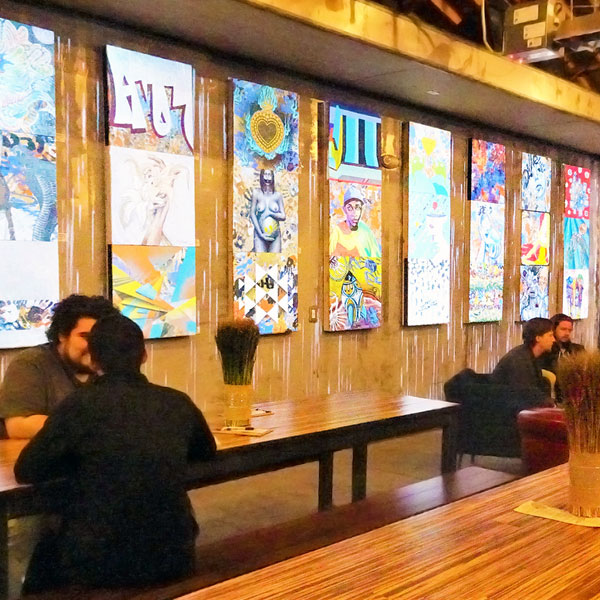 Virtually everything under this 1920s warehouse's bowstring roof is handcrafted to be greater than the sum of its parts. White birch and bamboo elements contrast against metal panels, light projection mapping and local artists' works. Even the bar stools are distinctive, created through CNC machining, which is a process that combines computers and woodworking.
Despite modern conveniences like USB charging outlets, you will not find a single television screen.
"We left TVs out and created this cool community space so people socialize," says Ian Graham, head brewer. "We've even had lyra hoop and aerial silk performances because these days it's not enough to just make good beer, you also have to look good doing it."
Efficient use of the small footprint was imperative. The seven-barrel system's fermenters create a wall that separates the production area from the taproom. Outside, a small patio is decked out with six towering rebar "tree" sculptures that also provide group seating. The sculptures weigh more than 7,000 lbs. and were buried eight feet into the ground to structurally support the 40 feet that jut out aboveground. Plans are in place to add plants to the tops of the sculptures to complement the $8,000 worth of exotic and native species currently planted.
The place is a feast for the eyes. "There's even a hidden sculpture of the Sandia Mountains underneath the bar," says Graham. "Basically, our staff put their hearts and souls into every detail of this place. They're amazing and everyone is Cicerone Certified so they can educate our customers."
Of the 12 beers on tap, sours and German-style lagers are the specialties of the house. The Belgian Citrus IPA was the runner-up in the Specialty Category of the National IPA Challenge.
"It's expensive to produce that style because the hops come in at the end so we have to use more, but it's worth it," says Graham.
(MORE: What is Craft Beer?)
Marble Brewery
From Dialogue, walk south on First St. five blocks to reach Marble Brewery. This is the oldest brewery in the neighborhood, and it is a badge of honor for locals to say they knew Marble "before it was cool." It has won at least nine GABF medals since 2011.
The small, original taproom, rumored to have been behind the city's first food truck/brewery collaborative model, has been completely gutted and now sports a rooftop deck, outdoor stage, heated patio and the Abuelo Goyo mural by Nuezz, which is likely the most Instagrammed wall in town.
On a hot summer evening, it is common to see a line of hipsters, baby boomers and multi-generational families eagerly waiting to get inside. The incongruous crowd of people is at the heart of Marble's success; it is truly a brewery for everyone.
So grab a beer, they are all good here, and end your brewery tour where this neighborhood's brewing history began.
CraftBeer.com is fully dedicated to small and independent U.S. breweries. We are published by the Brewers Association, the not-for-profit trade group dedicated to promoting and protecting America's small and independent craft brewers. Stories and opinions shared on CraftBeer.com do not imply endorsement by or positions taken by the Brewers Association or its members.