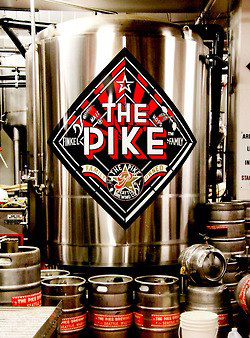 The Pike Brewing Company
The Pike Brewing Company sits in the south end of Seattle's cavernous Pike Place Market, the oldest continuously operating farmers' market in the country. Built over 100 years ago on the edge of Puget Sound, the cobblestone streets serving the keg and bottle line in the brewery's catacombs are so tight that Pike owner Charles Finkel cannot run a full size delivery truck from his loading dock.
But for Finkel, the history—his own, American craft beer and the brewery building—are as essential to his beer as malt and hops. Finkel and his wife, co-owner Rose Ann, founded the brewery in 1989 as an extension of their Merchant du Vin, which evolved into the biggest craft beer importer in America. After they sold the successful business in 1997, the ever-busy Finklels pursued an eclectic mix of interests, from local foods to scientific study. But craft beer remained their passion.
"In 2006, we bought back Pike Brewing, the part of the business we really loved," Finkel explained.
Today, Pike Brewery proudly bears "Family Owned" on its logo. Finkel, who considers himself first an entrepreneur and marketer, was on the crest of the wave of craft beer that swept through America 25 years ago. It is tempting to say that he has forgotten more about craft beer than most people will ever know. But Finkel established an extensive craft beer museum on the premises of Pike Brewing to keep track.
The Pike Brewery Museum covers beer from the Middle Ages through Prohibition, to the current explosive craft period. Pike Brewing's archive is home to tens of thousands of insightful beer artifacts, complete with detailed explanations researched and written by Finkel himself. His collection includes such gems as beer labels from the legendary New Albion Brewing, opened in 1976 as the first new craft brewery in the country since Prohibition.
Another claim to fame is Finkel's work with Samuel Smith Old Brewery in Tadcaster, England, to resurrect their Oatmeal Stout after the brew had been extinct for 100 years.
As expected, Pike Brewing makes beer that is not only delicious, but also looks like a glass of fine art. Pikes Brewing Company features a year-round selection of eight beers and a rotation of a half a dozen inviting seasonals. Finkel is passionate about the grains and hops he uses, even inviting visitors on tour to taste and smell samples.
Their best-selling Pike Kilt Lifter Scotch Style Ale is a ruby colored, low-bittered malty ale that will transport the drinker to 19th century Scotland, where this style has its roots. Pike Naughty Nellie is a mild and fruity, soft golden ale named after the founding madam of Pikes Place, one Nellie Curtis. And any visitor can always ask the brewing staff what they are drinking on their breaks in the bar. They're the guys in the rubber boots and aprons who lift their glasses in the direction of their founder and benefactor—Charles Finkel.
CraftBeer.com is fully dedicated to small and independent U.S. breweries. We are published by the Brewers Association, the not-for-profit trade group dedicated to promoting and protecting America's small and independent craft brewers. Stories and opinions shared on CraftBeer.com do not imply endorsement by or positions taken by the Brewers Association or its members.