When I visited with Tommy Tainsh, he had just returned from the Great International Beer Festival in Providence, Rhode Island, the same city where he has brewed craft beer since 1998 at Trinity Brewhouse. He brought home a handful of medals—three golds and a silver—for beers ranging from a stout to a Belgian strawberry ale with 11 percent alcohol.
"The Belgian strawberry has a cult following," said Tainsh, who became head brewer in 2013. "We blew through 14 barrels in the six days that we had it on tap."
His success is not difficult to understand when you listen to him talk about the craft of making better beer. A chef by training, he "loves" designing craft beer recipes.
Tainsh is also the kind of guy who insists that things are done right. By his admission this means he works some long hours.
"This summer we did three to four off-premise events setting up beer gardens with our food truck, said Tainsh. "We were getting to the supply house around seven, then brewing until three or four then back to the food truck until 11 pm. After about ten years, I finally took a week off to go on vacation this year because my fiancé insisted I take a break."
Tainsh keeps his crew small, himself and one assistant brewer and puts a huge emphasis on safety for his crew. He learned this lesson 15 years ago when a fermenter blew up in the brewery. He said they were lucky no one was hurt.
"We had too many people working, tripping over each other and someone made a mistake, leaving the CO2 tank open and walking away. I notice that the more people who are brewing, the more things go wrong. So I like fewer people brewing, so I know what's going on."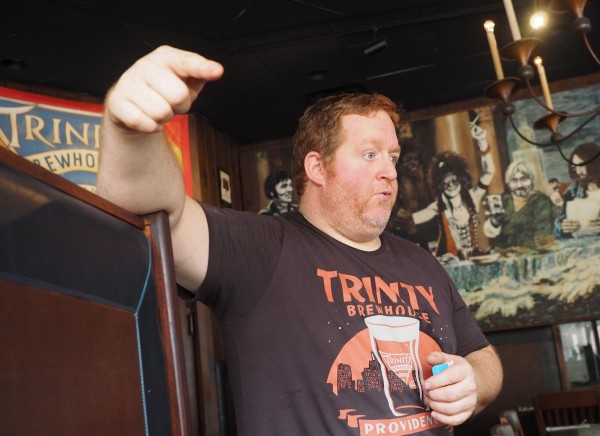 However, he said overall that the Trinity Brewhouse has had good fortune. The craft beer boom has created a strong demand for local beers. For Trinity, local is everything. The brewery sells nearly all of its product as fast as they can make it at their downtown location.
"We brew nonstop," Tainsh explained. He compares the rise of craft beer to rap music in the 1980's. "Everyone thought rap music was a flash in the pan, but it's what people wanted. Craft beer is the same way."
Trinity Brewhouse serves from a 10-tap bar that Tainsh keeps supplied brewing on a 20-barrel system. His wide-rang of beers have a wonderful unique earthy flavor. The Trinity brews also sport a mild to medium cloudiness that gives a rich taste and looks inviting in a glass.
Tainsh makes it all—from stouts to wheat beers and IPAs to spiced beers. The Captain America, Tommy's Red Ale and Belgian Witbier were notable standouts during my visit.
As with most long-time craft brewers, earlier pioneers inspired Tainsh.
"I wouldn't be brewing craft beer today it wasn't for Sierra Nevada," he said. "The first time I had Sierra Nevada, I knew that's what good beer should taste like. I was ready for a career change from being a chef and craft beer pointed the way."
CraftBeer.com is fully dedicated to small and independent U.S. breweries. We are published by the Brewers Association, the not-for-profit trade group dedicated to promoting and protecting America's small and independent craft brewers. Stories and opinions shared on CraftBeer.com do not imply endorsement by or positions taken by the Brewers Association or its members.