As the craft brewing world matures, brewers increasingly experiment with other types of fermentation. It's not uncommon for beer makers to dabble in cider, spirits and sometimes wine. Sometimes, this process works in reverse. When War Horse Brewing, an offshoot of Three Brothers Winery and Estates in New York, opened their on-site brewery at the vineyard, people took notice.
A Brewery in New York Wine Country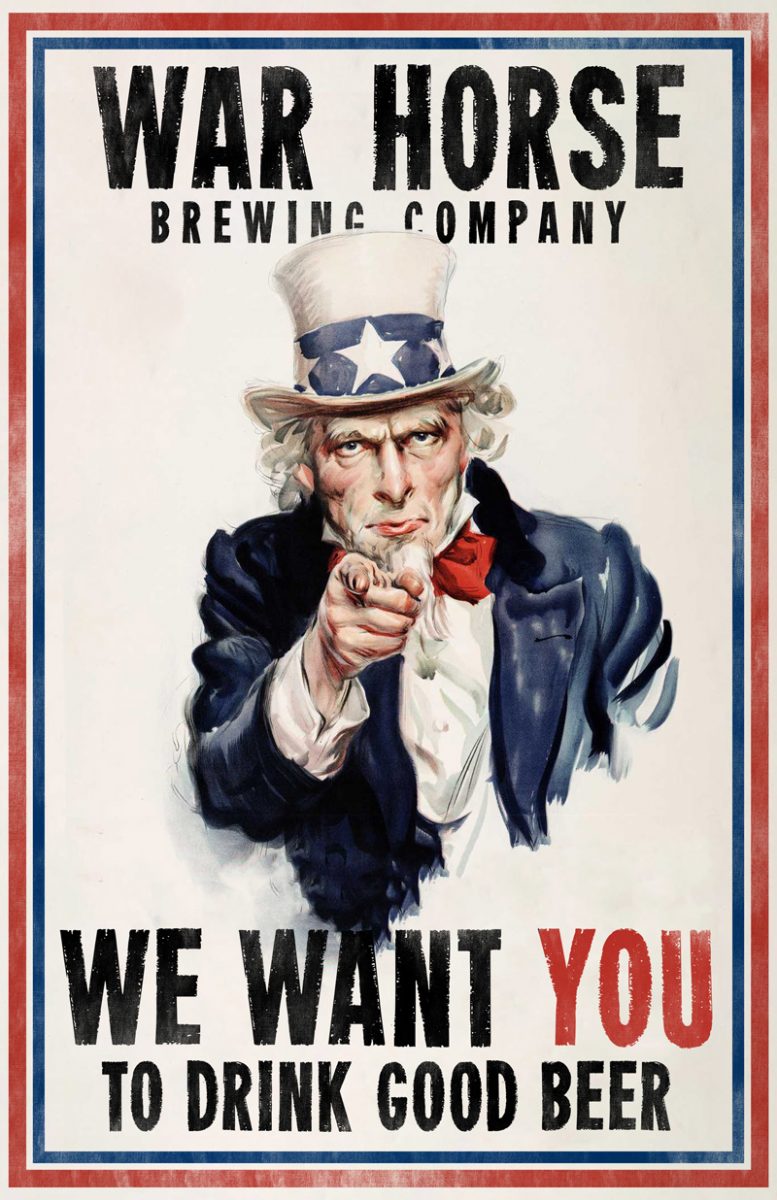 Located in Geneva, on the shores of Seneca Lake, Three Brothers Winery and Estates sits at the epicenter of New York's Finger Lake wine country. When the Mansfield family bought their first parcel of land in 2006, the winery consisted of a few acres and a single tasting room. Today, the estate sprawls over 40 acres, 30 of it under active grape cultivation. In addition to War Horse Brewing Company, the lakeside destination hosts three wine tasting rooms and a coffee house.
The process to bring a full-fledged brewery on site was a long one, lasting almost a decade, but the Mansfield family has been serving its own line of beers since 2008.
Initially, they contract brewed with a Rochester-based company.
(VISIT: Find a New York Brewery)
"Contract brewing was a great way to get into at the first," explains Jon Mansfield, director of brewery operations. "We opened up with three or four beers and a root beer and we just had a teeny tiny little tasting room. They'd make the beer there and drop it off over here and we just had it on tap."
For the Mansfield family, brewing on premise was a long-term goal, but one that gained little initial momentum.
"Everyone was all kind of like, all right someday, someday, all the beer, we're going to make it all right here," Mansfield reminisces.
When 'Someday' Becomes Today
What nudged them into ultimately investing in their own equipment? Contract brewing helps many brewers launch their brands, but it comes with drawbacks. Foremost was the persistent question about authenticity: is beer brewed offsite by someone else really your beer? Additionally, there were artistic and logistical issues with contract brewing.
"You don't have full control and full autonomy," Mansfield explains.
Contract breweries allocate fermentation schedules and raw materials months in advance. This process worked for War Horse's mainstay beers but it can also stifle innovation.
(READ: The Weird Science of High-Altitude Brewing)
In the end, though, it wasn't their philosophical struggles with contract brewing that pushed the team to make the change. It was dabbling in cider.
"What got us to the point of making beer was making cider," Mansfield explains. "Our winemaker, Justin [Paolicelli], always had this little itch for doing cider."
Paolicelli's initial cider batch was supposed to last an entire summer but sold out in just two weeks. Mansfield remembers that time and jokes, "We just made a lot of work for Justin. That was the first time in our War Horse Brewing Company world that we put something on and it caught a little fire.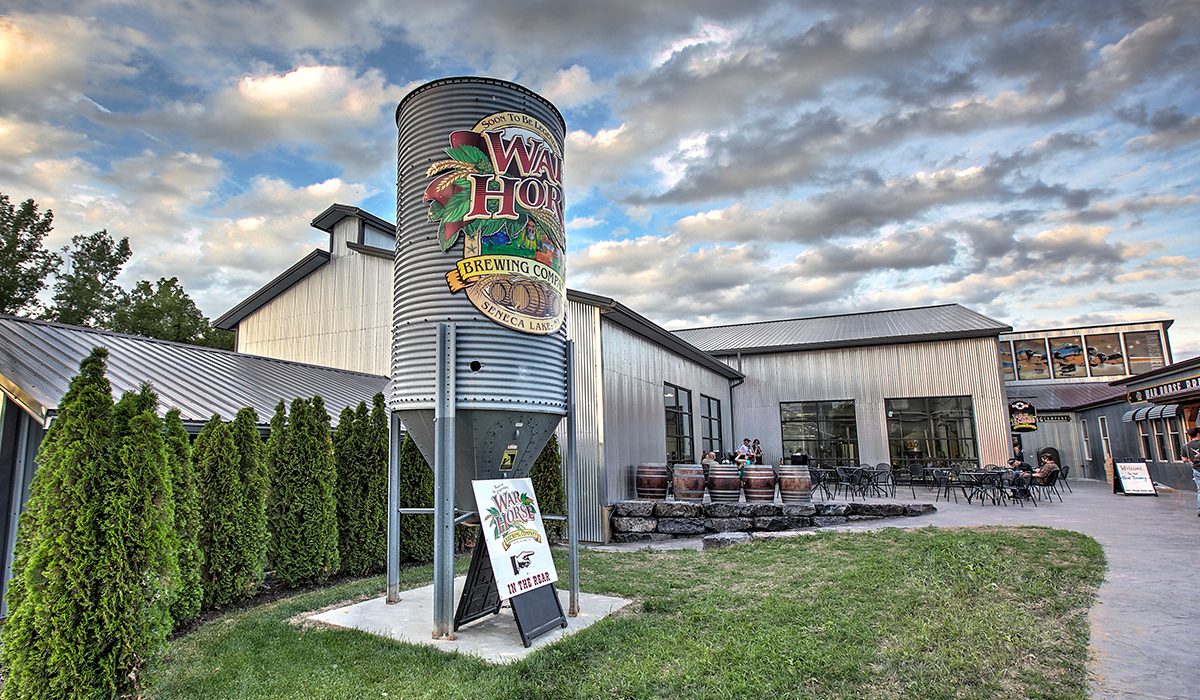 After selling out of subsequent batches, it was clear that the cider operation needed its own space. The family surveyed options, ultimately deciding to build the cider house adjacent to the beer taproom.
When they reviewed what was required for the cidery, they saw many of the things breweries also need: concrete floors with drains, glycol, tanks, CO2. The family realized that now was the time to commit to making their beers at the estate.
(LEARN: CraftBeer.com's Big List of Beer Schools)
The Importance of Place
In June 2016, the brewery debuted their onsite beers. With the move came changes. As terroir influences the nature of wine, so, too, did the new location affect War Horse's brews.
The taproom enlarged, expanding to allow visitors to see, smell, and hear the beer-making operations. The 1942-styled tasting room opened up to highlight the stainless-steel brewery. Against this backdrop, consumers could now drink a beer while watching the next batch being made.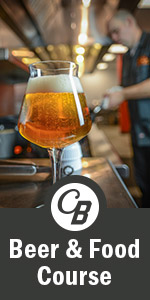 Some changes were bolder in scope. The contract-brewed recipes were created with a specific intent in mind. For instance, Peace Bomber is a wheat ale brewed with Riesling. Its purpose is to link the drinker to the sprawling grape vines surrounding the taproom. Likewise, the scotch ale is intended for a cool summer evening, a contemplative beer to drink when the sun is setting across Seneca Lake.
(LEARN: 75+ Popular Beer Styles)
When brewer Tony Cordova, previously at Brewery Ommegang and Ithaca Beer Company, took the helm at War Horse's onsite brewery, he was conscious of these intents. Mansfield recalls Cordova asking, "Do you want me to make all these beers that you've been making contract, and make them like they are?"
Mansfield and his partners wisely said no. Instead, Cordova reimagined each of the beers. The intent, and in some cases, the styles, remained the same, but the beers now connect more fully with the land upon which they are brewed.
The move to onsite creation was nerve-wracking, but the change was well received. Mansfield notes that the positive reception from other breweries was an initial bellwether of their success. "What brought everything home, and made everyone sleep a little easier, was the reception from the brewery industry."
Given the inclusive nature of the independent beer world, this isn't surprising. Yet, there may be one additional factor that has contributed to War Horse's success.
"In the dead center of every winemaker's heart is a beer drinker," notes Mansfield. "It takes great beer to make great wine because, at the end of the day, that's where all the wine guys end up—at the brewery."
CraftBeer.com is fully dedicated to small and independent U.S. breweries. We are published by the Brewers Association, the not-for-profit trade group dedicated to promoting and protecting America's small and independent craft brewers. Stories and opinions shared on CraftBeer.com do not imply endorsement by or positions taken by the Brewers Association or its members.