When the founders of Warped Wing Brewing Company opened their doors in downtown Dayton, Ohio, in January 2014, they didn't wade in slowly from the shallow end — they dove in head first. And they did so in the heart of downtown, an area that had seen an economic downturn in the decade prior to their opening. Rather than run to the suburbs as they were advised, the Warped Wing team felt the downtown area could turn around, and they wanted to be a part of that.
Taking advantage of a helpful 2013 Ohio law, Warped Wing opened with a full production and canning facility from day one and began self-distributing to retailers right away. That boldness has paid off.
(MORE: How Do You Build a Strong Brewery? Jackie O's Focuses on Home)
A Craft Beer Scene that Was Missing the Beer
Though Dayton is now home to more than a dozen breweries, it wasn't long ago there were no breweries at all. The first opened in 2012, ending a 50-year brewing drought in the city.
"When we were well into the planning stages, there were no breweries in Dayton. We looked at it as an opportunity," says Warped Wing's president and co-founder Joe Waizmann. "As we had traveled during our time in the beer business, we had seen that a city the size of Dayton without a brewery was an anomaly. Dayton had a fairly fertile craft beer climate prior to our opening. This was kind of the exclamation point."
"The craft beer consumers have been here for a while now, but the scene didn't have that local piece, that civic pride," said co-founder Nick Bowman. Waizmann and Bowman had nearly 50 years of beer sales experience between them when they approached brewmaster and co-founder John Haggerty about the possibility of opening their own brewery. Joined by CFO Mike Stover, the four men answered Dayton's need in a big way.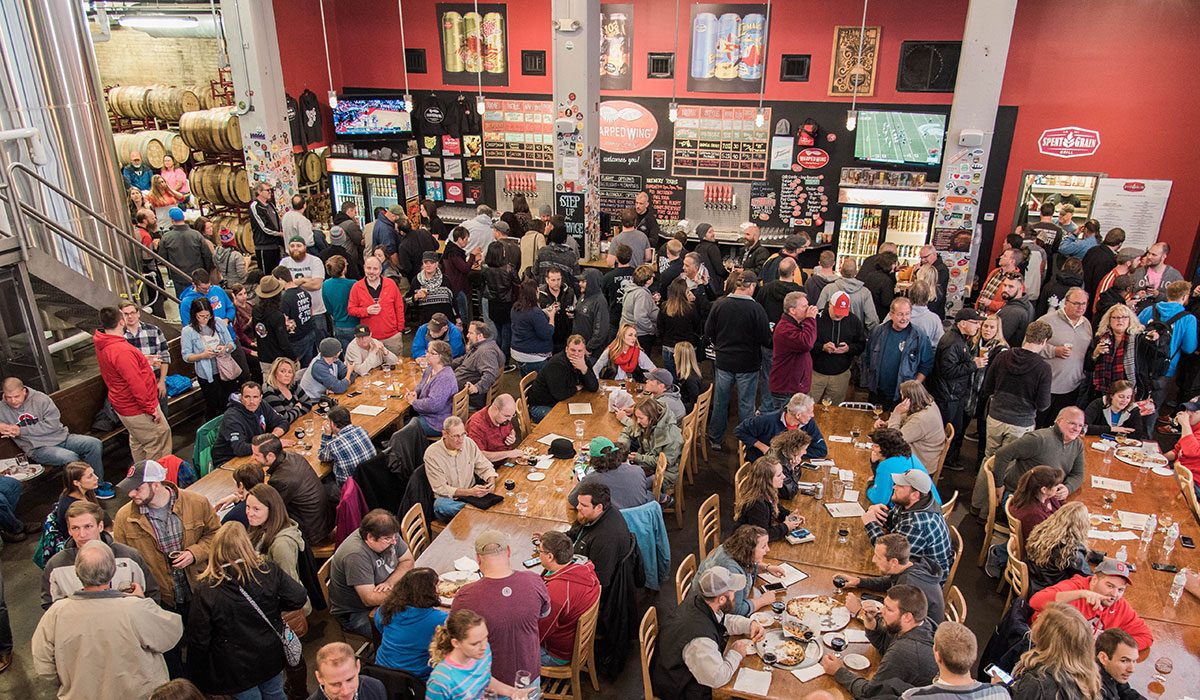 A History of Innovation
Though Dayton is much smaller than regional neighbors like Cincinnati, Columbus and Indianapolis, the blue collar city has a rich history of industrial innovation. Dayton is perhaps best known as the home of brothers Orville and Wilbur Wright, the inventors of the airplane, who once operated a bicycle shop in the city. Warped Wing's name is a reference to a design feature of the Wright brothers' first plane that allowed for controlled flight.
The Warped Wing team has incorporated their pride in their city's inventiveness into much of their design and branding. One of their flagship beers, Ermal's Belgian Style Cream Ale, is named in honor of Ermal Fraze, a local resident who invented the pull-top can in 1959. Their bestselling Trotwood Lager is named after Trotwood Trailers, a local company that manufactured unique camping trailers in Dayton for over 60 years.
(MORE: Should You Bring Your Dog to Breweries?)
"Dayton has such a rich history of innovation that not a lot of people know about," explains Bowman. "We're very proud to be here in Dayton, and hopefully that comes through in the artwork, packaging and branding."
That pride can be seen not only in their steampunk-influenced can designs by regional artists John Pattison and Tom Post, but in their brewery taproom itself. Warped Wing is housed in the former home of Buckeye Iron and Glassworks Foundry. Built in 1938, this hulking concrete industrial structure is the perfect representation of Warped Wing's hard work and innovation, as well as their commitment to downtown Dayton's history (and future). The building's large garage door at the front of the taproom, which is kept open in nice weather, looks out onto downtown. At sunset, this is the best seat in town. High above the taproom hangs the foundry's original 10-ton industrial crane, which has lent its name to the brewery's luscious 10 Ton Oatmeal Stout.
The theme of innovation is also expressed in the most important part of Warped Wing's business: the beer itself. John Haggerty, Warped Wing's seasoned brewmaster, brought over two decades of professional brewing experience to this project, and his talent is seen in the combination of creativity and refinement that characterizes Warped Wing's beers. Rather than brewing to strict style guidelines, Haggerty lets the pursuit of flavor guide his recipes into unique, style-bending brews. Even in Warped Wing's unique collaboration beers with local chocolatier Esther Price or nationally-recognized Dayton bourbon drinkery The Century Bar, balance is key.
"It all comes back to flavor," says Haggerty.
Grow Deep or Grow Wide?
Though Warped Wing is the largest brewery in Dayton's burgeoning craft beer scene, the founders don't have immediate plans to begin distributing to other states.
"People want to measure our success based on our distribution footprint and how many states we're in. I don't care," says Haggerty. "For us, it isn't a race. We're focused on Dayton, Cincinnati and Columbus, places we can get to and have personal relationships with people."
"There are two schools of thought when it comes to growth: we can go deep right where we are, or we can go wide," explains Waizmann. "Our philosophy is to go deep."
Warped Wing could make the jump to regional distribution if they wanted to, but they've instead decided to stay true to their local craft beer community, get to know people and have a lot of fun in the process.
"It's rather simple for us," says Bowman, reflecting on his brewery's future. "We all agree our vision is not to be the biggest. We just want to be the best."
CraftBeer.com is fully dedicated to small and independent U.S. breweries. We are published by the Brewers Association, the not-for-profit trade group dedicated to promoting and protecting America's small and independent craft brewers. Stories and opinions shared on CraftBeer.com do not imply endorsement by or positions taken by the Brewers Association or its members.