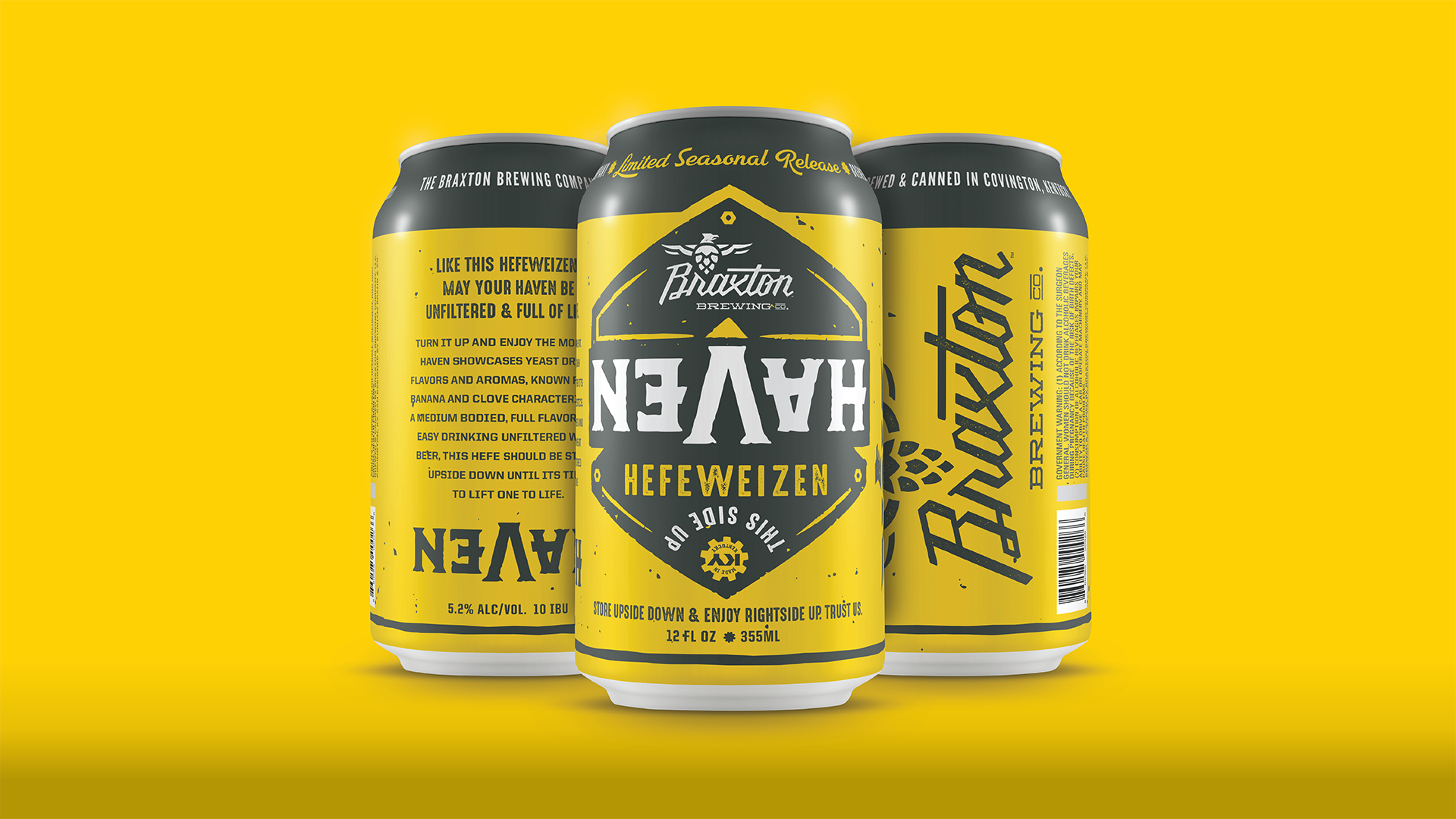 Braxton Brewing Releases Haven Hefeweizen in 'Upside Down' Cans
Beginning in March, Braxton Brewing Company will begin canning one of their most popular seasonal offerings, Haven Hefeweizen, but the packaging will be a bit different than what beer lovers are used to: the cans will be "upside down."
JOIN THE CAN RELEASE PARTY HERE
"With its introduction on draft last year, Haven quickly became one of our most popular beers," said Jake Rouse, Braxton Brewing Company's Co-founder and CEO. "When we aimed to create the spring seasonal can, we wanted to bring to light a little-known fact about hefeweizens. We collaborated with Durham Brand & Co. to design the can to be stored upside down. Once turned right side up, the yeast comes out of suspension and you pour a perfect pint!"
(MORE: 14 Spring Beers Brewers are Excited to Release in 2017)
The beer's logo is intentionally designed upside down. This is to encourage consumers to store the beer upside down. This method of storage is preferred with unfiltered Hefeweizens. As the can reads, "This hefe should be stored upside down until it's time to lift one to life." You can learn more about this method of storage from head brewer Adam here.
"With our team's deep history in brewing German beer styles, we thought it would be fit to finally package one of our favorites," said Evan Rouse, Braxton Brewing Company Co-Founder and COO. "Fortunately, it's also been one of our customers' favorites and we can't wait to share it with them."
The can's description reads:
"Like this Hefeweizen, may your Haven be unfiltered and full of life. Turn it up and enjoy the moment. Haven showcases yeast driven flavors and aromas, known for its banana and clove characteristics. A medium bodied, full flavored and easy drinking unfiltered wheat beer, this hefe should be stored upside down until it's time to lift one to life."
You can join the tapping party here.
Helping bring this brand to life, Braxton Brewing Co. has worked with Durham Brand & Co. to create Haven's seasonal brand and can design.
(MORE: Two Brothers Brewing: Built on a Stubborn Streak and a Dream)
"Each new Seasonal offering from Braxton has it's own unique design twist, but for this hefeweizen we're not twisting, we're flipping the can and educating the consumer on the preferred storage style of this unfiltered beer," said Austin Dunbar, Durham Brand & Co. owner. "The beauty of the word 'Haven' is its legibility upside down and right-side up – so it only made sense to demonstrate the drinking experience in a visual and verbal way. Trust us."
Available for a limited time, Haven is a 5.2% ABV full-flavored and easy-drinking wheat perfect for the Spring months. Six packs of 12 oz. cans will be released in the taproom on Friday, March 3rd. Haven Hefeweizen cans will be available at select retailers and liquor stores across the brewing company's distribution network in Northern Kentucky, Cincinnati, Dayton, Lexington and Louisville. It will also be available at bars and restaurants on draft.
To learn more about Haven, visit Braxton Brewing Company's website. Follow Braxton Brewing Company on Facebook, Twitter, and Instagram to stay in-the-know.
Contact Info
Company: Braxton Brewing Co.
Contact: Jonathan Gandolf
Email: jonathan@braxtonbrewing.com