Sandy Cockerham of Indianapolis spent nearly four decades working for a pharmaceutical company. She met people from around the world, one of whom introduced her to English ales. "That was my entry into something that didn't taste like sharp, fizzy, yellow, water," she says. She discovered Anchor Steam and Liberty Ale from Anchor Brewing, the old recipe for Pete's Wicked Ale, and eventually her "desert island" beer, Sierra Nevada Pale Ale.
That intro would set her down a path that would lead to becoming the highest ranking woman judge in the Beer Judge Certification Program (BJCP) by reaching the level of Grand Master VI.
Earning that distinction in July 2019 hasn't slowed her down.
"Probably in two or three months, I'll go to Grand Master VII," she says. "I'm really close."
How to Become a Grand Master
To become a judge, you have to pass an online exam to get a program identification number. This is followed by a proctored tasting exam requiring a score of at least 60 to earn the rank of Recognized. Scores of 70 — or higher — coupled with at least five experience points moves a person to the next rank: Certified. Experience points may be earned by organizing, stewarding, or judging at qualifying competitions or proctoring BJCP exams.
To move to a higher rank, at least half of one's experience points must come from judging. Anyone with a score of an 80 or higher with a minimum of 20 experience points are then permitted to take a written proficiency exam to attempt a National rank. Those with a score of 90 or above with the necessary amount of experience points may then qualify for the Master rank, followed by Grand Master rank with 100 experience points.
(Graphic: Gold Medal IPAs 1989-2018)
Grand Master ranks allow high-ranking judges with extraordinary levels of participation to be recognized for their continued service. As of March, there are 7,431 active judges around the world, 53 of which are Master levels with only three Grand Master VI: Dave Houseman of Chester Springs, Pennsylvania; Peter Garofalo of Wilmington, Delaware; and Cockerham. There are currently only three judges ranked higher than Cockerham, placing her in the top 0.04 percent of active BJCP judges in the world.
Her Path to the Top
In the mid-1980s, she brewed her first beer with whatever supplies she could find at her local store. "We as homebrewers and pro brewers today are very, very spoiled," she quips, noting she supplemented her ingredient purchases with copies of Zymurgy Magazine from the American Homebrewers Association. "Even though now they're all online, I still cannot make myself throw away the ones that I have from the 80s," Cockerham laughs. "That was a fabulous, big change in my beer life when I learned about the beer community out there."
Homebrewing took a backseat when she decided to go to law school. But during one fateful encounter after graduation, she ran into an attorney friend whose husband was in a homebrew club. Her friend mentioned a mutual acquaintance was putting together a class starting that November to become a BJCP judge. "I thought, 'well, I'm done with school now. I need a hobby. Sure. I'll take the class.' So I signed up, and that little interaction was sort of life changing."
By that March, Cockerham was officially part of BJCP.
Grand Master Judging
In the following years, she's judged as far away as Lima, Peru, and Anchorage, Alaska, but some of her most memorable judging experiences have been closer to home. "One of my favorite ones was the first year I judged at the Great American Beer Festival [in 2014]," recounts Cockerham. Paired with Ninkasi Brewing Company's co-founder and brewmaster Jamie Floyd, she recalls judging India Pale Ales and awarding the gold medal to a beer she describes as "transcendental." As she would find out later, that IPA was Breakside IPA from Breakside Brewery in Milwaukie, Oregon.
(Related: Agonizing Decisions, 2-Day Drives, and the Spectacle Behind America's Largest Beer Competition)
"I think that gold medal was sort of the thing that really got their brewery going, so that's really a fun and cool memory," says Cockerham.
Cockerham took her first exam in March 2007 and steadily moved up the hierarchy. In 2012, the same year she achieved Master level, she also became an official mead judge. She reached Grand Master in 2014 and has moved one level higher each year since. And last year, she reached her current level of Grand Master VI. She also became a certified cider judge in April 2019 and is currently the Midwest region representative and assistant exam director with Gail Milburn, whom she laughingly calls her "best beer friend, my BBFF."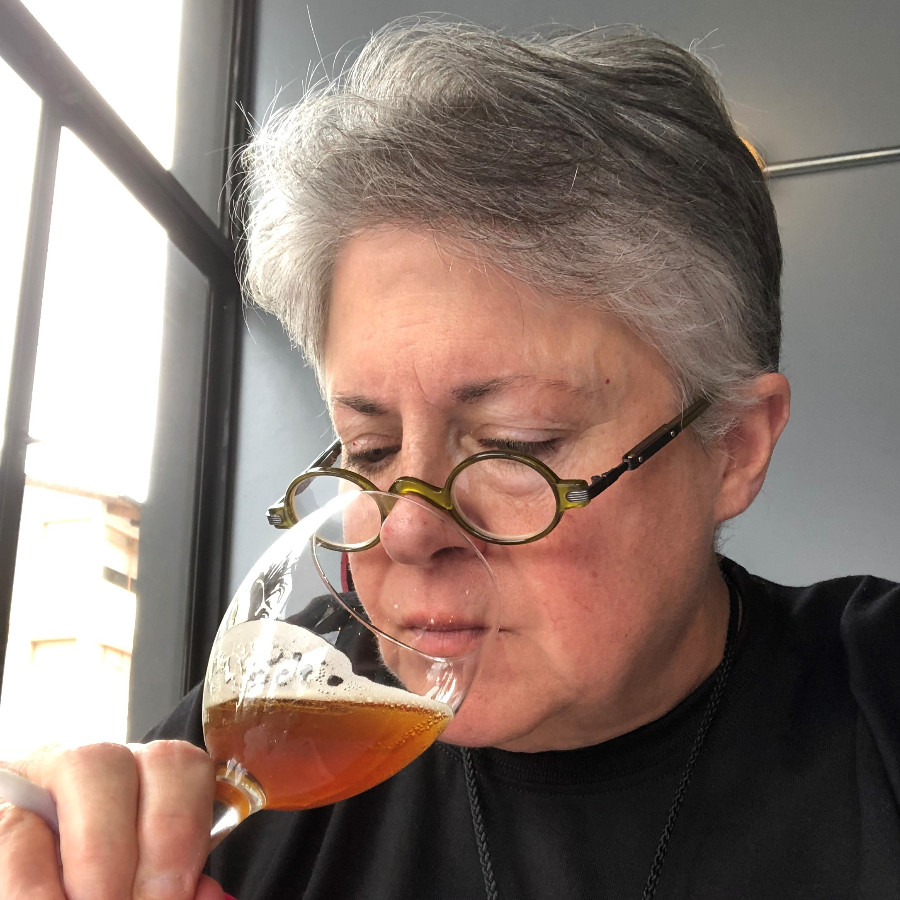 Advice For Aspiring Judges
"My friend Gail and I would talk about beer… we would encourage each other: 'you should try to take the test, you should try to take that,' back and forth. Both of us did eventually go to the Master level," Cockerham explains. "This is what I tell judges a lot. Find a buddy! Find yourself your brewing friend, your judge friend. Occasionally get together, try some beers, write notes, talk about them, work to figure out where there's a gap in your palate. That's the reason I'm a master — I had friends [and] we encouraged each other."
(Related: So You Want to Be a Beer Judge?)
She also recommends stewarding at sanctioned competitions to observe how they're run and how judging works, as well as participating in local classes and homebrew clubs to better understand the mechanisms of brewing. "Download the BJCP app on your phone," she continues. "You go to a place and you see a Baltic Porter... go in and read about it. Teach yourself. There are lots of things out there to help you learn more."
Finally, she encourages all judges to remain open to styles. "Unless you have a real dislike or medical reason, I'd say be flexible. Challenge yourself. Don't launch yourself into only what you like, because you won't grow as a judge."
The Future of BJCP
"My goal is to grow the BJCP and to make as many female judges rising up through the ranks as possible," Cockerham says. "Women have really good palates for the most part, and so they can test as good or better."
Since the BJCP doesn't track demographic data like age, gender, or race, it's difficult to ascertain how many women are joining the program outside of anecdotal observations. "All we care about is how they judge," according to Cockerham. "[But] we're trying to support more women in those underrepresented regions."
With BJCP's emphasis on sharing knowledge, Cockerham sees lots of overall potential outside the United States. "We're having lots of international growth, and it's been a very positive thing," she explains. "In South and Central America, where I travel a fair amount, they're excited. They've got the craft beer bug, and they are becoming judges like crazy… it's helping them do a better job of evaluating their beers, and that's just helping everything grow in a positive manner."