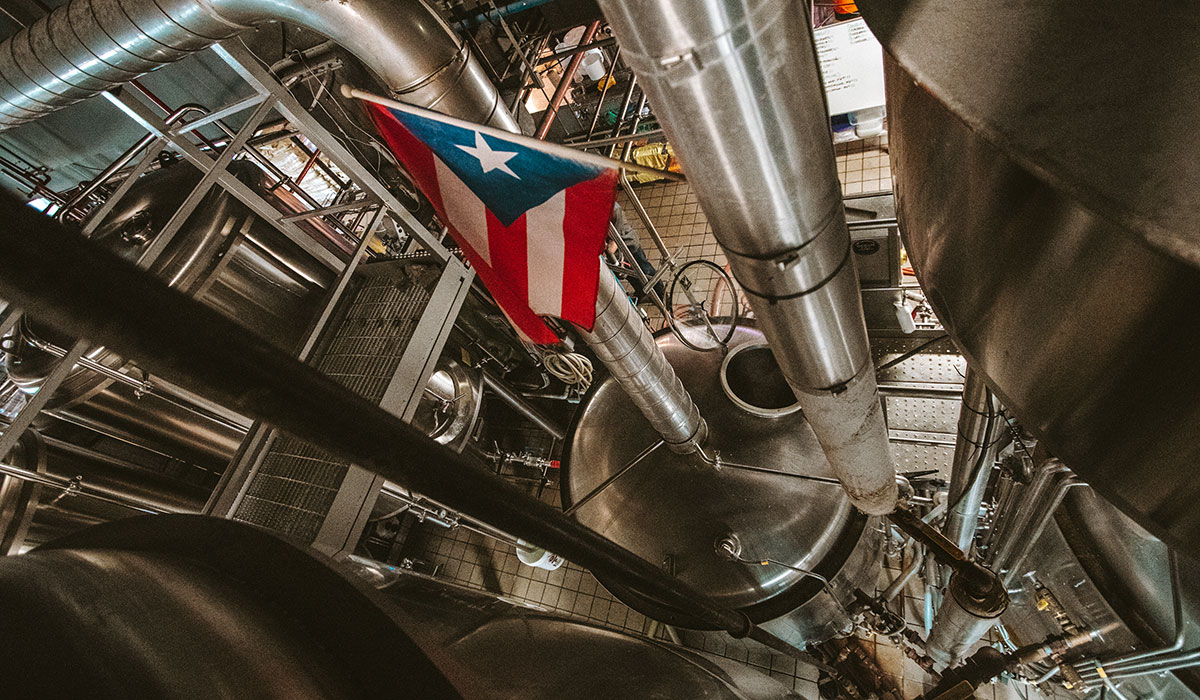 Hurricane Maria's Bittersweet Story: Puerto Rico's Craft Breweries
In the hot and desperate days, weeks and months after Hurricane Maria killed 3,000 Puerto Ricans, decimated between $43 and $90 billion worth of infrastructure and stripped electricity from thousands of customers for up to 18 months, a little cold beer could have gone a long way. But cerveza in Puerto Rico, mostly equating to mass-produced domestics and imports, plus Medalla Light, a local island favorite, proved a precious commodity following the category 5 hurricane that hit in September 2017.
No Beer, Big Problem
"When Maria struck the island, we were literally isolated from the rest of the world for a few weeks. That meant that no ships were arriving on the island except for the ones that carried first-necessity supplies. So no beer from outside of PR was available," says William Norris, who owns San Juan's Caribbean Brewing, the island's only homebrew shop and, soon, a brewery of the same name.
"Bars were calling us saying, 'We don't have anything!'" says José Carlos Gonzalez, brewmaster at the four-year-old Ocean Lab Brewing, a beach-resort brewery next to the San Juan airport that produces more beer than almost any of Puerto Rico's approximately one dozen mostly tiny craft breweries.
(Related: Two Brewers, Two Towns, and the Unpredictable Kincade Fire)
To add even more challenges to having a beer in Puerto Rico, the widespread lack of cooling power, generators and gas to fuel them forced a majority of retailers, wholesalers and breweries to dump existing product; plus, the governor imposed a curfew that included an order forbidding alcohol sales for around three weeks.
Necessity Breeds Opportunity for Puerto Rico Craft Breweries
Mercifully, Maria's clouds, despite their devastation, did leave behind a silver lining or two. Those craft breweries that could save their beer saved existing and new-found clients by filling their draft lines and coolers as soon as these merchants could legally start selling. The infusion sparked sudden recognition, curious appreciation and ongoing acceptance of local Puerto Rico craft beers among grateful drinkers who'd previously had no reason to notice these small breweries.
"That opened up opportunity for people to get to know our brand and ever since, our demand has gone crazy," says Gonzalez, whose posters and tin tackers now advertise his products at seemingly every site that serves beer.
"We were all trying to survive with what we could," adds Juan Carlos Rivera Cruz, whose German-style Zurc Brauhaus in Coamo lost power for two months. "Luckily I had enough inventory pre-Maria stocked in the cold room and took advantage of the vacuum/void of empty tap lines around the island. I went back to work very quickly."
To Dump Beer or Not to Dump
Quickly, maybe. But not easily, and not without a significant amount of stress and anxiety, and probably a decent dose of optimism and faith. When Maria struck, Cruz had just transferred his first Oktoberfest Marzen from the fermenter to the bright tank for maturation, and though he expected to lose the 300-gallon batch to spoilage, he let it age three months just in case.
"By mid-December, ready to dump the batch, I took a sample and it was perfect!" he tells me in an email. "It sold out in January as the only local Marzen that survived the wrath of the hurricane."
At Ocean Lab, Gonzalez's team had just installed their first bottling line, which had gotten delayed no thanks to Hurricane Irma two weeks earlier. For their first run, they packaged 400 cases of Ocean Lab's Blonde Ale and were turning their attention to finishing the fermentation of a harvest ale using the first fresh hops available on the island.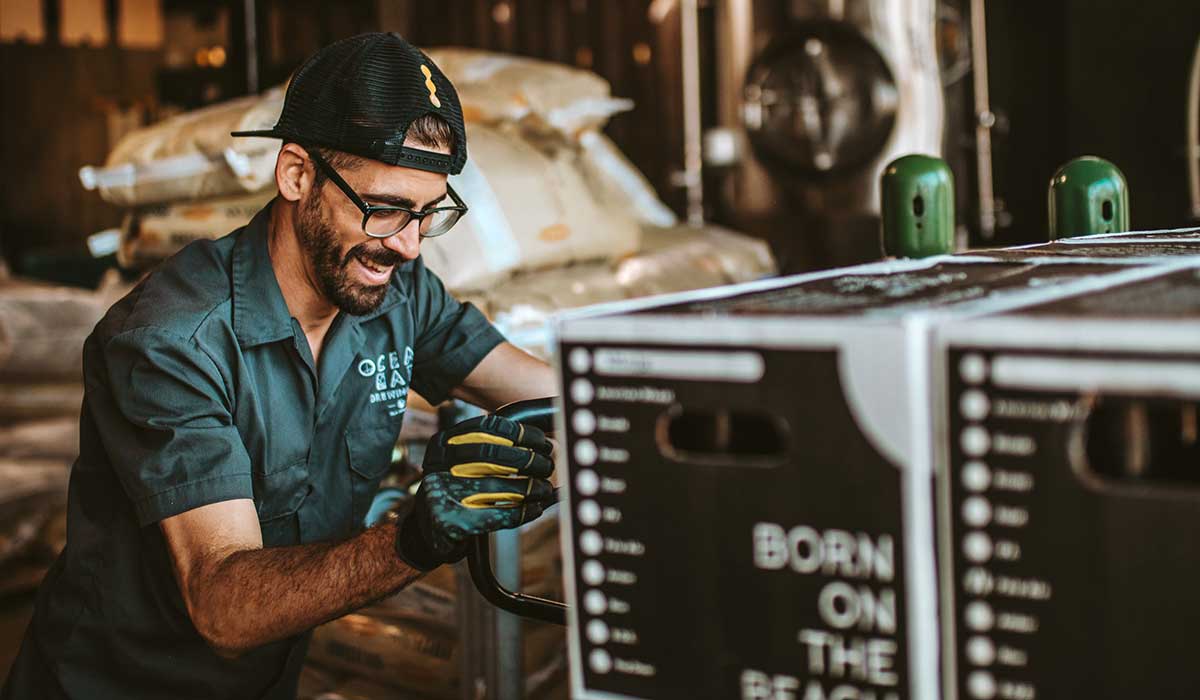 (Related: Houston's 'Daisy Chain' Yeast Experiment Produces Dozens of New Beers)
Though the brewery didn't sustain any major damage, they could only brew by jerry-rigging processes because of a skeleton crew and the need to temporarily bypass a broken generator by running electric cords from a functioning one at the other side of the resort.
"We were really dire," Gonzalez says. "We asked ourselves, 'Do we open and drain the tanks and claim it as a loss or do we continue the fight?'"
Then the chillers that kept the fermenting beer from overheating started having trouble. As a last-ditch effort, Gonzalez threw some coolant into the system. To his surprise, when he came in the next morning, the temperature inside the tanks had dropped back to desired levels.
"That was our Eureka moment," he says. "I started yelling, 'We need people! We need people! We're going to start bottling right now!'"
That year, and every year since, they celebrated the victory and dedicated the harvest ale to the people of Puerto Rico.
"It brought people together. We were a small brewery trying to make it and were in the same boat they were in," Gonzalez says.
Offering an Oasis to Storm Victims
The bottles couldn't have come any sooner. According to Zalika Guillory, who co-owns the popular La Taberna Lúpulo beer bar in Old San Juan, only Fok Brewing and Boquerón sold packaged beer up to that point.
Guillory, however, runs a lot of draft beer lines, which she couldn't use for months. Without enough power to keep keg-storage refrigerators running, she borrowed jockey boxes, the make-shift draft dispensers often seen at festivals and events. But jockey boxes need ice to keep them cold, and that, too, proved extraordinarily difficult to get.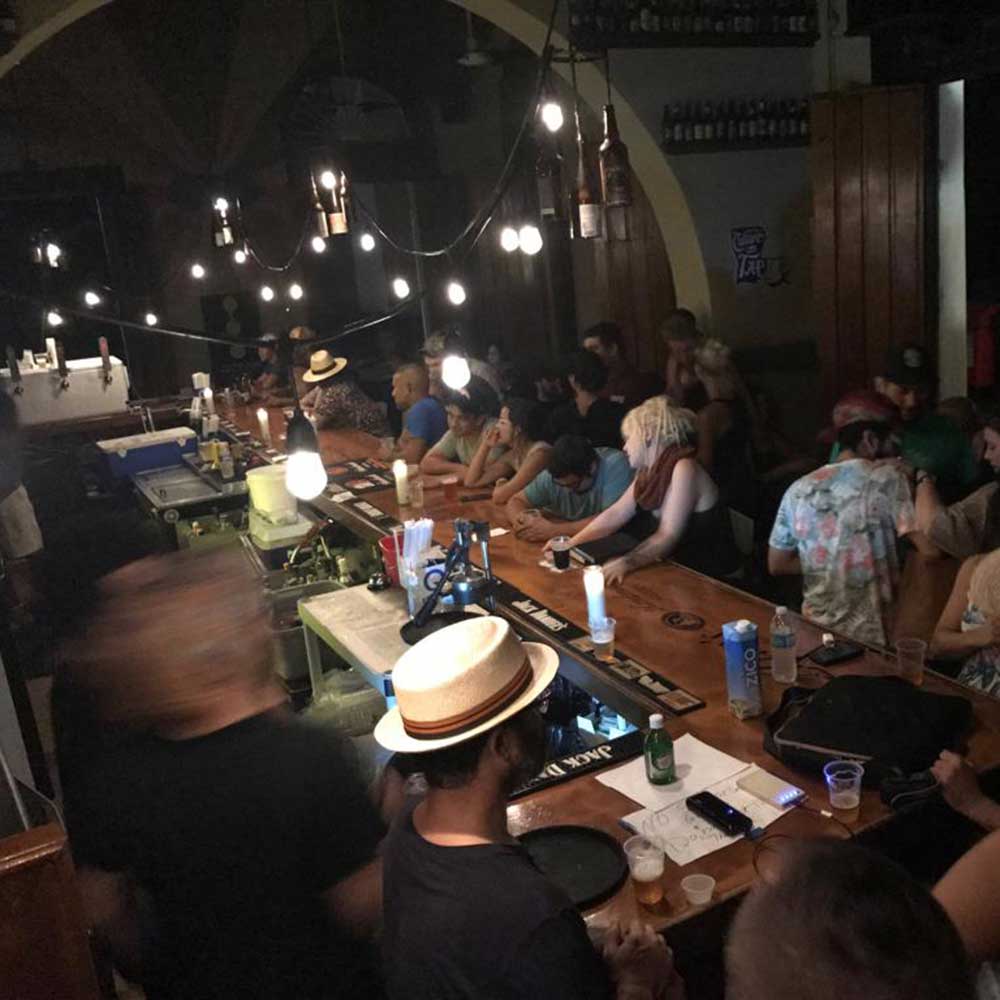 This is why after the no-alcohol order lifted, Guillory, who opened almost immediately after the storm to serve food and offer charging stations to victims, returned a borrowed box to her distributor. Then, Ocean Lab owner Luichi Fernández called to ask if she wanted to borrow a smaller box. She said yes.
(More by this Author: Piney River Brewing Puts Tiny Town on the Map)
"We would plug in our ice machine from time to time and make ice (only for cooling, not for drinking, as water was not safe) and we took it to sell his kegs, which we used for almost two months," she says. "We went through all the beer we had and as much other beer as we could get our hands on."
"The first weeks after we opened were great for sales, but we just felt lucky to be able to have a spot for people to relax and hang out," says Enrique Fernandez, owner of La Esquinita craft beer terrace in Bayamón. "The bar turned into a sort of oasis. Being able to have a cold beer in PR at this point was a luxury so naturally people flocked in to try and shut off all the craziness in their brains at least for a bit and have a little slice of normal again."
Once the electric company restored Guillory's power in late November, she ran 15-20 draft lines, about half of which came from Ocean Lab, followed by Zurc's one pre-Maria survival. She says no other brewery had reopened at that point.
"It took until around March of the following year for local breweries to resume full production and have beer available," she says.
Hurricane Maria Kick Starts Interest in Puerto Rico Craft Breweries
Once those breweries did reopen, both craft and domestic beer drinkers across the island joyfully welcomed them back.
The owner of REBL Brewery, located in Utuado, a central mountainous village smashed hard by the hurricane, says bar patrons applauded when he delivered his first post-hurricane batch of flagship Kasiri cassava ale. And when the owners of Cabo Rojo's Pura Vida Brewing ran events shortly after launching their line in January 2018, they continually ran out of beer in two hours or less.
(Find a Local Brewery: Brewery Map)
Enrique Fernandez and Juan Cruz both say social media posts and Untappd check-ins show many of their reluctant post-Maria patrons have stuck around, and Norris says despite closing for five months, his homebrew shop has picked up more customers than ever. He expects four new breweries (including his own) to come online this year, a hopeful sign that drinkers continue to embrace locally made beer in Puerto Rico.
Not long after Maria, Ocean Lab bought a centrifuge and added two 30-barrel fermenters and four 60-barrel fermenters to its opening lineup. In February the brewery put its first cans on the market and by spring it'll have a new chiller, two new bright tanks and six more 60-barrel fermenters. That's what's needed to support a brewery that jumps from 900 barrels of annual production in 2017, to 3,200 in 2018, to a projected 10,000 barrels this year, without even selling to the mainland.
"Our demand continues to increase," Gonzalez says. "That's the bittersweet story of Maria."