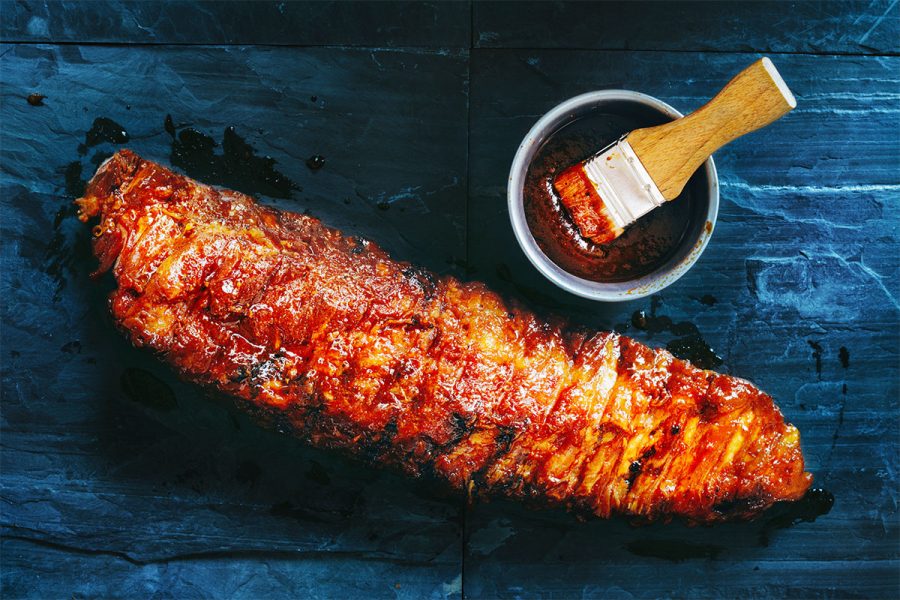 Perfect stout BBQ sauce for your summer-time grilling. This tasty sauce has some unique ingredients like Chocolate Ancho rub, molasses, brewed espresso and of course barrel-aged stout.
Ingredients
1 large yellow onion, chopped
1 tablespoon sea salt
2 tablespoons Chocolate Ancho Rub
1/4 cup blackstrap molasses
12 ounces barrel-aged stout or dark ale
1/4 cup malt or cider vinegar
1 can (15 ounces) tomato sauce, preferably organic
1 ounce brewed espresso
---
Directions
To make this stout bbq sauce, place olive oil, onion, and salt in medium saucepan over medium heat.
Cook stirring occasionally, until onions are caramelized.
Add chocolate ancho rub and molasses, stir 30 seconds, then add beer to deglaze pan, whisking well.
Add vinegar and tomato sauce, stir and reduce heat to medium-low.
Simmer, stirring occasionally, until sauce is reduced and thickened.
When sauce is brown and thick, add espresso and remove from heat.
When cooled to lukewarm, transfer sauce to a blender, cover with lid, and hold lid in place with a folded tea towel.
Puree on high until smooth, about 1 minute.
Use with brisket, or keep refrigerated in a resealable glass or nonreactive container.