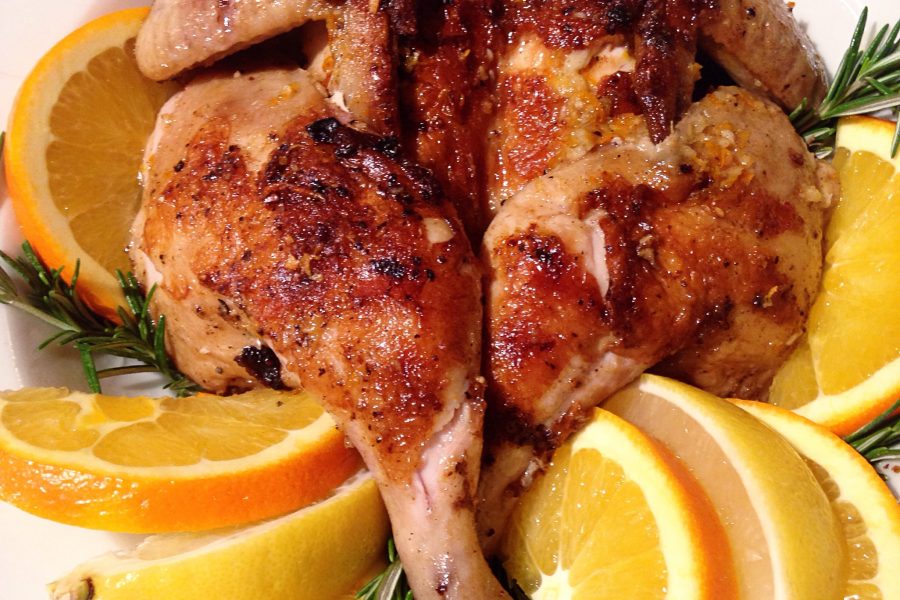 When it's cold outside, you want something for dinner that'll keep you warm, cozy and satisfied. These cornish game hens, made with Upslope's Blood Orange Saison, will do just that.
Ingredients
Brine Ingredients
4 cans cold Upslope Blood Orange Saison
4-6 cinnamon sticks
4-6 sprigs of rosemary
1/2 cup sea salt
zest of 2 oranges
zest of 2 lemons
6-8 crushed garlic cloves
Cornish Game Hens
2 Cornish game hens, thawed and butterflied
2 Tbsp warm Upslope Blood Orange Saison
1/2 stick soft butter, unsalted
3 garlic cloves, minced
1/4 tsp cinnamon
1/2 tsp cumin
zest of 1 orange
zest of 1 lemon
salt to taste
---
Directions
Four to six hours before cooking hens, mix all the brine ingredients together in a large glass (non-reactive) bowl.
Allow the hens to chill in the fridge for 4-6 hours. Right before cooking remove the hens from the brine and pat dry. Salt and pepper each side. Have a grill pan on medium-high and coat with olive oil.
Brown the hens on each side for about 5 minutes. Reduce the heat. Allow hens to cook low and slow for another 10-15 minutes.
Heat the oven to 450 degrees.
Melt the butter in a pot on the stove, on medium heat. Once the butter has melted add in all additional ingredients. Allow to simmer for 3-5 minutes, then baste on the bird before placing in the oven.
Once the hens have reached a temperature 145 degrees rub with the beer butter. Remember to check a leg and not a breast. Place the hens in the oven and finish browning, an additional 10-15 minutes. The hens are finished when the leg temp reaches 165 degrees.