Ingredients
Olive oil
Salt and pepper
3 large cloves garlic, minced
½ cup lime juice
2 lbs of cod fillets (or other firm ocean white fish)
1 small onion, chopped (about 1 cup)
1 bell pepper, chopped, destemmed, and deseeded (or equivalent amount of varying colored bell peppers, for visual appeal)
1 jalapeno, chopped, destemmed, and deseeded
1 Tablespoon paprika
1 large tomato, chopped and deseeded
¼ cup chopped green onion greens
1 bunch of cilantro, chopped (about 1-2 cups)
14 oz can of coconut milk
12 oz can/bottle of witbier
6 coconuts (or fewer, if you wish to refill for seconds), tops removed (keep the tops), and flesh trimmed back around opening
---
Directions
Place fish fillets in a dish with the lime juice, minced garlic and a generous amount of black pepper and salt. Chill until needed.
Heat a stock pot on medium with enough oil to coat the bottom. Add onion and cook a minute or two until transparent. Add the bell pepper, jalapeno, and paprika. Cook another two minutes. Add the green onions and tomatoes and cook five minutes. Stir in cilantro.
Add the fish in an even layer into the pan. Arrange some of the vegetables to cover the fish. Add the coconut milk and witbier. Bring to a simmer, then reduce heat to low and cook covered for 15-20 minutes.
Heat charcoal grill with an ample amount of charcoal (about 1 ½ chimneys for 6 coconuts). 2-3 minutes before stew is ready, nestle unlidded coconuts directly down into the coals, arranging the coals around them to prop them up. Add a few woodchips to the coals and close the lid on the grill to allow the smoke to impart flavor to the coconuts.
Stir the stew, and use a ladle to fill each coconut with the stew. Cook over the coals for another 5-10 minutes. Leave the lids off the coconuts to add more smokiness to the stew. Flames from the woodchips are okay as long as the coconuts do not catch fire. They will char and smoke though!
Remove coconuts carefully with tongs and place each coconut into a wood or teak bowl. Use the coconut's lid to fill the gap between the coconut and the bowl for stability. Serve immediately for the most dramatic presentation, as the coconut will still be smoking.
Add more lime juice, salt, or black pepper to taste, if desired.
---
Suggested Recipes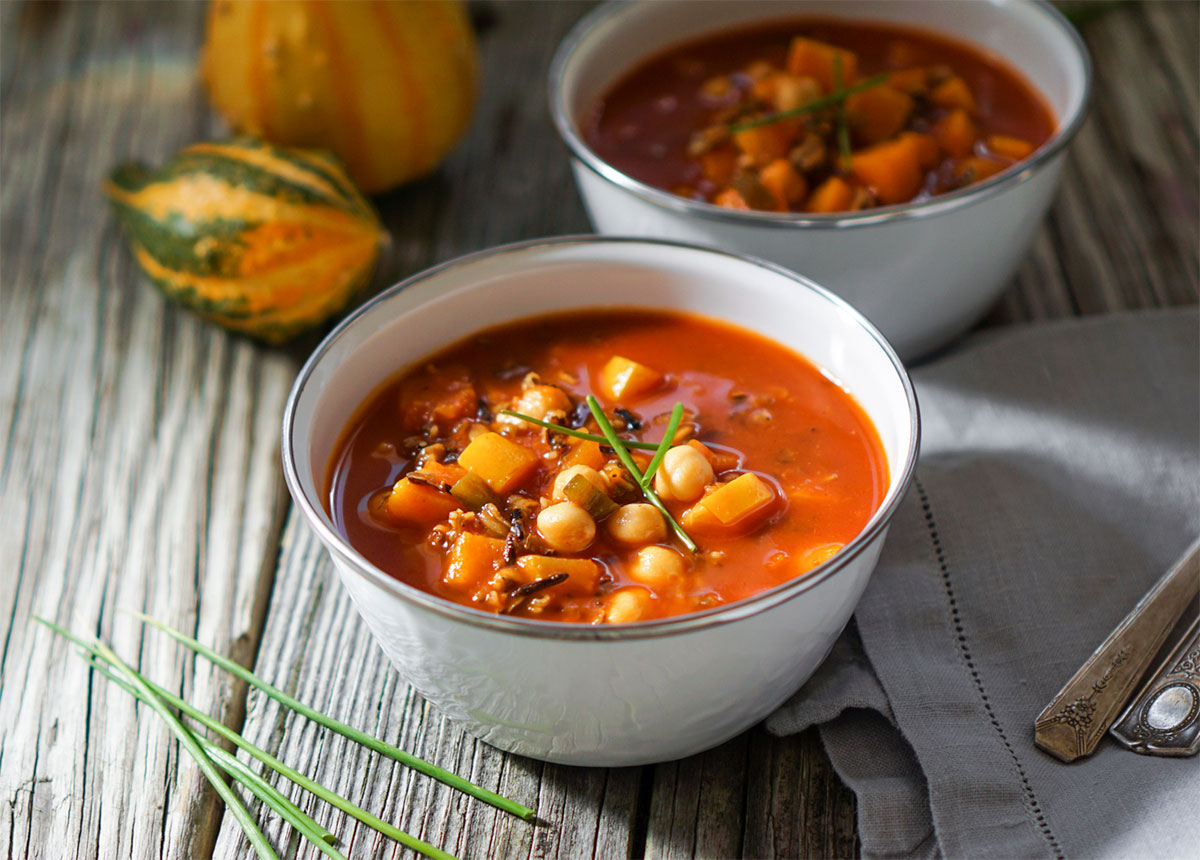 Entree
November 19, 2012
November 19, 2012
This pumpkin ale chili has it all. Beer, pork, beans, peppers, and a dollop of pumpkin yogurt adds the perfect balance of sweetness to the chili, which pairs perfectly with your favorite porter.
Read More