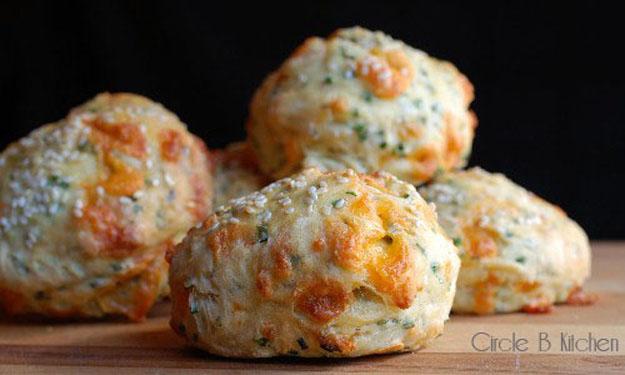 These hearty beer scones go beyond brunch and include your favorite wheat beer, cheddar cheese, chives galore, Dijon and sesame seeds to boot!
Ingredients
2 3/4 cups all purpose flour
1 Tbsp sugar
2 tsp baking powder
3/4 cup minced fresh chives
1 1/2 cups coarsely shredded cheddar cheese
3/4 cup (or more) chilled witbier
2 eggs
1 tsp salt
1 Tbsp vegetable oil
2 tsp Dijon mustard
Sesame seeds
---
Directions
To make these cheesy and chivey beer scones, preheat oven to 425°F.
Sprinkle a baking sheet with flour (I just used parchment paper).
Whisk first 3 ingredients in large bowl. Stir in chives and cheese.
Whisk 3/4 cup witbier, 1 egg, oil, and mustard in small bowl. Gradually add beer mixture to dry ingredients, tossing until moist clumps form and adding more beer by tablespoonfuls if dough is dry (I ended up using a little more than a cup of beer).
Turn dough out onto lightly floured surface; knead just until dough comes together.
Pat out dough to 1-inch-thick round. Using 2 1/2-inch-diameter cutter, cut out scones. Gather dough scraps and repeat. Transfer to prepared sheet. Whisk remaining egg in small cup; brush over scones. Sprinkle with sesame seeds.
Bake scones until golden on top and tester inserted into center comes out clean, about 14 minutes. Cool scones on sheet 5 minutes. Transfer to basket.
Serve warm and enjoy!