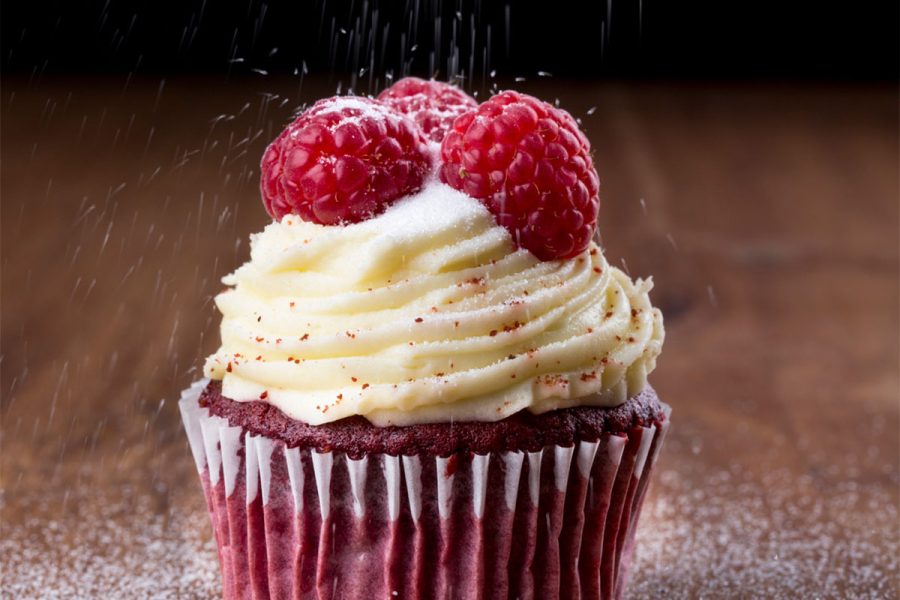 Create these delicious chocolate stout red velvet cupcakes made with Fort Collins Brewery's Chocolate Stout for your sweetheart on Valentine's Day.
Ingredients
Chocolate Cake
1/4 cup Double Chocolate Stout
2 tbs unsweetened cocoa powder
2 tsp vanilla extract
1/2 cup vegetable shortening
1 1/2 cups granulated sugar
2 large eggs
1 tsp salt
2 1/2 cups sifted cake flour
1 cup buttermilk
1 tsp distilled white vinegar
1 tsp baking soda
Vanilla Cream Cheese Frosting
1 lb room temperature butter (4 sticks)
1 lb cream cheese
3-4 cups powdered sugar
4 Tbsp vanilla
---
Directions
To make these red velvet cupcakes with stout, preheat oven to 350°F and line two muffin tins with paper liners.
In a small bowl, thoroughly whisk the Double Chocolate Stout, cocoa powder and vanilla.
Add the shortening and sugar to a stand mixer and beat well until combined.
Add the eggs one at a time, beat well between additions.
Add the beer mixture and salt—beat until well combined.
Mix in the flour and buttermilk (alternating) while the mixer is at low speed. Do not over beat.
In a separate small bowl, mix the baking soda and vinegar. Gently fold into the batter
Distribute the batter evenly among the muffin cups, filling the cups the ¾ of the way.
Bake for approximately 20-30 minutes or until a toothpick inserted into the center comes out clean.
For the frosting, use a mixer to combine the cream cheese, butter and vanilla. Add the powdered sugar in batches until well combined. Cool on rack before applying frosting.
Garnish with mint and berries (optional).