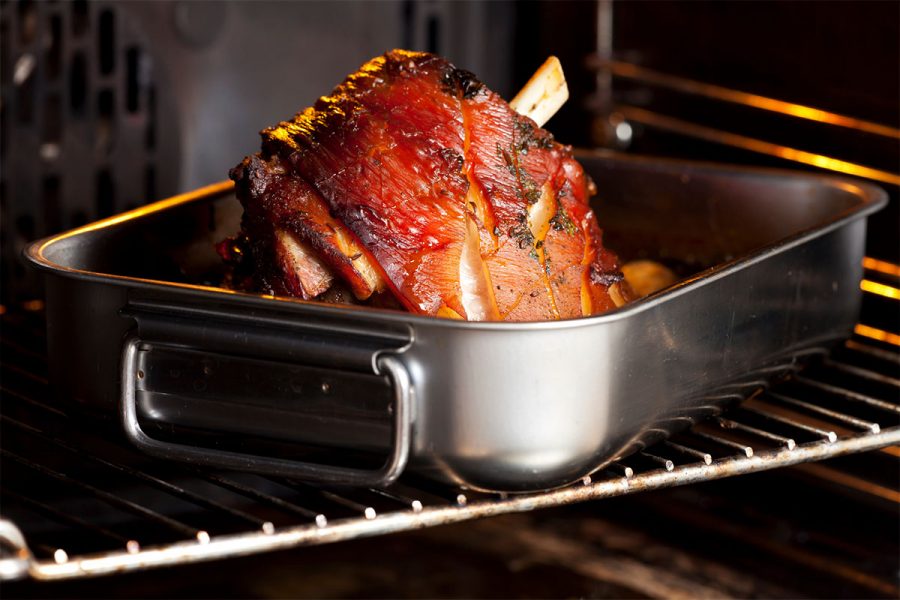 Brown ale is the perfect accompaniment to grilled meat.Try these grilled ham hocks with with beer-braised Brussel sprouts and potato pancakes.
Ingredients
8 ham hocks, skin on
9 Yukon gold potatoes, skinned, shredded and drained
6 onions (yellow or red), 2 chopped roughly and 4 cut into thick slices
2 stalks of Brussels sprouts (or two bunches)
3 carrots, chopped roughly
3 celery stalks, chopped roughly
2 bay leaves
16 oz. container of sour cream
3 thick slabs of bacon, diced
2 eggs
5 16 oz. bottles of brown ale
canola oil
whole pepper corns
Kosher salt and cracked black pepper to taste
---
Directions
To begin, place the pork hocks, carrots, celery, bay leaves and the two roughly chopped onions into a pot and cover with water. Salt the water generously, cover and bring to a boil. When the water comes to a boil, reduce to a simmer and cook for two hours.
As the pork cooks, shred the potatoes, draining off all the excess liquid, and cook the Brussels sprouts.
For the Brussels sprouts, place in a pot and cover with two bottles brown ale, a half cup of water and a tablespoon of salt. Bring to a boil and reduce to a simmer. Cook for 30 minutes covered. If the Brussels sprouts are tender after 30 minutes, drain the liquid. Otherwise, cook for another 10 minutes.
Heat a frying pan over high heat. When the pan is hot, add the bacon and Brussels sprouts, reduce to medium high heat and cook until the bacon is crispy and the sprouts have browned some, about 15 minutes. Remove from the pan and cover loosely to keep warm.
In a sauce pot, pour the remaining three brown ales and a dozen or so black pepper corns, and bring to a boil. Once the basting liquid is boiling, turn the heat down and reduce the liquid by half.
When the pork hocks are cooked, pull them out of the pot, pat dry and stick on the rotisserie rod. Load the pork hocks on the grill and cook using medium heat for 30 minutes. Baste with the liquid every 10 minutes. Also, grill the slices of onion.
As the pork hocks spin, beat the two eggs and combine with the potatoes. In a hot pan, add a couple tablespoons of oil. As the oil heats, take a portion of the potato mixture, form it into a patty and place in the pan. Season with salt and pepper. Cook for three minutes or until a brown crust forms. Turn, season and cook the potato pancake for another three minutes.
When the potatoes, onions and pork hocks are cooked, plate them with the brussels sprouts and top the potato pancakes with the grilled onions and a dollop of sour cream.