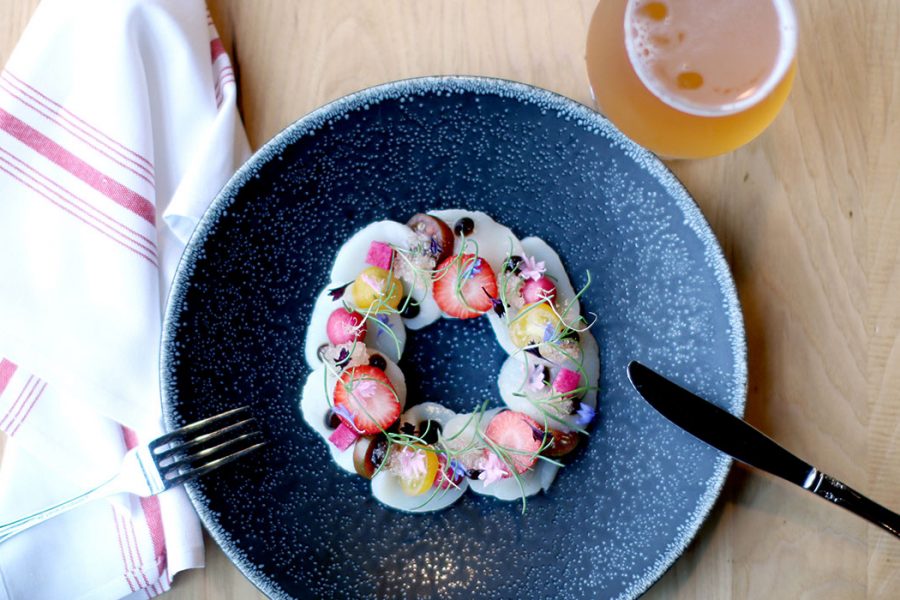 Looking to push the envelope, Chef Seth Lassak from Wolf's Ridge Brewing shares how to balance the delicacy of sea scallop crudo with Dire Wolf Imperial Stout.
Ingredients
16 oz Sea Scallops
135 g Dire Wolf from Wolf's Ridge Brewing
1 g Agar Agar
4 each Strawberry
9 each Petit Red Radishes
1 each Watermelon Radish
12 each Cherry Tomato
2 each Finger Lime
4 each Bachelor Buttons
36 sprigs Sea Cress
Fleur de Sel to taste
---
Directions
Preparation

Slice thinly and shingle sea scallops onto a plate and reserve, covered. Wash and slice the strawberries into rounds, discarding ends. Wash and remove greens from the petite red radishes, leaving root end intact. Wash and small dice the watermelon radish. Slice the cherry tomatoes into rounds, discarding the ends. Wash and gently squeeze out the flesh of the finger limes. For the bachelor buttons, separate each petal from the stem, and reserve. In a small saucepot, combine dire wolf and agar-agar. Bring to a boil. Remove from heat and allow to cool down completely. Once the Dire Wolf has solidified, put it into a high-speed blender and work it into a gel. Transfer from blender to a fine tip squeeze bottle, and reserve for plating.

Plating

Shingle 4 oz of the scallops into a circle on the serving plates. Place strawberry slices on top of the scallops. Place the petite red radishes on top of the scallops. Place tomato slices around the dish, on top of the scallops. Place the watermelon radishes around the dish, on top of the scallops. On top of the scallops in random places, squeeze a pea size dollop of the Dire Wolf gel. Place finger limes in random places on top of the scallops. Sprinkle the bachelor buttons around the dish, picking up any that doesn't land on the scallops. Place the sea cress on top of everything, space apart to have even coverage. Finish with a sprinkle of fleur de sel. Sea Scallop Crudo is now ready to serve. Recommended to serve with Wolf's Ridge Brewing's Clear Sky Cream Ale.