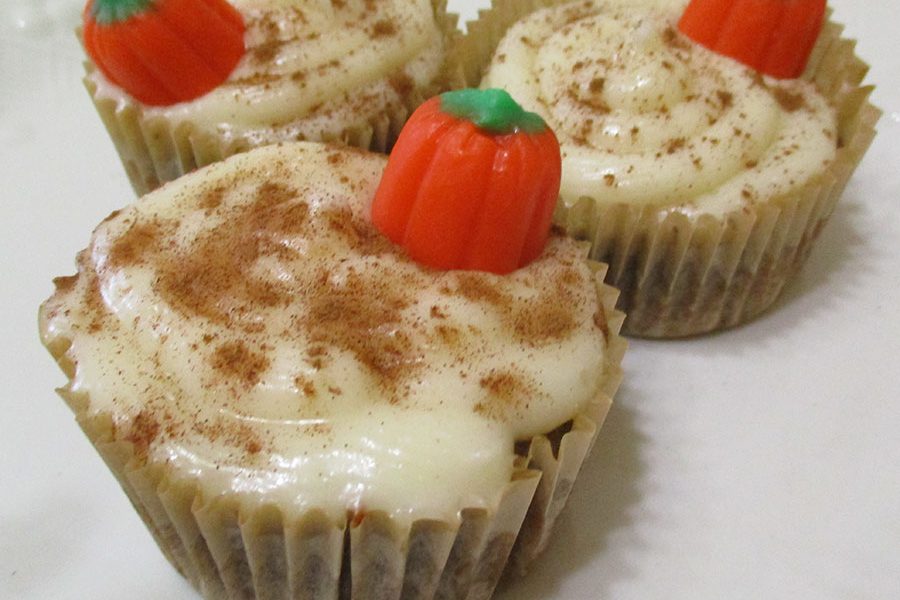 This fall-inspired cupcake recipe uses beer in both the cupcake and the frosting. If you're craving the flavors of pumpkin pie, caramel and cream, this desert is sure to please.
Ingredients
Pumpkin Pie Cupcake
12 oz pumpkin puree
¾ cup evaporated milk
1 tsp vanilla
2 eggs
¾ cup sugar
2/3 cup flour
¼ tsp salt
¼ tsp baking powder
¼ baking soda
2 tsp pumpkin spice
12 cupcake liners
Caramel Stout Filling

8 oz Mole Temptress Imperial Milk Stout from Lakewood Brewing Company
1/3 cup heavy whipping cream
1/3 cup brown sugar
1/3 cup sugar
¼ cup butter
2 piping bag
1 piping tip

Cream Ale Cream Cheese Frosting

½ oz Sam's Daily Cream Ale from Buffalo Bayou Brewing Company
1 tsp vanilla extract
4 oz unsalted butter, softened
4 oz cream cheese, softened
2 ½ cups powdered sugar
1 Tbsp cinnamon
Halloween-themed candy
---
Directions
Pumpkin Pie Cupcake

Preheat the oven to 350 degrees F. Place cupcake liners in cupcake pan.
In a large bowl, mix together the sugar, flour, pumpkin spice, salt, baking soda and baking powder. Add pumpkin puree, eggs, vanilla extract, and evaporated milk to the dry ingredients and stir until thoroughly combined. Pour cupcake mixture into each cupcake liner, filling about halfway. Bake for 25 minutes.
Remove from oven to completely cool before filling or icing.

Caramel Stout Filling

In a deep saucepan, pour the Mole Temptress Imperial Milk Stout (or your favorite local, craft stout), over medium-high heat. Stir frequently until the stout has been reduced by a third. Add in sugar, brown sugar and butter, stirring frequently until the mixture thickens slightly and displays a dark brown tone. Gradually add the heavy whipping cream, again stirring frequently, until all ingredients are integrated and smooth.Remove saucepan from stove and let cool. The filling will noticeably thicken to a caramel-like viscosity. Once filling and cupcakes are cool, fill the cupcakes from the top using the piping bag and tip.

Cream Ale Cream Cheese Frosting

In a large bowl, gently beat softened cream cheese, softened butter together. Add Sam's Daily Cream Ale and vanilla extract to the softened mixture. Gradually add powdered sugar, mixing slowly to prevent making a mess.
Once all ingredients are thoroughly combined and at a thick enough consistency for icing (you can add more powdered sugar if you prefer thicker icing), pour icing into piping bag. Frost the cupcakes. Sprinkle cupcakes with ground cinnamon and add festive Halloween-themed candies.
Stare longingly at your delectable masterpieces and enjoy!