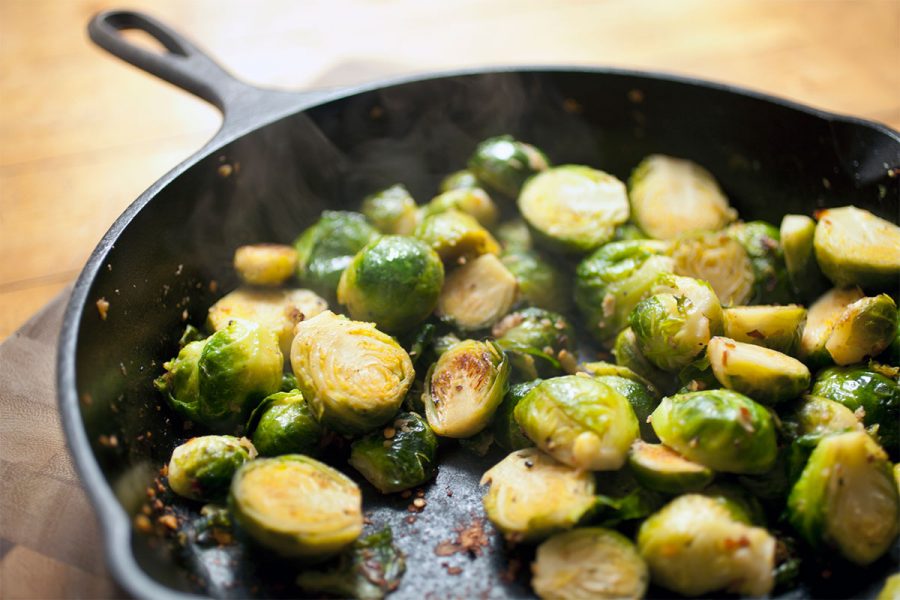 VeganBrew combines vegan cuisine and craft beer with inventive recipes. Here's one for beer-braised Brussels sprouts with Shiitake bacon and quinoa pilaf.
Ingredients
Shiitake Bacon
1/2 pound of Shiitake mushrooms
1/4 cup extra virgin olive oil
1 tsp sea salt
Beer Braised Brussels Sprouts
Brussels sprouts
1/2 cup wheat beer per pound of sprouts
smoked salt
smoked black pepper
Quinoa Pilaf
3 cups quinoa
1/2 cup almonds
1/4 cup olive oil
2 - 3 cloves crushed garlic
1/4 cup raisins or currents
1 Tbsp Bragg Liquid Aminos
1 Tbsp cumin
1 tsp fresh thyme
---
Directions
Shiitake Bacon

Pre-heat oven to 350°F.
Combine mushrooms, olive oil and salt. Mix well.
Spread on baking sheet and roast until dry and crisp, stirring every 10 minutes.
Usually takes 45 minutes to an hour.
Beer Braised Brussels Sprouts 
Braise thawed Brussels sprouts in wheat beer of choice for 10 minutes.
Sprinkle with smoked salt and smoked black pepper.
Quinoa Pilaf
Cook quinoa according to package directions.
Toast 1/2 cup almonds on a baking sheet.
Sauté garlic in 1/4 cup olive oil.
Mix quinoa, toasted almonds and sautéed garlic.
Add thyme, cumin, raisins and Bragg Liquid Aminos. Toss well.