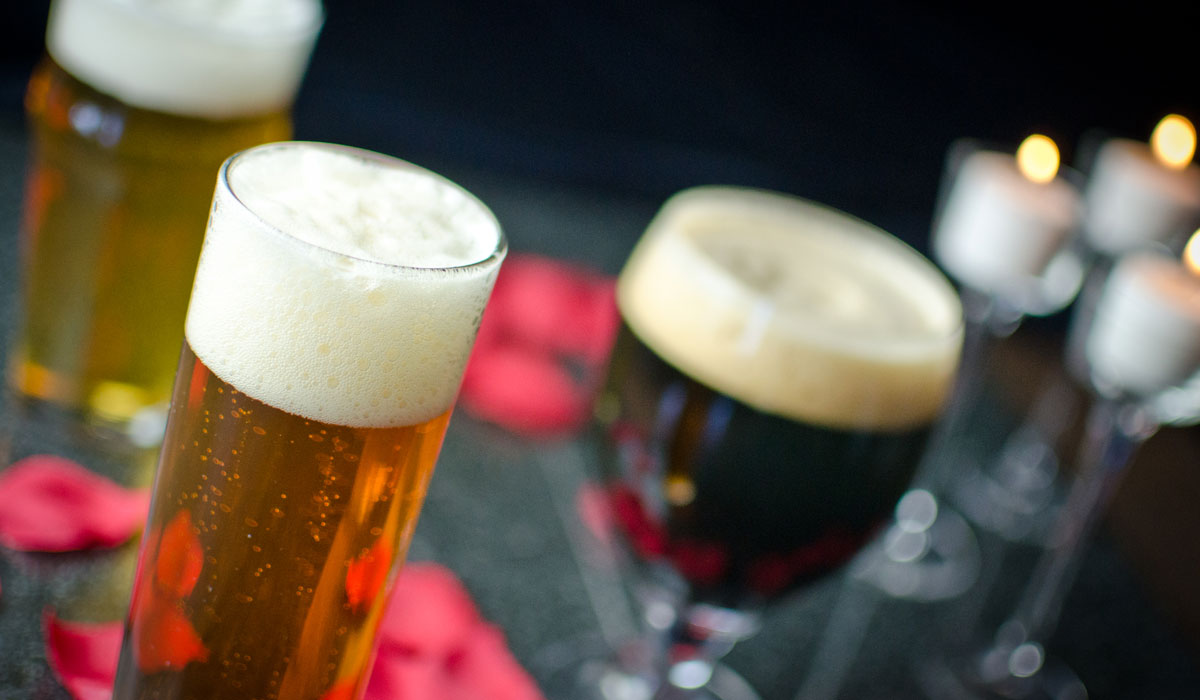 How to Pair Beer with Desserts That Aren't Chocolate
The candles are lit. Dave Matthews Band's "Crash" album is lightly playing in the background. The stout and chocolate-covered strawberry pairing is ready to go. Yes, beer-influenced love is in the air. Wait? What's that? Your date doesn't dig chocolate? No problem.
As craft beer continues to star in more and more special occasion dinners, so, too, is it finding its way onto the dessert menu. And not just in stout or porter form, either. You can pair sweet treats with everything from pilsners to Berliner Weisses and scotch ales.
Below are nine beer and dessert pairings to help keep your Valentine's Day exciting.
(INFOGRAPHIC: Beer & Food Pairing Guide)
IPA with Carrot Cake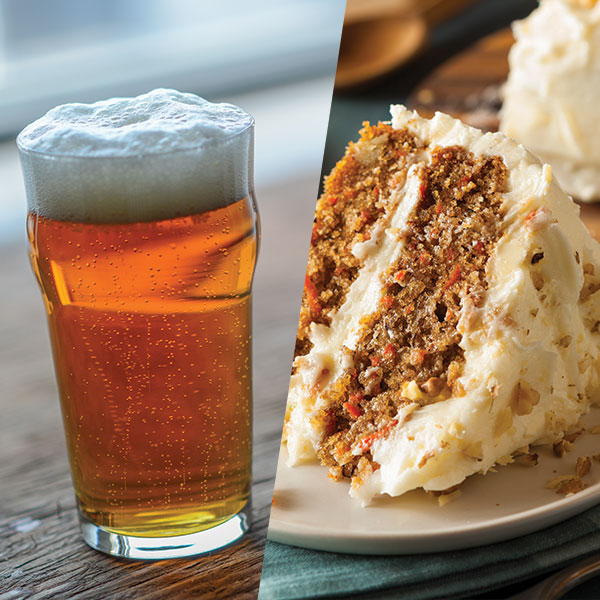 For starters, let's look at a pairing that is quickly becoming the new imperial stout-and-chocolate of dessert pairings: IPA and carrot cake. The pairing works well because of the way the hop bitterness and sugary sweetness balance each other out. A great example is Surly Brewing's Furious IPA and a classic carrot cake.
"Carrot cake and our Furious IPA is one of our favorite beer pairings because of the unexpected nature of it," says Ben Peine, executive chef of Surly Brewing. "There's a lot of natural sweetness from the carrots, plus the whole thing is buried under a thick layer of sweet, tangy cream cheese frosting. Pairing it with another sweet beer would overwhelm your entire dessert experience. The key to pairing beer with this cake is balance. Furious is that beer – it's snappy and bitter with lots of citrus/floral components coming from the addition of bright hops."
Double IPA with Orange Almond Cake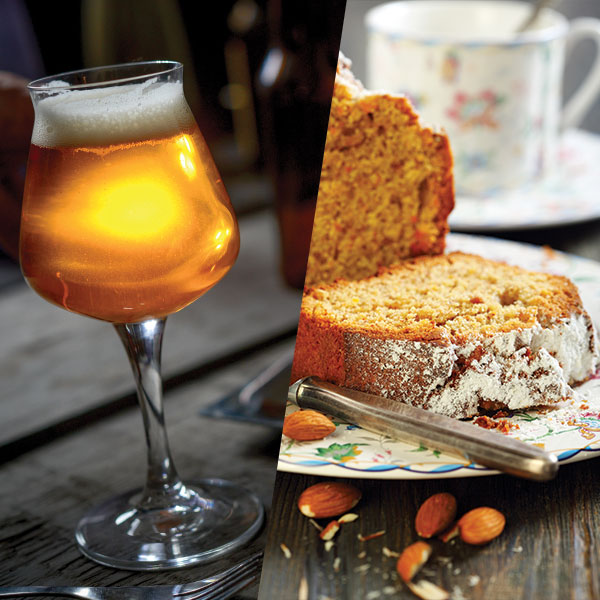 Further along the hop intensity line is Good City Brewing's suggestion of their Reward Double IPA with the house specialty Tunisian Orange Almond Cake. Here, the beer both complements and contrasts the citrus and rich chocolatey layers of the dish.
"We really enjoy how orange flavor pairs with Reward," says David Dupee, co-founder of Good City Brewing. "In fact, we run a weekly cask program in the taproom, and one of the most popular cask offerings to date is Reward with orange peel. It's no surprise, then, that the orange character in the almond cake dessert nicely draws out and showcases Reward's unique citrus and tropical notes."
Finishing the orange almond cake is a chocolate imperial stout ganache that washes down nicely with the citrus-forward DIPA.
(READ: Beer and Cheese Style Guide)
Scotch Ale with Bread Pudding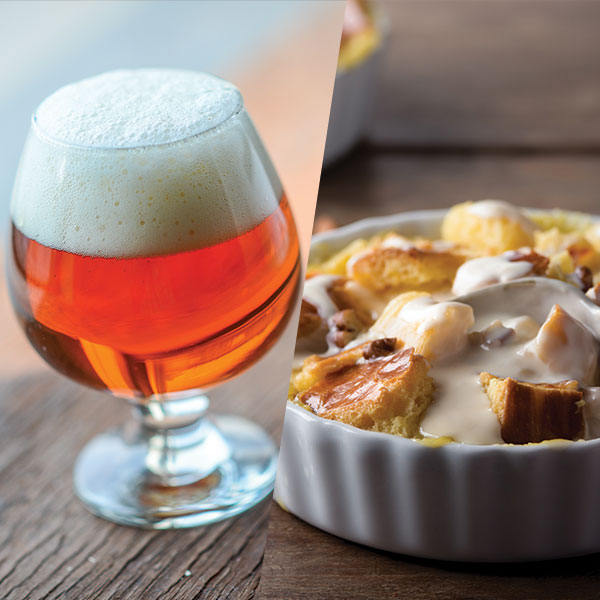 Still fixated on pairing a malt-forward beer with your Valentine's Day dessert? Try a Scotch ale. The style's strong caramel malts and hefty body mesh up with rich desserts like bread pudding. Great Divide Brewing suggests pairing their Claymore Scotch Ale with a bourbon bread pudding.
"The toffee and caramel notes of the beer go hand in hand with the sweet, buttery and nutty flavors from the bread pudding," says Maureen Cherrett, marketing project manager at Great Divide Brewing. "The addition of bourbon adds that extra decadence to make the pairing that much more rich and indulgent."
Coffee Blonde Ale with Bread Pudding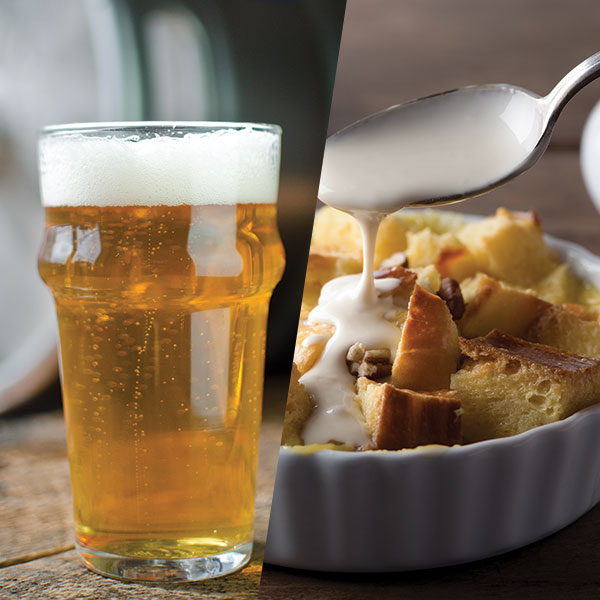 Schlafly Beer counters Great Divide's bread pudding suggestion with their Double Bean Blonde.
"Schlafly's Double Bean Blonde Ale finds its ideal mate in the best bread pudding that you can find," says Stephen Hale, Schlafly Beer's founding brewer. "Rich, dense and luscious, notes of cinnamon and dried fruit commonly found in bread pudding complement the chocolate and coffee flavors of the beguiling Double Bean Blonde."
Schlafly Beer's Double Bean Blonde is brewed with cocoa nibs and blended with a coffee toddy of beans from Kaldi's Coffee. The result is a golden ale that is quite deceiving in color as the flavor delivers big coffee and chocolate notes that are very reminiscent of a stout.
Czech Pilsner with Strawberries and Cream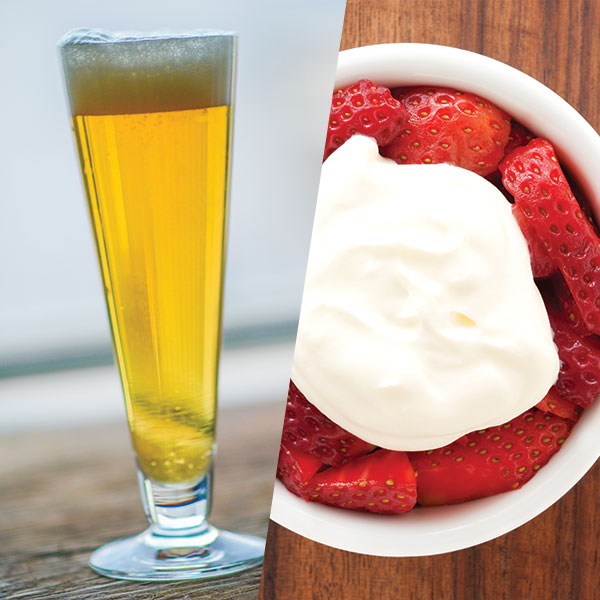 On the lighter side of the dessert pairing chart is a classic Czech Pilsner with a fruit-forward dessert. The lighter dessert and beer combination is a pleasant way to end a hearty dinner. The carbonation and clean flavors of a pilsner also help to cleanse the palate for what's to come later in the evening. Summit Brewing suggests their Dakota Soul Czech Pilsner with a simple plate of strawberries and cream.
"This classical Czech Pilsner has a mild bitterness and floral, slightly citric aroma qualities," says Damian McConn, head brewer at Summit Brewing. "It should pair well with any subtle fruit-based dessert, such as strawberries and cream."
(COOK WITH BEER: Find Hundreds of Recipes)
Saison with a Pear Tart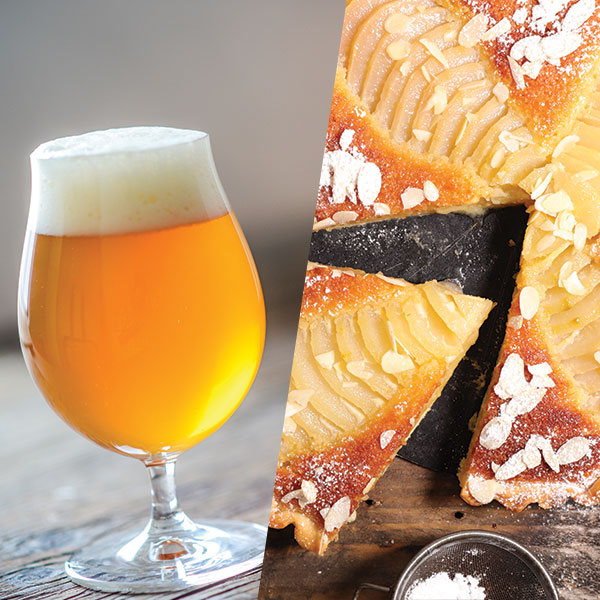 Another less aggressive beer and dessert pairing is a saison with a fruit tart like Big Ditch Brewing's Beautiful River Saison and a pear tart. The fruity esters of the yeasty farmhouse ale call out similar flavors in the fruit-forward dessert.
"I'd suggest using our Beautiful River Belgian-style Saison, which is a balanced saison bursting with lots of pear-like esters, with a pear tart, which should obviously be complementary," says Matt Kahn, the brewery's president and co-founder. "The sweetness from the tart [is] cut by the dryness of the beer, and the pilsner malt backbone goes really well with the sweetness from the crust."
Berliner Weisse with Fruit and Vanilla Tart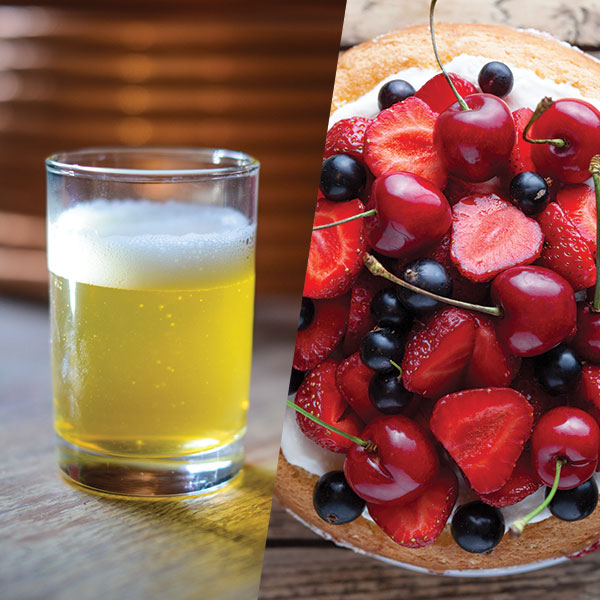 Another option with a fruit tart is a mildly sour beer like Berliner Weisse. The refreshing nature of the beer, along with its bright sour notes, make the flavors of a tart dance.
West Sixth Brewing suggests their porch pounder Meadoweisse Berliner Weisse to pair with a fruit tart. "The acidic and tart profile of our Berliner Weisse lends a complementing and balancing character to the sweetness of a fruit tart," says Dale Bugay, one of West Sixth Brewing's brewers. West Sixth takes their suggestion a bit further and recommends rounding out the pairing with the addition of a traditional fruit syrup to the beer to help make your date a little less sour.
Belgian-style Tripel with a Peach Cobbler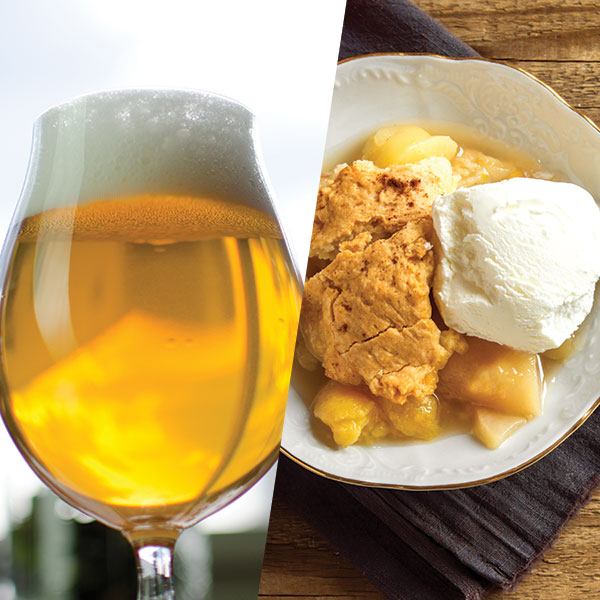 Catawba Brewing suggests pairing a classic southern-influenced peach cobbler with their LD's Belgian Tripel – part of the brewery's Specialty Series – for a flavor experience that is both complex and balanced all at once.
"This abbey-style golden ale is extremely versatile in food pairings, with complex flavors and aromas ranging from apple, pear, banana, clove, peppery spice and noble hop earthiness," says Brian Ivey, marketing director at Catawba Brewing. "Like a fine wine, this beer is well-suited to enjoy with savory courses, also, but we particularly like the way its flavors enhance a dessert pairing of peach cobbler with vanilla bean ice cream."
(LEARN: Beer 101 Online Course)
Mexican Chocolate Old Ale with New Mexican-style Sopapillas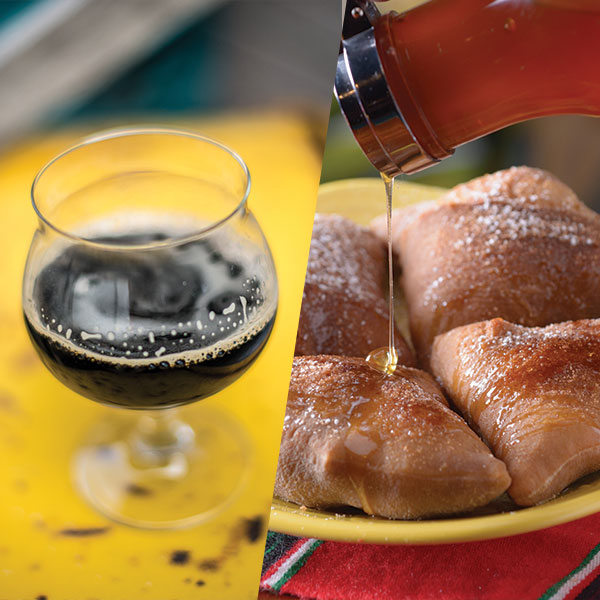 Leave it to Arizona-based Tombstone Brewing to add a little southwestern spice to heat up your night by suggesting their Mexican Chocolate Old Ale with New Mexican-style Sopapillas. Sopapillas are deep fried pillows of dough found throughout Latin America. They're also quite popular in New Mexico, where the pastry isn't stuffed with meat, cheese and peppers, but instead topped with honey, cinnamon and whipped cream.
"Our Mexican Chocolate Old Ale features an abundance of rich hatch, New Mexico green chile flavor," says Matthew Brown, owner of Tombstone Brewing. "New Mexican-style sopapillas are puffy little dough pillows with a pocket inside. It's a great vehicle for all sorts of other flavors, and in this case the classic chocolate, vanilla and chile flavors are provided by the accompanying beer rather than a filling. A traditional honey drizzle adds a little sweetness to a fried bread that's never cloying (and often even borders on savory), and the cinnamon whipped cream ties everything together, complementing the beer and sopapilla by adding not just a creamy component to the course overall, but filling out the spice profile with another traditional ingredient often used in both Mexican chocolate and New Mexican-style sopapillas."
Don't Like Any of the Above Suggestions?
Then be creative and blaze your own dessert and beer pairing trail! Just remember a few easy-to-follow rules to make sure that Dave Matthews Band CD keeps playing through to the good parts.
First, consider how sweet the dessert is. A sugar bomb can overpower your beer or throw other flavors way out of whack much like the way intense hops can with a savory dish. Second, match intensity. Neither the beer nor the dessert should overpower the other. For example, notice how lighter, less intense beers were paired with fruit-forward desserts, and an intensely flavored beer like a scotch ale was paired with bread pudding.
Third, think about complementary and contrasting flavors while still considering the rules above. A good example is Good City Brewing's Reward Double IPA with an orange almond cake. The citrus notes of the beer complement the orange flavors of the cake and balance the contrasting chocolate ganache for a complete dessert experience.
Finally, remember it's beer – so have fun!
CraftBeer.com is fully dedicated to small and independent U.S. breweries. We are published by the Brewers Association, the not-for-profit trade group dedicated to promoting and protecting America's small and independent craft brewers. Stories and opinions shared on CraftBeer.com do not imply endorsement by or positions taken by the Brewers Association or its members.