Cars park around football stadiums as tailgates drop, grills appear and chairs unfold with seasoned precision. Tailgaters grab beers from coolers and nestle bottles into stained koozies. Cans are popped and growlers are opened—it's time for some football.
Well, it's almost time for some football. Before kickoff, fans from around the country swap stories, toss a pigskin, prepare food on sizzling grills and, of course, sip cold beers. As craft beer has gained popularity in the past few decades, its presence has also increased at NFL pre-game tailgates.
Joe Cahn, a professional tailgater, has attended more than 1,000 games since 1996. He refers to tailgating as "the last great American neighborhood, where people get together and are not segmented into groups—be it political, religious, economic, racial or ethnic—you're not judged by anything other than the color of the jersey you have on."
Cahn witnesses tailgaters across the nation prepare regional cuisine—sushi and salads in San Francisco, Jambalaya in New Orleans, whole pigs smoked Cuban style in Miami—while fans sip on craft beer.
Pairing regional cuisine with football and craft brew is an opportunity for all of us to come together over common ground, sharing local pride through our local craft beers.
San Diego, California
On any given Sunday, it's likely to be a perfect 75°F as fans gather to watch a San Diego Chargers home game. San Diego is known for its seafood and Mexican fare, especially in the form of fish tacos, which can be paired with beers from more than 80 craft breweries in San Diego County.
Stone Brewing Co.'s Go To IPA is a tantalizing complement to classic fish tacos. Try the tacos with a grilled or fried fish on a corn tortilla with shredded cabbage, a little avocado and topped with a white or pink cream-based salsa.
Tacos are so popular at Chargers games, that one tailgating group brings in a taco cart from Tijuana, Mexico, to join in the pre-game fun.
Bill Sysak, Stone Brewing Company's craft beer ambassador and certified Cicerone®, recommends IPAs for fish taco lovers, while the Stone Smoked Porter adds just the right amount of smokiness for pork tacos. If you are nibbling on carne asada at tailgates, he suggests a Stone Sublimely Self-Righteous Black IPA that brings out the strength of seared meats.
But beware: bitterness and high alcohol accentuates the heat and spice of a dish.
Stone's Go To IPA also serves as a great general tailgating brew, aided by a lower ABV level. Sysak says the beer "gives those hop heads everything they need to start off that early tailgate and keep them going through the game…it's great staying power for a San Diego home football game."
San Diego Beers to Pair with Fish Tacos
Kansas City, Missouri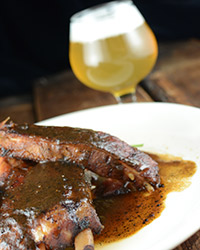 Joe Cahn expects to find hefty pieces of meat on sturdy grills at stadiums in America's Heartland. Cities like Dallas, Denver and Kansas City have deep roots in cattle country, evident by the aromas circulating around those cities' tailgates.
Kansas City is famous for its BBQ, a molasses-based sauce that is sweet, tangy and spicy. It is slapped over ribs, burnt ends, brisket, pork and burgers on the grills outside of Arrowhead Stadium—which has a reputation as one of the biggest tailgates in the NFL.
"I think a lot of people around the country, especially football fans, look to Arrowhead Stadium, and Kansas City in general, as being legendary when it comes to tailgating," said Jeremy Danner, ambassador brewer at Boulevard Brewing Co. in Kansas City.
Pair the local BBQ with Boulevard's Pale Ale, a beer that Danner says is perfect for all parts of the cow. The brewery's Unfiltered Wheat Beer is not too aggressive, and fits nicely with the majority of tailgating foods.
As Midwest temperatures can shift drastically, fans may start the season with a crisp and refreshing Boulevard KC Pils, only to find themselves reaching for a Boulevard Bully! Porter as temperatures drop below freezing in the early winter.
Kansas City Beers to Pair with BBQ
Philadelphia, Pennsylvania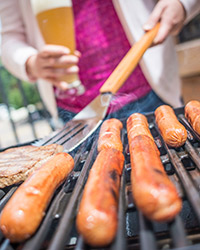 Philadelphia has been known for its mass markets—big football, big beer, big food. The craft beer scene belonged to an alternative crowd, according Marilyn Candeloro, vice president of Philadelphia's first microbrewery, Dock Street Brewing Co. "But now," she says, "you can't represent Philadelphia without craft beer."
At Eagles games, you'll likely find tailgaters grilling local sausages and peppers, and building Philly cheesesteaks on warmed buns. Dock Street Rye IPA, one of the brewery's first and most popular beers, has a spicy flavor that is dry and tangy, and pairs nicely with a lot of grilled tailgating food.
Dock Street's Afternoon Delight Session IPA, with five percent ABV, is a great beer for the first game of the season and, like other temperamental climates, a porter is a great way to finish off the year.
Philadelphia Beers to Pair with Philly Cheesesteaks
Boston (Foxborough), Massachusetts
At New England tailgates, you might find lobster, crab and clam chowder warming on parking lot grills. And in nearby koozies, you might discover a host of local New England beers.
Jennifer Glanville, a brewer at Samuel Adams, has attended Patriots games for 15 years—two years longer than she has worked at the brewery. When Glanville first started tailgating, she mostly cooked burgers and hot dogs. Now, she pairs various local beers with different food at her own tailgate parties.
"I love the games, but it's all about the time before the games," she says. "It's hanging out and having people interested in beers and talking about beer and talking about the food, which is really cool because I don't remember that 15 years ago."
For the hearty, creamy New England clam chowder eaten at many New England tailgates, Glanville suggests an accompanying Samuel Adams Rebel IPA. The beer's hops cleanse the pallet, and the balanced flavors promote the sweetness in the clams.
Another great warming beer for fall is an Oktoberfest, which can serve as a marinade for sausages. Soaked links may also occasionally find their way into a pot of the traditional chowder that warms New England fans before kickoff.
Boston Beers to Pair with New England Clam Chowder
San Francisco, California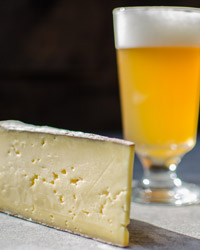 Shaun O'Sullivan and Dave Wilson knew that 21st Amendment Brewery had made it when they saw their cans at events like San Francisco 49er games. The brewmaster and president (respectively) started canning for reasons like mobility, recyclability and preservation of the brew.
It is an added bonus that the cans create the experience of being in a parking lot with a bunch of people "in a full-party-can-crashing-mode," says Wilson. "Fans will send over pictures of themselves and friends sipping 21st Amendment beer before a 49ers game, enjoying food, beer, camaraderie and football."
Dave and Shaun recommend their Hell or High Watermelon, an American-style wheat that is like "summer in a can." The versatile beer easily pairs with lighter fare common at San Francisco tailgates like cheese and sushi, or your standard hot dog and burger.
Dave and Shaun believe that craft beer is about a type of lifestyle. When people go to football or baseball stadiums, they now look for that home and local experience. This, of course, includes local beer.
San Francisco Beers to Pair with a Cheese Plate
Brewers agree that the many flavors in regional cuisine and the range of tastes in local beer go hand in hand. Tailgates offer a communal experience to support local sources, while simultaneously building memories with friends and strangers over beer, food and football.
"For me," Glanville says "It's all about bringing people together."
CraftBeer.com is fully dedicated to small and independent U.S. breweries. We are published by the Brewers Association, the not-for-profit trade group dedicated to promoting and protecting America's small and independent craft brewers. Stories and opinions shared on CraftBeer.com do not imply endorsement by or positions taken by the Brewers Association or its members.