Yes, Chicago is the birthplace of deep-dish pizza, but don't believe the barrage of cooking and travel programs that make it seem as if that's the only pizza Chicagoans consume.
You can easily visit Chicago brewpubs to find evidence that debunks the pan-style stereotype. Throughout the metro area, pizza and brewing artisans have come together to create pizzas with a wide variety of thin crust dough, sauces and ingredients — all paired with craft beer.
Piece Brewery and Pizzeria
The first place that probably comes to mind in Chicago when it comes to craft beer and pizza is Piece, whose pizza has become as legendary as its multi-GABF-winning beers. You won't find deep dish at Piece. Heck, you won't find any kind of stereotypical Chicago (or New York) pizza there.
Bill Jacobs, a native of New Haven, Connecticut, has always been adamant that neither Chicago nor New York can claim pizza superiority. Instead, he says it's New Haven — and maybe he's on to something. Piece enjoyed almost immediate success when it opened in the early 2000s. Then Pizza Today Magazine named Piece the top independent pizzeria of the year in 2011, besting roughly 35,000 nominees.
But, Piece isn't only about pizza. Jonathan Cutler, brewmaster/owner of Piece Brewing in Chicago, has more than 15 Great American Beer Festival (GABF) medals to his name, and that's only a fraction of the awards Piece has earned.
Open Outcry Brewing Company
John Brand, Open Outcry Brewing founder, was born and raised in Chicago. So he knows a thing or two about the city's pizza scene.
"Pizza is more than an occasional meal; it's part of the city's cultural fabric." He adds, "People argue over it. I've seen conversations escalate into real arguments."
The man behind the pizza at Open Outcry Brewing Company is Chef Cesar Lopez, who met Brand while working at a different wood-fired pizza establishment. "His wood-fired pizza was absolutely divine. He hit all the marks: charred and crispy crust, yet chewy inside; sweet and savory balance in the sauce and fresh mozzarella."
(Chart: Easy Tips for Beer and Pizza Style Pairings)
One of Brand's favorite pairings involves margherita pizza with its best selling beer: Speculator Cream Ale. "Crisp, clear, clean, semi-sweet and moderately bittered with spicy, herbal noble hops. It's higher carbonation level adds a pleasant carbonic bite that acts as the perfect palate cleanser when paired with a savory, salty wood-fired pizza crust and sauce."
What could be better, right?
"Sometimes, the greatest pleasures in life are the simple ones," says Brand. "Give me a pizza, a clean, crisp, cold Speculator, a Bulls game on the tube and I'm the go**amn king of Chicago for a few hours."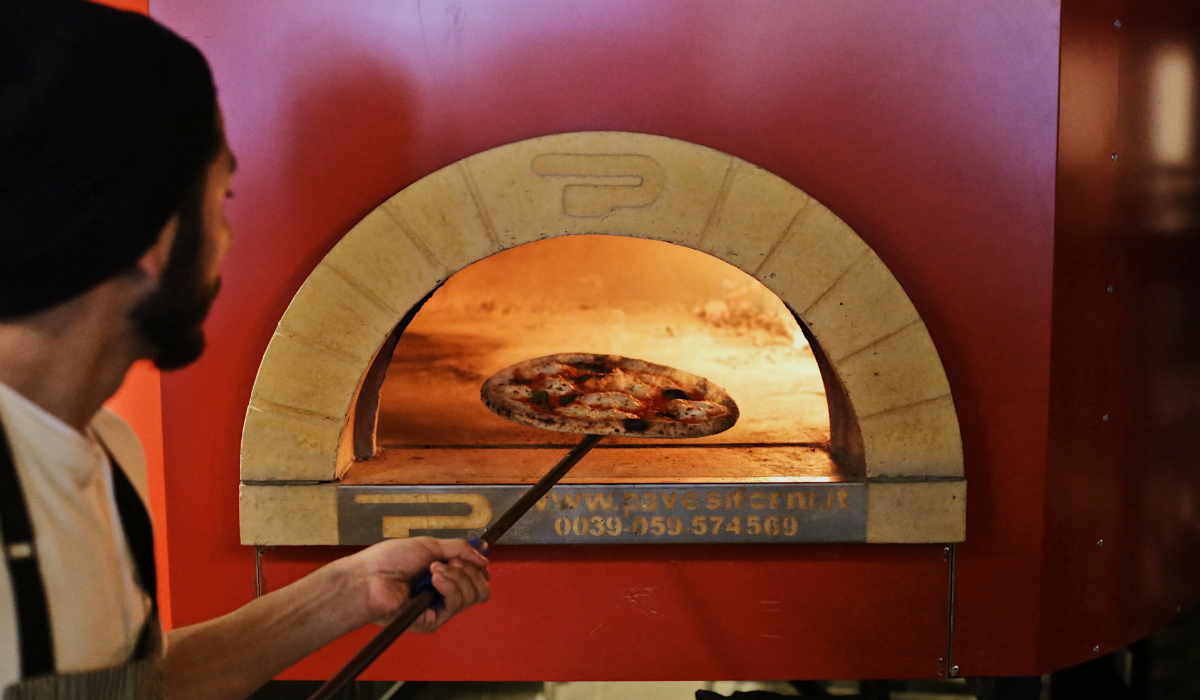 Corridor Brewing & Provisions and Roebuck Pizza
Greg Shuff  owns and operates Corridor Brewery & Provisions and the new Roebuck Pizza in Chicago (located next to DryHop brewing, which he also owns). The GABF medal-winning Brant Dubovick serves as the franchise's brewmaster.
Corridor has already grown into a well-known spot for great food, which includes artisanal pizza, served alongside its wide selection of acclaimed beer. But Shuff and Dubovick decided to go one step further with their love for pizza and open a brewpub fully focused with pizza. That's how Roebuck opened in 2019 (located next door to DryHop Brewing).
In addition to the pizza, Roebuck lets lager beers shine.
"In my opinion, nothing pairs better with pizza than a well-executed lager. Roebuck afforded us an opportunity as brewers to show that we are really, really accomplished at crafting lagers," Dubovick adds.
Ike & Oak Brewing Company
At Ike & Oak Brewing Company in Chicago's western suburbs, you can enjoy pizza with crust made with ale yeast when you order a Neapolitan-style pizza. "It gives the crust a very unique flavor and crunch," says the brewpub's owner and operator Ed Ranquisk.
"Craft beer is all about taking chances with styles and ingredients. Daring to be different is what makes independent breweries successful. I wanted to carry that theme into our kitchen and onto our menu," Ranquisk explains.
(Recipe: Beer Pizza Dough and Breakfast Pizza)
He modeled Ike & Oak on his passion for the great outdoors, so you'll also find a whimsical campfire pizza on the brewpub's menu. "We cook it in cast iron pans and add toppings to create a crispy cheese crust, reminiscent of cooking over a campfire. We have used wild boar, braised rabbit, chorizo sausage, spam, jambalaya mix, unique wild mushroom medley, and many other pizza toppings," he says.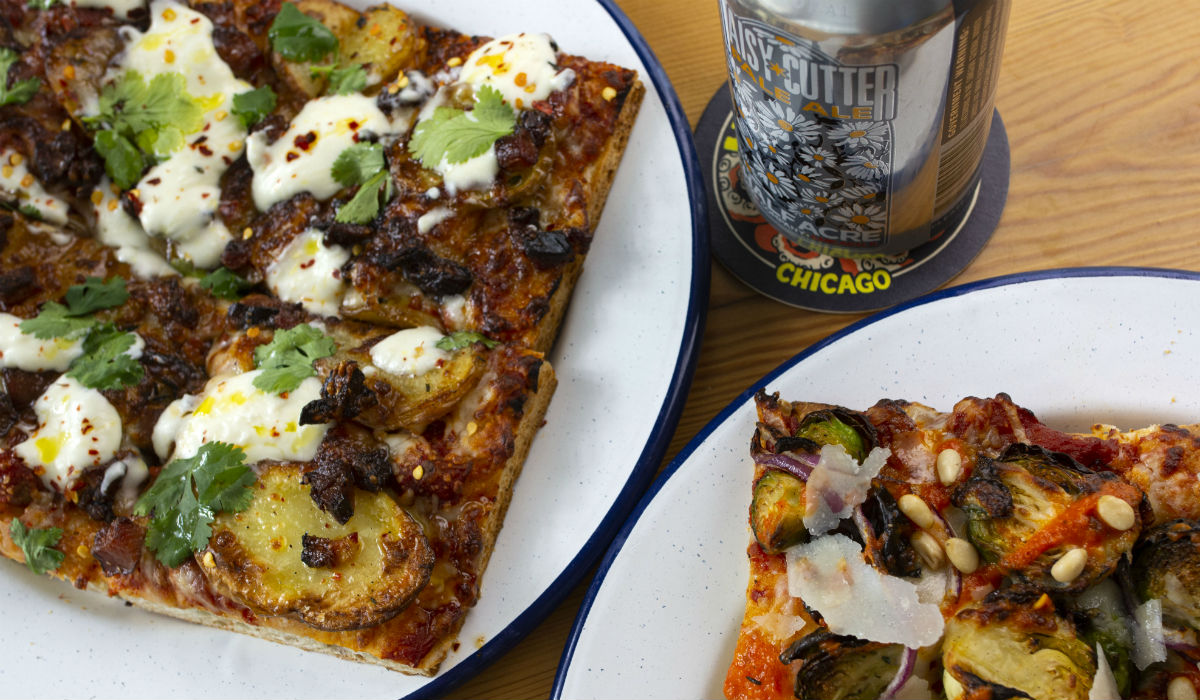 Half Acre Beer Company
Half Acre has evolved from a brewery without a home when it started production in 2006 to one of Chicago's most recognizable breweries with two locations. Half Acre started serving food at its original Lincoln Square spot in 2016 and followed suit when it recently opened its second location, the Half Acre Balmoral Tap Room & Garden on the city's north side. And of course, there's pizza.
"Our guests are there to relax and have a good time. We take that same approach to our pizza," says Tommy Sheean, executive chef at Half Acre Beer Co. taprooms.
"We try to come up with interesting, approachable and fun flavor combinations, using pizza as a vehicle to express them. A bowl of caramelized Brussels sprouts with pine nuts and parmesan is simple, elegant and delicious, so why not have it on a pizza with a good beer?" he says.
Half Acre possesses an expansive brewing portfolio that includes almost every beer style you can imagine. "While beers like Bodem IPA and Fader Lager will fit seamlessly into pizza eating, it can be refreshing to pair a potato and bacon pizza with [a] mixed culture saison, like Geraldine."
Haymarket Pub & Brewery
Few breweries celebrate the essence of Chicago more than Haymarket Brewing: the brewery's name pays homage to the infamous 1886 Haymarket Affair and its beer names are tied to various aspects of the city's history and culture. So it is no surprise that Haymarket fully grasps the Windy City's mutual love for pizza and beer.
(Related: Chicago Brewery's Wild Trip Down a Hazy IPA Rabbit Hole to GABF Gold)
The handmade pizza at Haymarket begins with dough similar to West Coast sourdough. Haymarket's chef Christopher McCoy says: "We already had a gas oven at our pub in Chicago, and we were installing the wood-fired ovens at our taproom in Bridgman [Michigan]. We had to come up with a dough or crust that would be attainable for both cooking techniques. We prep all of the dough in Chicago, so fermentation, ingredients and style were all considered."
Middle Brow Beer Co.
Middle Brow is the quintessential community-minded brewery, and now it has a new home in Chicago's Logan Square neighborhood called the Bungalow. They describe the new place as an "Appalachian-post-punk-queer-Scandi-Nadian-Belgo-French-countryside-city-farmer beer, bread and pizza den." Got all that?
This Festival of Barrel Aged Beers medal-winning brewery surely loves its beer, but "pizza is one of those things. In fact, dare I say it, we might like pizza more than we like beer," admits co-founder Pete Ternes.
"We had never been deep dish fans. We like it fine, but we rarely choose to eat it," he says. When the founders started planning the brewpub five years ago, only a handful of excellent Neapolitan-style pizza places operated in Chicago, much to their chagrin: "The ratio should be, like, 100:1 or something," he says.
The idea of opening a neighborhood joint where people bond over pizza and beer is only a tiny part of what makes Middle Brow such a community-minded brewery. Since 2012, Middlebrow has donated more than half its profits to local social-justice organizations. And now with the Bungalow space available, "We'll be hosting free breakfast for Chicago Public School students on the weekends. We'll also be instituting a work-training program in several months, which will provide employment and on-site social work to men and women from at-risk populations on the west side," explains Ternes.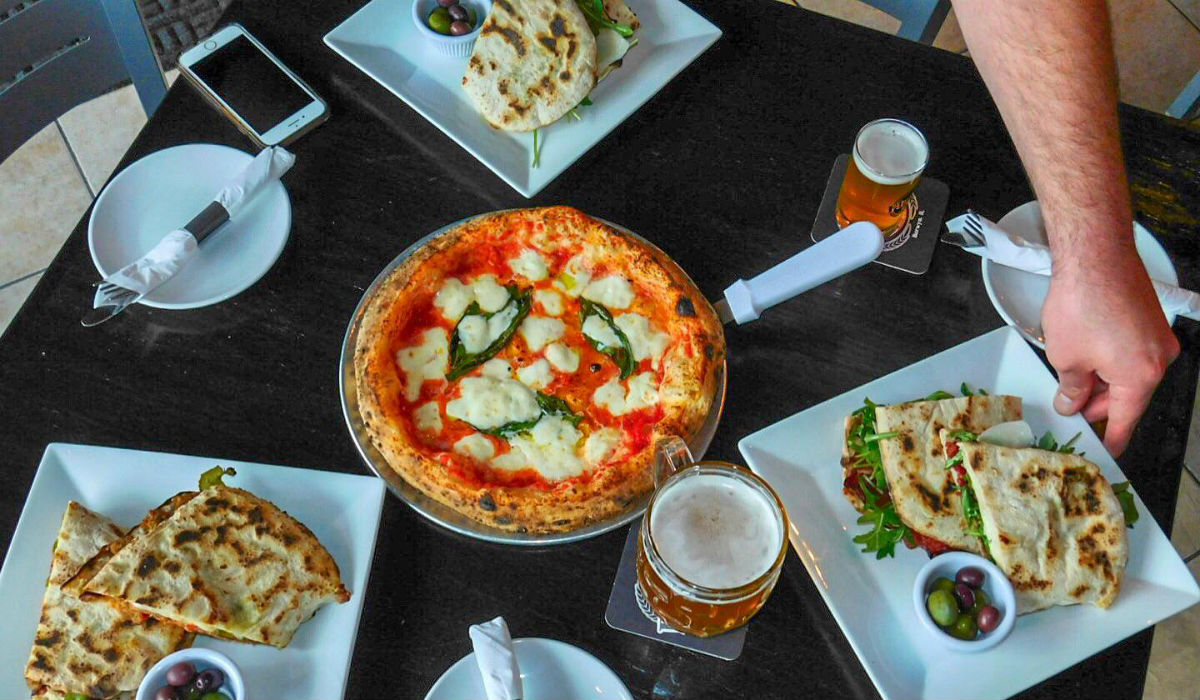 Flapjack Brewery
Located in Berwyn, a small suburb located a few miles west of Chicago proper, Flapjack will soon celebrate its third anniversary. Flapjack offers Neapolitan-style (with a few adjustments to suit their liking) along with some of the freshest ingredients you can imagine. The brewery imports D.O.P. San Marzano tomatoes, basil and extra virgin olive oil from Italy. Co-owner James Macchione tells us Flapjack's pizza dough "only contains "00" flour imported from Italy, filtered water, sea salt and fresh yeast." In the end, the process results in a pizza that is "thin in the center with a nice cornicione that requires the triangle-cut slice to be folded or eaten with a knife and fork."
"When we decided to add a kitchen to our taproom, we knew that it had to be pizza. There are so many excellent pizzerias in the Berwyn area offering thin crust and stuffed pizza, so we wanted to do something unique to the area," Macchione says.
Fans can enjoy everything from Ndjua, Danger pizza to Truffle pizza, as well as traditional Neapolitan-style staples such as the margherita and marinara Pizzas. "Creating new pizzas is my favorite part of the job. I am always on the hunt for exciting new pizza ingredients and combinations," says Macchione.
More Chicago Brewpubs for the Pizza Curious
Revolution Brewing Brewpub
Illinois' largest independent brewery offers plenty of multi-award-winning beers at its brewpub location and several pizza choices. Included alongside the usual suspects are an arugula pizza and a white-sauced pizza with bacon and spinach.
(Seek the Seal: Independent Craft Brewer Seal)
Smylie Brothers
The GABF and FoBAB award-winning brewery offers a highly-regarded menu, including an array of wood-fired pizza. Selections include a 14-hour smoked brisket pizza, and a Cuban with ham and pulled pork on beer mustard cream sauce.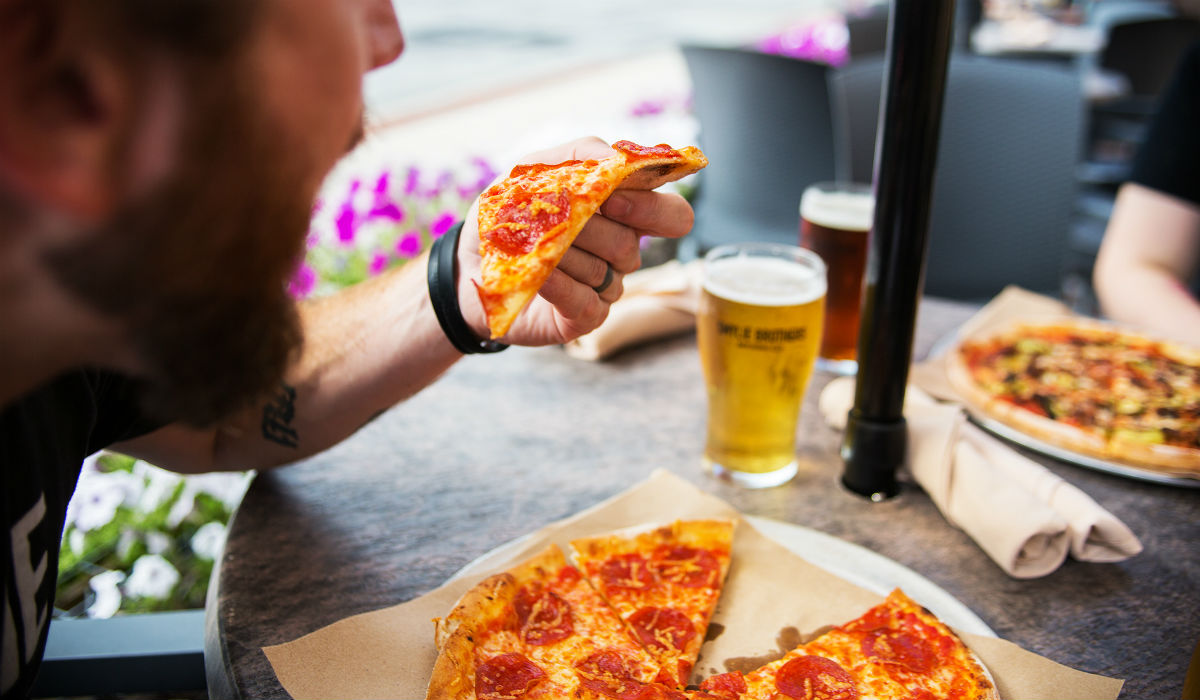 Ten Ninety Brewing Co.
The brewery known for its Belgian beers and tasty seasonals like Zen Ale with Green Tea and Lemongrass, also serves delicious artisan pizza with house-made dough from its 1916 Lager. A wide range of ingredients includes buffalo chicken, pork belly, drunken onions (soaked in Ten Ninety beer) and even a combination of pepperoni and fresh bananas.
The same dedication found by America's craft brewers, who helped made the U.S. the most exciting beer culture in the world during the 20th century, can now be found in its brewpub pizza chefs. From New Haven and Neapolitan crusts to white sauce and brisket, Chicago's brewpubs are demonstrating that Chicago's famous deep dish isn't the only pie in town. Lucky for us, pizza makers and brewers are finding that the best option of all is to serve them together.
Cheers and bon appetit!
CraftBeer.com is fully dedicated to small and independent U.S. breweries. We are published by the Brewers Association, the not-for-profit trade group dedicated to promoting and protecting America's small and independent craft brewers. Stories and opinions shared on CraftBeer.com do not imply endorsement by or positions taken by the Brewers Association or its members.