Over rivers, around trees and into summer skies, brightly colored discs soar toward metal baskets to sound the ringing chains. A golfer's gaze follows the disc's flight until it has landed. Then the golfer picks up a local craft beer for a well-deserved sip.
From coast to coast, and from mountain views to wooded forests, disc golfers love to pair their sport with the culture of craft beer. Combining the two offers a way to step into the great outdoors, be a part of a community and experience the local vibes.
Anderson Valley Brewing's Big Idea: Disc Golf
Almost 20 years ago, current brewmaster at Anderson Valley Brewing Co. in northern California, Fal Allen, remembers playing different outdoor games with his co-workers after the workday. Eventually someone said: how about disc golf?
The owners agreed. And four baskets were initially installed on the way to an 18-hole course that would become the nation's first disc golf course at a brewery.
"A lot of craft breweries are outdoors and support outdoor lifestyle," said Allen. "Disc golf is a way to get out and walk around and enjoy yourself."
The structure of disc golf is similar to ball golf, in which courses are composed of nine or 18 holes that have designated pars. Discs are designed with different purposes in mind – such as drivers, mid-ranges, and putters – and are thrown toward metal baskets to complete the round.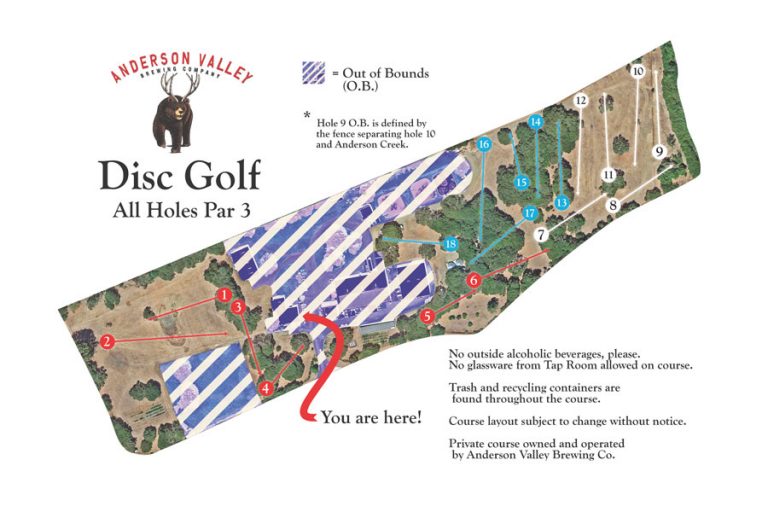 Visitors heading to the Anderson Valley Brewing course can purchase a special beer for disc golfers — a light pale ale called Hop Hyzer Ale — to pair with a free game on the tranquil par 3 course. Or for more serious disc golfers, sign up for the brewery's annual Boontfling Disc Golf Tournament, and enjoy the camaraderie with world-class disc golfers.
The sport helps beer-drinkers get outside, especially at courses such as Dry Dock Brewing Co.'s 9-hole track in Aurora, Colorado. Golfers there play in view of the Rocky Mountains.
And disc golf is not just for blue-bird weather. Some breweries support the local disc golf community stay active in the winter.
Dry Dock organizes an indoor putting league during the snowy months, in which members play in the open space of the brewery's 30,000-square-foot warehouse. As they putt for prizes, they can enjoy beers such as Dry Dock's Hazy IPA or a Sour Apricot brew.
(READ: Beach Town Breweries)
A Part of Something Bigger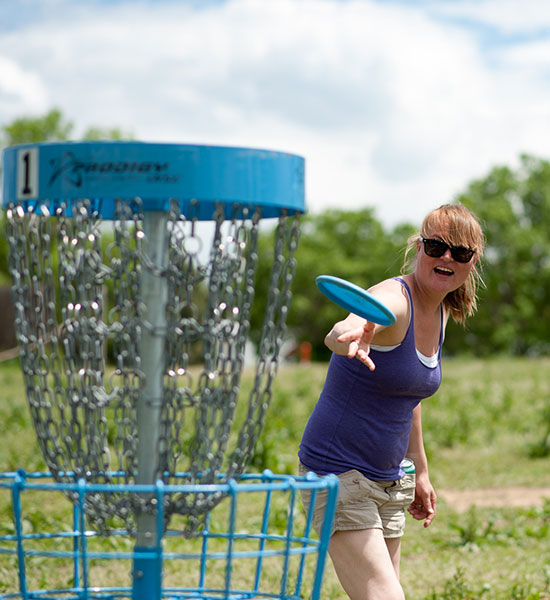 One reason Dry Dock's disc golf course begins right outside the tasting room (where visitors can pick up a scorecard or borrow a loaner disc), is to really be a part of a community.
"We have all this space, so why not do it," said Gabe Masry, assistant tap room manager. "It's been a good thing — we all support each other pretty well."
Bevel Craft Brewing in Bend, Oregon, focuses on community and creating a place that feels like home for both advanced disc golfers and those curious about the sport (or curious about the brewery's specialty hop-forward beers). Colorful discs line the walls of the tasting room, and the TV behind the bar almost always airs coverage of disc golf tournaments across stunning landscapes.
Nate and Valarie Doss, husband and wife owners of the brewery, opened a tasting room earlier this year. The couple each grew up in disc golfing families — Valarie in northeastern Ohio and Nate in Santa Cruz, California. They both earned multiple professional world champion disc golf titles. Valarie says that when creating a community through beer and disc golf, it's great because you never know who will walk through the doors.
"In disc golf, you meet so many new people and that is what every encounter is," she said. "You learn about the community through these people."
(VISIT: Find a U.S. Brewery)
Disc Golf and Craft Beer Share Local Experience
While the disc golf and craft beer communities both operate on national and international levels, there is a joy of visiting different locales to experience what's special in each destination.
"What got us to this point is traveling through disc golf. We got to the smallest corner of the states, and there would be a craft brewery. They would have local flavors and local culture and always had the best beer. That grew our passion for craft beer and staying local," Valarie said.
Valarie mentions that disc golfers will go across the country to play a course, and the same with beer lovers to find a beer. Husband Nate adds that what is most important for them is the community, the traveling, the excitement of a new course, and, of course, meeting people.
It all adds up to learning, enjoying and being a part of the local land and its community.
"The correlation comes in the concept of when you play a course you want to drink the local beer, and a lot of disc golfers want to do that. You play a new course and you want to drink a new beer. It's great that they want to support local in that way," Allen said.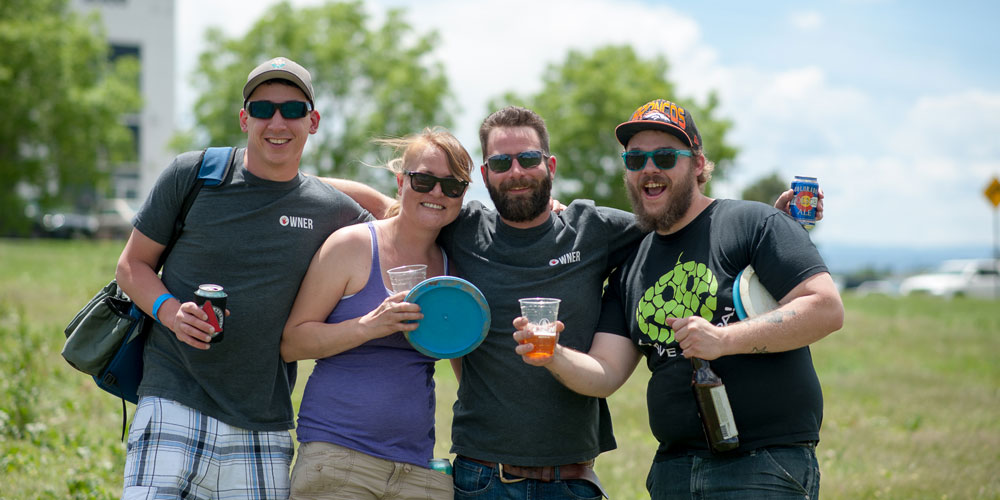 Grassroots Cultures Connecting People
Anderson Valley's brewmaster, along with many others in the brewing industry, see disc golf and craft beer both as growing countercultures. They are set apart from the mainstream and provide a certain type of enjoyment.
The Dosses agree that both passions are of a grassroots origin, and connect with people on a similar wavelength. Masry says that both still fly under the radar for many people.
"Disc golf is to golf, as craft beer is to wine," Nate Doss says.
The intricacies and elements that contribute to both pursuits are varied in the creation of experience. If you enjoy craft beer, Valarie said, you can step back and understand what it takes to produce that — just like disc golf.
(READ: Ice Cream and Craft Beer Flights in Boise)
"Like any sport, disc golf can be competitive and frustrating — a real trial of creativity and wills, where sometimes those two things align perfectly and others they don't align at all," explained Alex Weaver, communications director of Smuttynose Brewing Co. in Hampton, New Hampshire. It established a 9-hole course in 2016 around its brewery grounds.
"In that way, it can be a lot like brewing beer: innovation, creativity, consistency and attention to detail are championed above all else, but sometimes things just don't go according to plan."
So whether a seasoned disc golfer, or seasoned beer-drinker, hitting the course this summer at regional breweries is an experience of surprise, connection and being a part of community — and raising a pint over the sound of ringing chains.
CraftBeer.com is fully dedicated to small and independent U.S. breweries. We are published by the Brewers Association, the not-for-profit trade group dedicated to promoting and protecting America's small and independent craft brewers. Stories and opinions shared on CraftBeer.com do not imply endorsement by or positions taken by the Brewers Association or its members.