Nothing goes hand-in-hand with a beach trip like a fine craft beer. In the past, we've taken you to breweries on U.S. islands and on an epic road trip to Pacific Coast craft breweries. If your next vacation is taking you to a beachy spot, here are a few independent breweries where you can sip in sunshine along with great beer.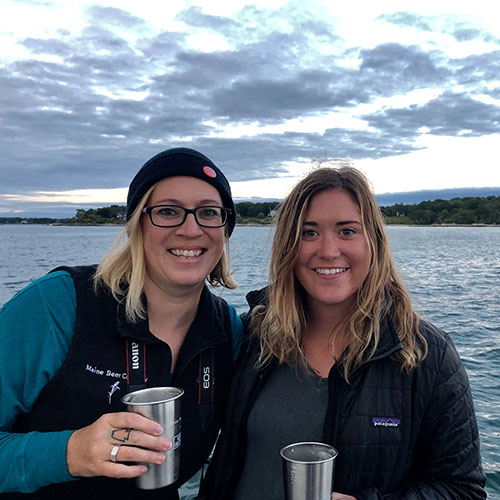 Maine Beer Co. | Freeport, ME
Freeport is not a traditional beach town. You won't find soft, sandy beaches but instead you'll find rustic coastline bordered by woods. Thousands of tourists flock to Freeport in the summer for the hiking, biking and all things outdoors. Anne Marisic, with Maine Beer Co., says this locale inspires their beer. "Lunch, our West Coast style IPA, was named after a whale spotted off the coast of Maine by our nonprofit partners Allied Whale. The whale looked like she had a bite out of her dorsal fin, hence the name Lunch." Their Woods & Waters IPA was named for Maine's Katahdin Woods and Waters National Monument. Surrounded by the best Mother Nature has to offer, Maine Beer Co. gives 1 percent gross annual sales to environmental causes. Their new tasting room opened in March.
Eight-Foot Brewing | Cape Coral, FL
Eight-Foot Brewing embraces its waterside location along the Caloosahatchee River, 10 miles from the Gulf of Mexico, from its name and octopus logo to its ingredients. "It has allowed us to hand pick an assortment of fresh fruits many other breweries may not have the opportunity to do," explains owner and brewer Roger Phelps. "These include mangoes, guavas, starfruit and prickly pears." Despite Florida's subtropical climate, Phelps says they get a lot of requests for darker beer styles. Eight-Foot Brewing just previewed two new beers: a sour beer and a sessionable porter that was barrel-aged for six weeks. Hosting monthly markets with local art and food, it's a true community gathering place in Cape Coral..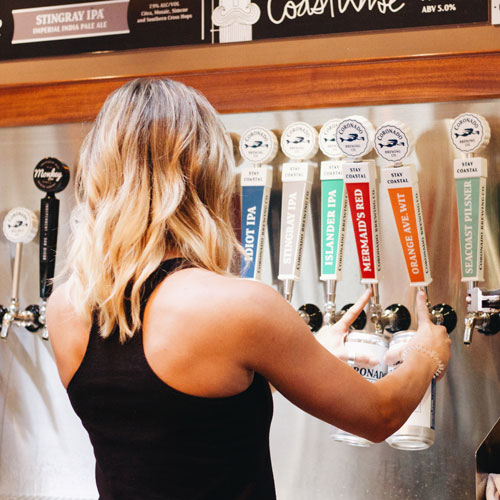 Coronado Brewing Company | Coronado, CA
You can't get a more "beachy" vibe than at a brewery on an island. Coronado Brewing Company was founded on Coronado Island in 1996. Both customers and employees fit into the laid back San Diego vibe as surfers, fishers or just all-around beachgoers. "We take our beer seriously, but not ourselves," says marketing director Melody Crisp. They have a small-batch brewing system at their original brewery on Coronado Island and have a lot of small-batch beers in constant rotation. Their newest year-round beer, Leisure Lagoon Hazy Pale Ale, shows their beachside inspiration is ever present.
Monkey Fist Brewing | Traverse City, MI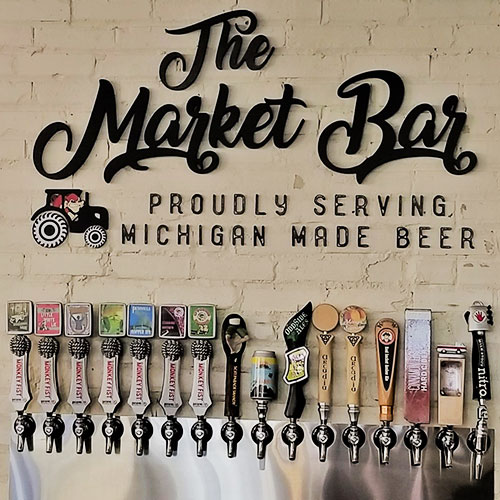 I know what you're thinking. A "beach town" brewery in Michigan? But for millions of people in the Upper Midwest, the Great Lakes is a go-to beach vacation destination. Cities along the shores of Lake Michigan know that and aim to fill that craft beer longing. Monkey Fist gets its name from a sailing knot of the same name. Their motto is: Vacation in a pint glass! "Our goal is to make Michiganers think of Grand Traverse Bay, sitting in the sand or a laying in a hammock as they sip one of the clean crisp fresh beers we produce," explains Fred Chapman, co-founder of Monkey Fist. Talk about local sourcing: One of their brewers actually grows hops, which they use in several recipes. It doesn't get any more local than that. Monkey Fist is currently starting to can their beers and expand its market, so keep an eye out for them.
Lazy Beach | Corpus Christi, TX
"It is Lazy Beach after all, not ambitious beach. We want people to slow down, relax and be lazy," explains Cory Mathews, owner of Corpus Christi's Lazy Beach Brewing – but Lazy Beach may be more ambitious than they let on. They've had at least one new beer every week at the taproom since it opened in June 2015. But their beachy vibe is what prevails and their customers know it's a place to relax and enjoy a summer beverage. "One very popular beer that we do every year is our Kook, a cucumber saison," says Mathews. They also have a hard kombucha that is tart, sour and a little sweet with a 5.5% ABV. "Be lazy, be happy" is a mantra they tout at Lazy Beach.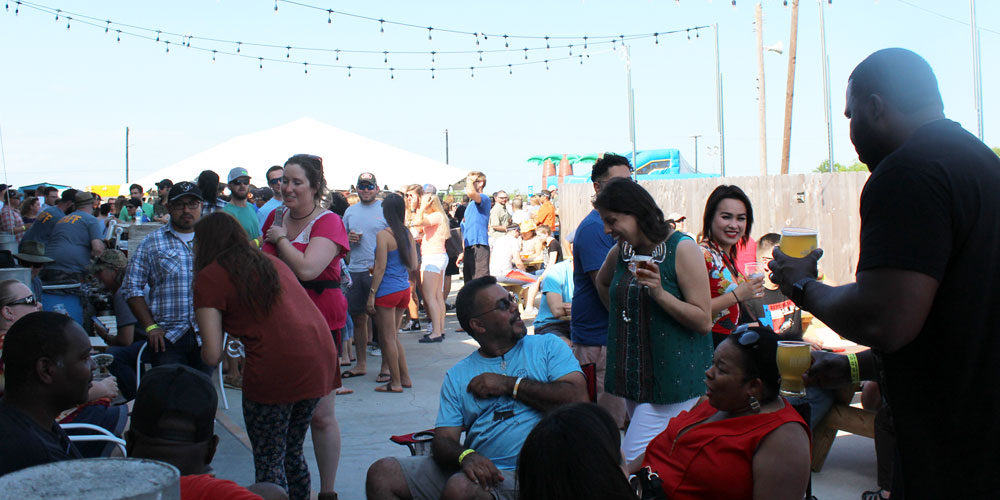 Last Wave Brewing | Point Pleasant Beach, NJ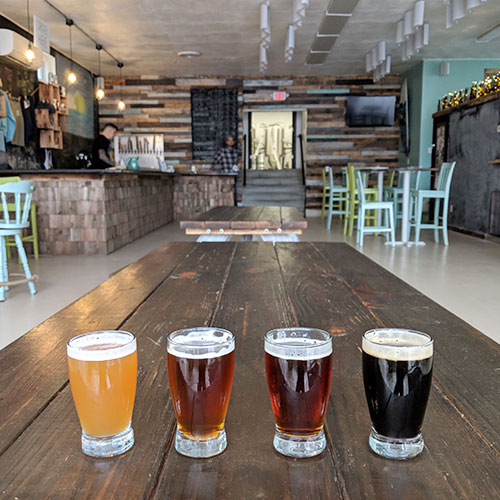 Co-founder/brewer Bert Roling with Last Wave Brewing says the beach is the inspiration for their beer recipes, especially their summer seasonal called Lightly Salted. It combines elements from Kolsch, gose, and pale ale recipes. "What resulted was a delightfully fruity summer crusher that has a subtle sweetness, like salting a perfectly ripe watermelon," describes Roling. Last Wave modeled their tasting room after co-founder/brewer's Nick Jiorle grandmother's garage. It was their hangout place when they were teens growing up. It's a comfy place with some surfboards and a few chairs. You won't find any seashells in Last Wave's tasting room but you will find a full cadre of craft beer.
Chandeleur Island Brewing | Gulfport, MS
The small beach towns along the Gulf of Mexico have a different vibe than big beach destinations. And so do their craft beers, says Chandeleur Island's brewmaster, Dave Reese. "Things tend to move a little slow here," explains Reese. "We brew beers that are easy drinking, approachable, and never pretentious." But don't let the relaxed attitude fool you. Reese is an advanced Cicerone and takes his brewing seriously. Chandeleur has a Gulf Sour series of beers that are fruit forward and balance acidity with sweetness. The tasting room has 12 rotating beers on tap and they try to put one to two new beers on tap each week.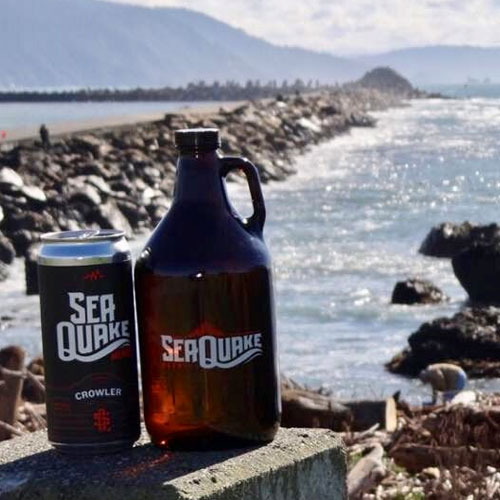 SeaQuake Brewing | Crescent City, CA
A path from SeaQuake Brewing's front door leads to a lighthouse and you can see the harbor, jetty and Northern California's majestic redwood trees from the front windows. "From the ever-changing moods of the ocean to the stability of our towering redwood trees, there is such variety in our environment as there is in our varied beer styles that we offer," explains Matt Wakefield, one of SeaQuake's founders. "We start with water from our local Smith River, one of the cleanest undammed rivers in the world." SeaQuake isn't afraid of change, distributing their beers in 12, 16 and 19.2 oz cans and producing kombucha (cleverly marketed as SeaBucha). SeaQuake is a full-service restaurant with Green Certified Restaurant status, showing its environmentally friendly standards.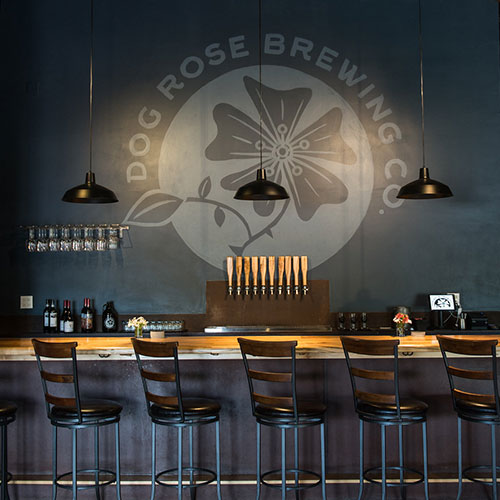 Dog Rose Brewing Company | St. Augustine, FL
Dog Rose opened its doors in 2017 and the brewery is enjoying its "freshman/sophomore years," so to speak. "I'm well aware that in five years they will be having meetings about meetings to design beers and orchestrate their releases, so, for now, we are enjoying flying by the seat of our pants," explains Doug Murr, founder and head brewer. Some of those beers include a Flanders-inspired sour and a hibiscus/ginger/orange blossom honey wheat (can you ship that to Georgia for me please?). The fun doesn't stop there – Murr says they have a small wine list, handcrafted snacks, and a couple of 16-foot shuffleboard courts.
Good Hops Brewing | Carolina Beach, NC
Unlike most places along North Carolina's beach coast, Good Hops Brewing has no TVs or live music. Instead, they focus on providing a relaxed, local gathering place. Part of their mission when launching Good Hops was to be a community hub that also welcomes the flood of tourists that hit Carolina Beach in spring and summer. But that doesn't mean it's boring! How about 4.5 acres of disc golf, anyone? As for the beer, they craft it all locally with some of their most popular ones being fruit-infused. "Our summer offerings – Donna Golden Ale (Flagship) with Pineapple, Georgia on My Mind (Peach/Jalapeno) and Bilyberry Wheat (with fresh local blueberries) are aggressively sought after," says founder Richard Jones.
Whether your next vacation takes you to a beach town or the mountains, let the CraftBeer.com Brewery Finder help you find brewpubs and breweries near you this summer.
CraftBeer.com is fully dedicated to small and independent U.S. breweries. We are published by the Brewers Association, the not-for-profit trade group dedicated to promoting and protecting America's small and independent craft brewers. Stories and opinions shared on CraftBeer.com do not imply endorsement by or positions taken by the Brewers Association or its members.