In California, craft beer is synonymous with cities like San Diego and San Francisco, but focus only on those areas and you risk missing out on the full tasting menu that the state offers. Hidden between the coast and mountains, in a valley best known for the citrus and nuts it produces, there are central California craft breweries turning out hazy IPAs and barrel aged stouts that rival those pouring from better-known beer destinations around the state.
Seclusion Works to Breweries Advantage … Sometimes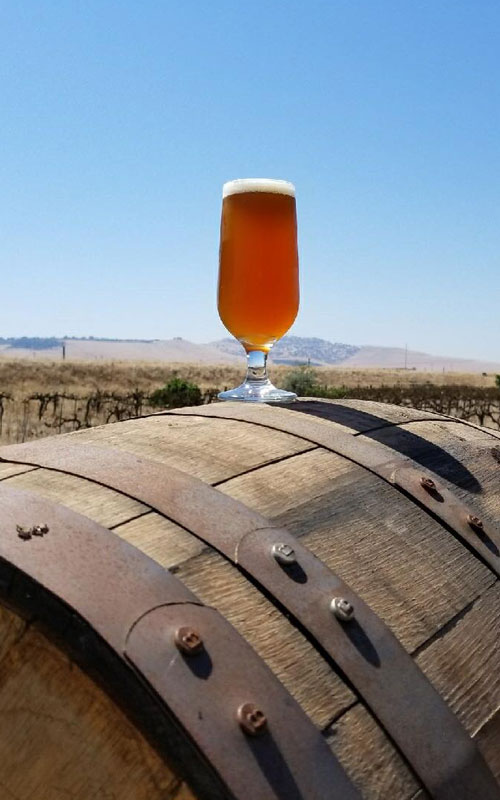 The Central Valley runs the length of the center of California from just north of Sacramento to Bakersfield in the south. In recent years, the region has been experiencing its own craft beer boom as new breweries open creating a name for independent craft beer in an often forgotten part of the state.[newsletter_signup_box]
"Being secluded is both an advantage and a disadvantage," says Ben Litwack, owner of Rocky Hill Brewing in Exeter, California. His brewery sits between citrus groves and a canal just a short detour from State Route 198 that lead straight to the gates of Sequoia National Park.
(MORE: A Beer Geek's Travel Checklist)
He explains that Rocky Hill isn't exactly on the way home from work for happy hour, but no one can argue with the tranquility of the space where he and his family once ran a contract packing business for wine. When the market for that was in decline, Litwack decided to give brewing a try. Now the brewery packs in fans for special bottle releases, supports local food trucks and thanks to some new outdoor upgrades, serves as a wedding venue during the cooler months in the valley.
For Don Bynum, CEO of Temblor Brewing Company, Bakersfield was the right place to share his love for beer. "We care about the community. We want to be in Bakersfield and we want to build the craft beer culture here," he says.
After a trip to Belgium and Germany that left him questioning everything he previously knew about beer, he came home and immediately started homebrewing. It was a venture that led to opening the brewery with partners, Tom Maxwell and Derrick Miller.
Speaking of his beer travels Bynum says, "We wanted to share the passion of what we learned with the community." That passion has turned into an inviting space in Bakersfield with indoor and outdoor seating, a full-service restaurant, and a lineup of craft beers that are ultimately inspired by his travels.
While some Central Valley breweries come about from new beginnings and world exploration, others are born from an effort to tie the past with the present. Blaker Brewing in Ceres, California, serves as a reminder of the strong connection between agriculture and brewing. Owner Tom Lucas' family has been farming in California's Central Valley since the 1930s. Their craft beer adventure began as a hobby in an old dairy barn as homebrewers serving at small non-profit events until they opened their new facility in 2017 that allows them to sell to the public.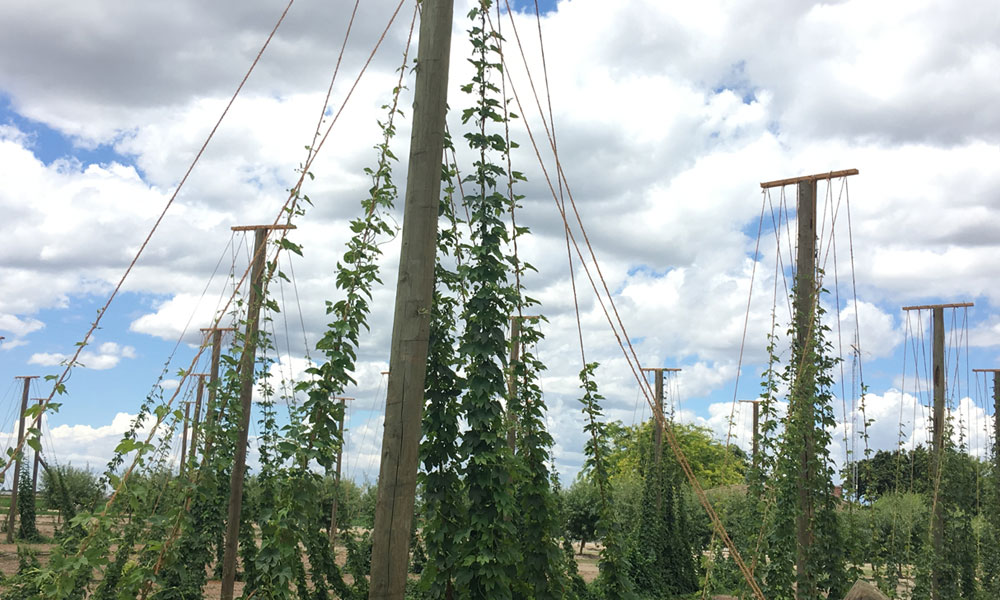 "We are truly a farm-to-table brewery. We attempt to use everything we can from the farm in our beer and give back to the farm with spent grains," explains Lucas. They have a three-year-old, quarter-acre hop yard on site growing Cascade hops. This plot will eventually grow enough hops to produce one new batch of beer a month.
Challenges for California's Central Valley Craft Breweries
These breweries dot the valley with many others that warrant a visit. Tioga-Sequoia Brewing Co., Full Circle Brewing Co. and Pine and Palm Brewing represent both long-time residents and newcomers to Fresno. Tactical OPS Brewing is another spot getting attention with tasting rooms in Fresno and Clovis. House of Pendragon Brewing Co. brews in Sanger and offers a tasting room in Clovis as well. Once only a small brewpub in downtown Turlock, Dust Bowl Brewing Co. now features an expansive family-friendly brewery and restaurant that jumps into view just off of State Route 99. Kaweah Brewing Co. recently opened a tasting room to the public in Tulare, and Dionysus Brewing Co. is another favorite of craft beer fans in Bakersfield.
Despite being spread across a rather large region, California's Central Valley craft breweries share similar challenges. The majority of beer drinkers in this area prefer mass produced American Lagers. Litwack shares this as the reason that their most popular pick is the Rocky Hill Brewing Blonde Ale. When that isn't an option they have managed to successfully introduce people to one of their many New England-style IPAs due to the lower bitterness.
(LEARN: Craft Beer and Cheese Style Guide)
"Our job as craft breweries is to show consumers why our product should be chosen," Lucas says. Blaker Brewing Vanilla Bean Milk Stout is the beer that allowed them to grab consumer attention. It's closely followed in popularity by the Plowed Under IPA.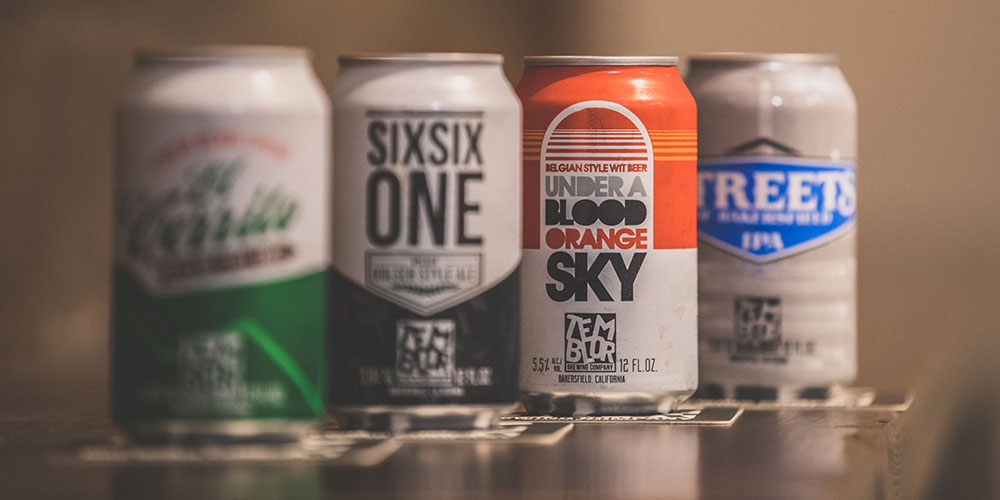 For Temblor Brewing, Under a Blood Orange Sky, a Belgian wit, was their first beer and remains their most popular followed by the El Cerrito Mexican Style Lager. For his brewery, Bynum sees another set of challenges that are unique to his location. He says that more beer is consumed per capita to the north in Visalia and Fresno, making craft beer a more popular choice in that area than it is in Bakersfield. The culture is resistant to change in Bakersfield, but they are working to move the needle.
Central Valley Craft Brewers Predict Positive Growth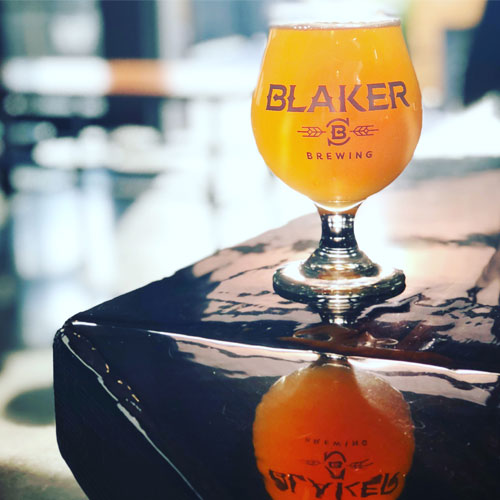 Whether these challenges will remain is yet to be determined, but the view on the future of craft beer in California's Central Valley is consistent.
"I think we all feel like it is going to change and grow dramatically in the coming years," says Bynum.
How do the breweries that are up and running feel about the growth? "The more the merrier," says Lucas. The best thing for them so far has been welcoming new breweries into their space and serving as a resource for questions about how to get started.
(MORE: Seek the Independent Craft Brewer Seal)
A view that supports community over competition will serve beneficial in the long run as the growth and experimentation in California's Central Valley craft beer show no signs of stopping. Rocky Hill Brewing is exploring the option of cans in addition to their current 22-ounce bottle releases. Temblor has a chardonnay barrel-aged Belgian beer in the works through collaboration with wineries in nearby Paso Robles. Blaker Brewing plans to offer a year-round estate pale ale brewed using hops exclusively from their hop yard.
As current breweries plow ahead and new locations open their doors, it's an opportunity to share and grow. "We aren't backwards here in the valley. We are progressing to improve today's world and tomorrow's," says Lucas.
CraftBeer.com is fully dedicated to small and independent U.S. breweries. We are published by the Brewers Association, the not-for-profit trade group dedicated to promoting and protecting America's small and independent craft brewers. Stories and opinions shared on CraftBeer.com do not imply endorsement by or positions taken by the Brewers Association or its members.