Imagine for a second if everyone thought every drop of beer only came (or could legally only come) from one place such as the way most people think bourbon is confined to the Commonwealth of Kentucky's borders. So synonymous is the Bluegrass State with its famous American whiskey that, in some regards, its fine Kentucky craft breweries are relegated to behind the Bourbon Curtain. Beyond being the renowned home of thoroughbred racing, it's a gorgeous destination for hiking the Daniel Boone National Forest, spelunking through Mammoth Cave National Park or kayaking at Cumberland Falls.
[newsletter_signup_box]
But let's get back to adult beverages. Kentucky's oldest distillery, Buffalo Trace, predates its oldest (surviving) craft brewery, Bluegrass Brewing Co., by 201 years (1792 and 1993, respectively). And even though its distilleries outnumber its breweries by about 75 to 55, this is absolutely destination-worthy for today's beer lovers.
As one would imagine, fantastic bourbon-barrel aged beers abound, but Kentucky craft breweries make some mean IPAs. And for some true local flavor, try hunting down a pint of Kentucky Common, one of the rare indigenous American beer styles. Here's a great route to explore the breweries of Bourbon Country.
(READ: Epic Craft Beer Road Trip: Pacific Coast Breweries)
Louisville
It's fitting that the state's largest city is home to around 16 percent of the population as well as 16 of its breweries. It's a great place to start the tour.
Bluegrass Brewing Co.
In a state known for strong whiskey, it's only fitting that the elder statesmen of breweries garnered back to back Great American Beer Festival (GABF) gold medals for its strong (12.5%) barleywine, Bearded Pat's. Bluegrass Brewing Co. is the state's winningest brewery at GABF. One of the most popular beers at the pub is the Bourbon Barrel Stout, weighing in at a comparatively modest 8% ABV, and ages in smooth Four Roses barrels then amps up the smoothness by serving it on nitro.
Goodwood Brewing
Branching off from Bluegrass Brewing Co. in 2015, Goodwood is all about wood — and the excellent limestone water from deep aquifers — but mostly wood. Sometimes it's the wood that's been used to age bourbon but sometimes it's white ash, the very same found in famous Louisville Slugger bats. Louisville Lager is aged on said chips. Hemp Gose is the only beer that features not wood but a great wood substitute and is a nod to the state's largest underground cash crop even ahead of above-ground tobacco. Walnut, spruce, poplar and more help grow their forest of beer offerings.
Mile Wide Beer Co.
The only Great American Beer Festival medal for Kentucky in 2017 went to Mile Wide for McPoyle, a nitrogenated milk stout. But clearly patrons come for the IPAs. There are generally five different ones on tap ranging from Idlewild Session IPA to Moxie, billed as a Northwest Double IPA and while it features a lip-smacking array of hops from around the Pacific Northwest, some German Mandarina Bavaria snuck in, too.
Against the Grain Brewery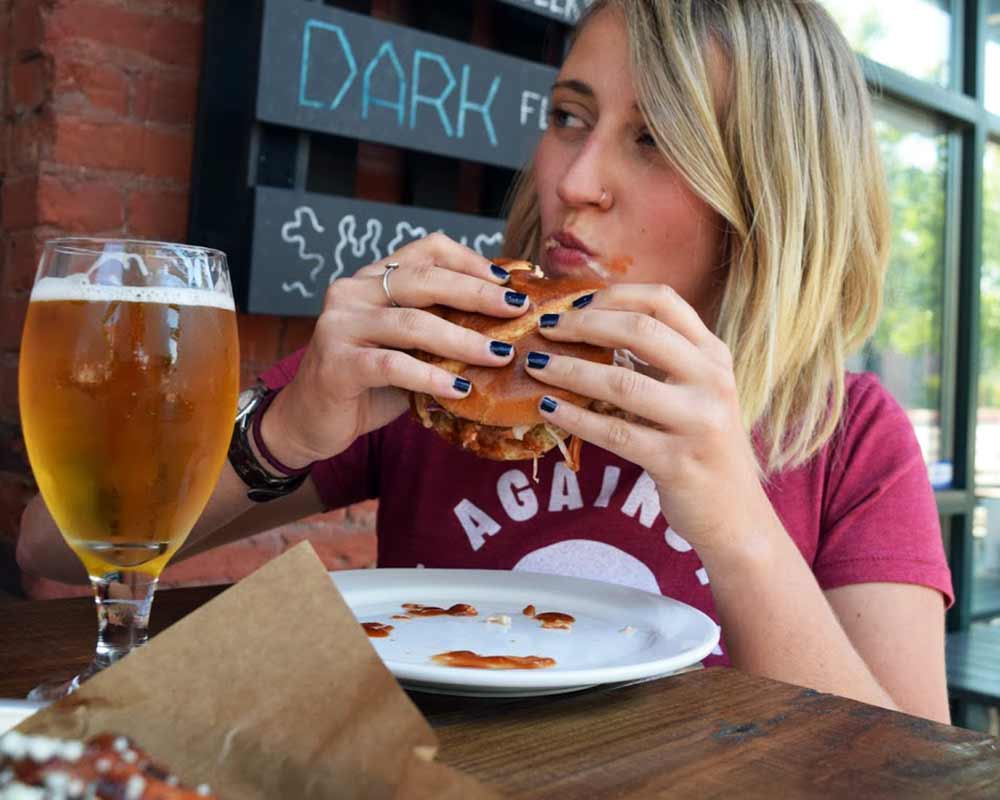 Against the Grain is among Kentucky's best-known breweries generating worldwide acclaim for beers like Citra Ass Down (an IPA that's, as is easily deduced, bursting with Citra hops) and Bo & Luke, an imperial stout that gets every kind of barrel treatment from bourbon (natch) to that concord grape wine found in Kiddush cups, in case Bo and his cousin Luke ever crash a Bar Mitzvah. The number of beers coming out of this brewery is mind-boggling and the best way to sample through them is at the pub over a large plate of house-smoked barbeque.
Monnik Beer Co.
It's good to get out of the downtown core and this brewpub is a gem for those in the Schnitzelburg neighborhood. The 15 house taps at Monnik Beer Co. range from new Brut IPA ("As Different as You Are") to Old Mutton Chops, a barrel-aged version of their brown ale, King George. Sometimes you'll find beers with a culinary flair featuring cardamom or ginger and they serve as deft compliments to the Dutch-inspired menu that includes the best bitterballen this side of Amsterdam.
(READ: Epic Craft Beer Road Trip Along Route 66)
Lexington
In central Kentucky farther from the urban center, Lexington is surrounded by horse farms. The charming city encircled by New Circle Road boasts an incredible beer scene largely comprised of this two-mile brewery crawl.
Alltech Lexington Brewing and Distilling Co.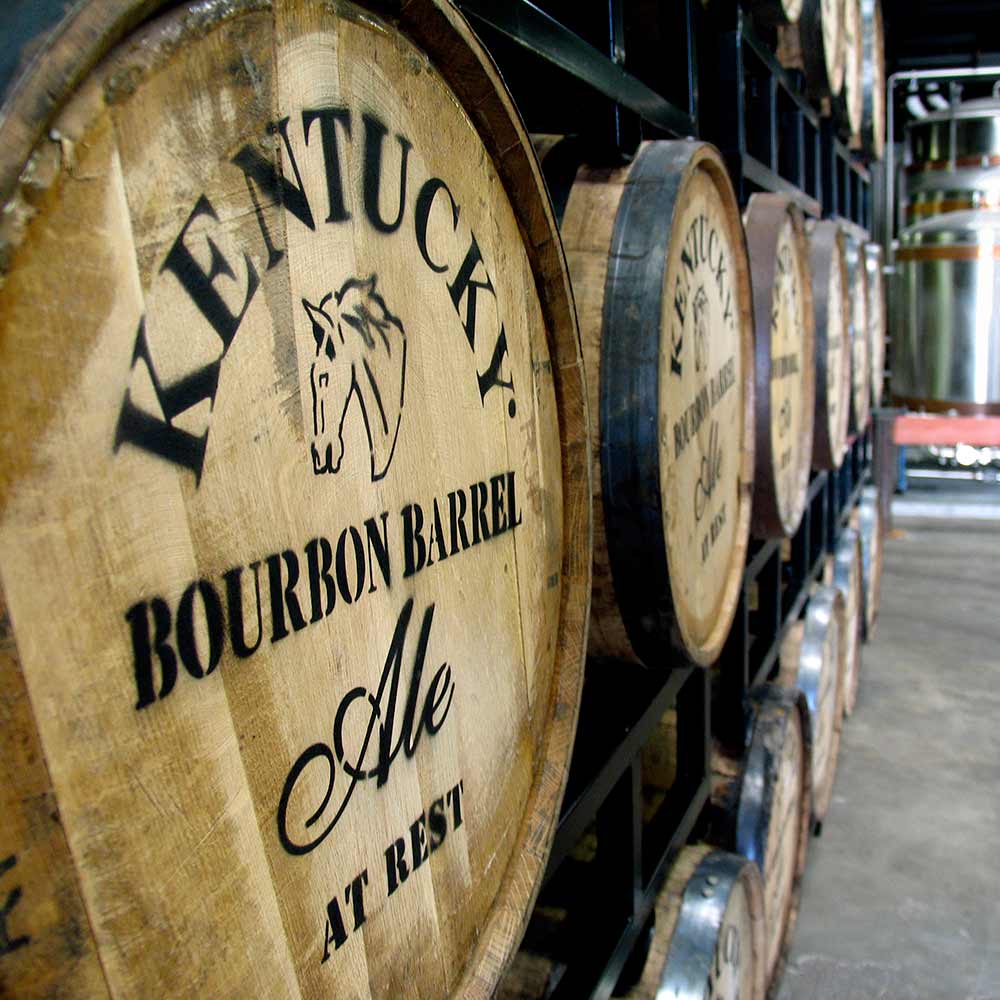 Alltech is a multifaceted company founded by Dr. Pearse Lyons who passed away in 2017. Dr. Lyons, who earned his master's and Ph.D in malting and brewing, moved from Ireland to Kentucky to create this biotech firm using the powers of yeast to promote healthy animals from fast horses to thirsty people. Their flagship, Kentucky Ale, is a hybrid of Irish red and British pale ales, while Kentucky Bourbon Barrel Ale, introduced back in 2006, sees that base beer Kentuckified by aging in the bounty of local barrels. The barrel-aged beer offerings have multiplied (coffee or blackberry, for example), and there's even a spin-off brewery and distillery (Dueling Barrels in Pikeville deep in Appalachia), but there's something wonderfully straightforward about the original that layers vanilla and oak notes on a golden beer to highlight where these paths converge.
West Sixth Brewing
The brewery and taproom in downtown Lexington is the ideal spot to sip Kentucky's best-selling IPA or the weekly firkin release. An added treat is a weekend retreat with the whole family to the West Sixth Farm in Frankfort (almost halfway back to Louisville and 10 minutes from Buffalo Trace) to sip said IPA among their micro hop yard. The bar has 10 West Sixth beers on tap, enough to explore nearly 10 acres of the farm per round.
Blue Stallion Brewing
Blue Stallion Brewing is a communal gathering spot that offers a comfy patio on which to enjoy their approachable beers. Of course you'll find some IPAs but the emphasis is on traditional German lagers plus some British and Belgian ales. So hoist steins of their sessionable pilsner or Munich Dunkel and then treat yourself to a hefty dopplebock given a Kentucky kick via bourbon barrel aging.
(VISIT: Find a U.S. Brewery)
Cincinnati Metro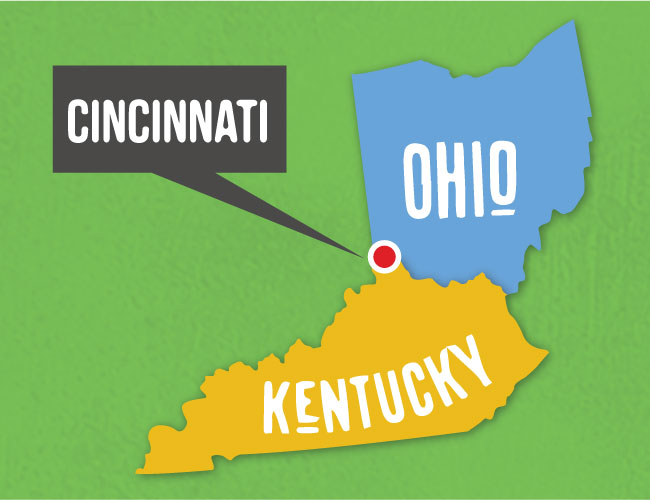 Even many Ohioans perceive Cincy less as southern Ohio and more as northern Kentucky. The cities on the south side of the Ohio River that serves as the natural state border aren't merely perceived of as Kentuckian, they are Kentucky.
Darkness Brewing | Bellevue
The nano-sized brewery means Darkness gets to keep its homebrewing roots alive with myriad experiments and riffs including its session-strength (4.8%) Anomaly series of dark ales. Sometimes the beer gets hit with unique hops, sometimes it's a favorite coffee. But what makes this a don't-miss Kentucky brewery is Bellevue Common. This is a Kentucky Common Ale made with all state-grown ingredients including the malted barley, corn and rye.
Braxton Brewing | Covington 
Up in Cincy proper, Graeter's Ice Cream is an institution perhaps on par with Cincinnati-style chili (served on Coney hot dogs or spaghetti!). So when this homebrew-inspired brewery (that feels like an inviting man-cave because it's housed in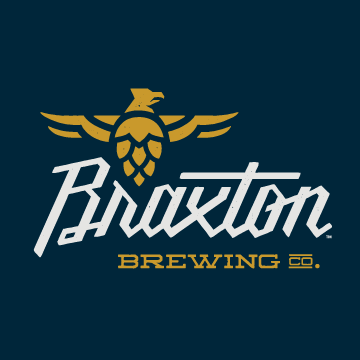 a former garage) opened, Braxton Brewing got to work collaborating with the creamery to create flavors such as Black Raspberry Chocolate Chip Milk Stout. Another stout called Dead Blow and dubbed a "tropical stout" made with dates, goes into Graeter's Stout & Pretzels ice cream. For a Kentucky Common-esque beer, try Storm golden cream ale.
(VISIT: Great American Beer Bars 2018)
A Few Kentucky Craft Breweries Off the Beaten Path
Kentucky earns its rural reputation. The financial centers in urban areas are far outnumbered by pastoral towns even if said towns with breweries are few and far between. They're still worth getting off the interstate to check out.
Jarfly Brewing | Somerset
Located 75 miles due south of Kentucky (and 40 miles north of Tennessee), Jarfly, a sobriquet for the every-17-years-cicada, is a charming pub in downtown Somerset occupying a space that'd been a family-owned furniture store for 150 years. Instead of handcrafting chairs and sofas, Jarfly handcrafts familiar styles with artistic flourishes. The Kentucky Common Ale is gilded with jalapenos. The black IPA is given the bourbon barrel treatment. Not to be overlooked, the cheeseboard features all Kentucky-made cheeses, and this may be Kentucky's best kept secret.
Dry Ground Brewing | Paducah
Some folks think "Paducah" is a fictitious name for a place in the middle of nowhere. But it's a real place, not in the middle of Kentucky but on the border of Illinois. The name is an homage to the Great Flood of 1937 when the Ohio River flooded, and with it, the Coca-Cola bottling plant built by Luther Carson. Carson built his replacement facility at the first place with dry ground. Today, Dry Ground Brewing occupies the back end of the former soda plant with its Art Deco architecture still preserved. Uncle Luther, an excellent ESB, keeps the past alive, as does '37 Flood IPA. Pro tip for parents: There are board games available but if your kids are up for sleuthing, they might find a toy car hidden in holes or cavities in the building's old brick walls.
St. Arnulf Alery | Cadiz
My first taste of bona fide moonshine was homemade blueberry bourbon. I mention this only because a beer like Hexagon, a milk stout with blueberries aged in bourbon barrels, is more authentically Kentucky that you might think. The blueberries on the 350-acre farm — replete with caves and springs as their water source — that St. Arnulf Alery calls home go into the beer. Raspberries grown on the farm also make their way into the beer that's brewed over a wood-fired kettle like it's the Middle Ages. In fact, the Cascade and Chinook hops that go into their beers: also farm grown, though they use some 21st century hop varietals and brewing know-how, too.
Ultimately, while the Commonwealth may not have as extensive a history when it comes to craft brewing as some other states, it's far from the fictionalized place where everyone just drinks bourbon neat or sloppy moonshine. (But it is true that only tourists drink mint juleps.) Despite over half the counties having some sort of blue law restrictions on alcohol sales and over a quarter of the counties are completely dry, the Bluegrass State is as charming and creative a place to enjoy the modern wave of American, independent brewing, bourbon-aged or otherwise.
CraftBeer.com is fully dedicated to small and independent U.S. breweries. We are published by the Brewers Association, the not-for-profit trade group dedicated to promoting and protecting America's small and independent craft brewers. Stories and opinions shared on CraftBeer.com do not imply endorsement by or positions taken by the Brewers Association or its members.