It started in Reading, Pennsylvania, in the 1980s  in a bar that advertised "100 Beers From Around the World." Drink the list of 100 beers, and you won a T-shirt. Before long, Jean Newcomer and Greg Weiler had three T-shirts and a thirst for craft brewery creations.
[newsletter_signup_box]
As of July 2, the craft beer couple have visited 957 breweries, with an eye for hitting 1,000 by early 2019.
Stoudt's Brewing Company in Adamstown, Pennsylvania, opened in 1987. Jean and Greg count this as their first craft brewery. As  No. 1 on their list, it holds a special place in their hearts.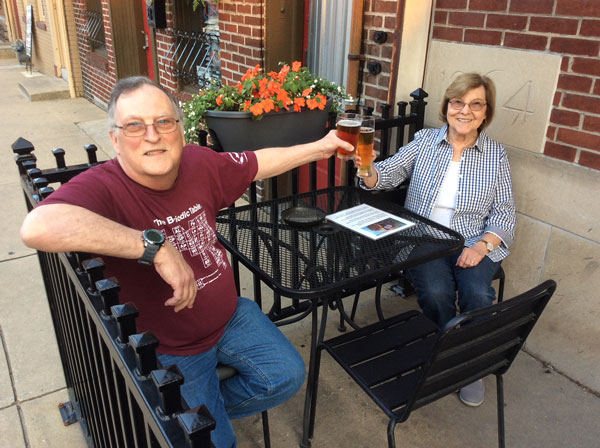 Tallying Up Their Visits
The following 12 years went by steadily and slowly as the pair hiked their way through the Appalachian Trail and to their 100th brewery. They would set out in search of the highest elevation in every state across the United States and stop at any brewery they would find on their way. Breweries 101-200 took three years to visit, and 201-300 took them four years. The next few hundred visits took two years a piece. Numbers 601-900 took a little more than a year to get to.
(MORE: Craft Brewers Tell Us About Their Bucket List Breweries)
As the years added up, the independent brewery industry continued to grow. And so did Jean and Greg's list of visited breweries. Jean and Greg have followed four major rules in tallying their brewery visits. First, the beer has to be brewed at the facility they are visiting. If it is brewed off-site, it's not counted. Second, there are no repeats. If the couple visit Lancaster Brewing Company every week, it only goes on the list once. As for the third rule, if a brewery changes its name or adds another location, it can be counted again. And lastly, beer festivals absolutely do not count. The beers were not brewed at the festival, so they cannot go on the list.
Craft Beer Couple's Milestones
"Our 300th brewery visited was more or less by accident," Greg says. "We were approaching 300 when we booked a cruise around the Baltic Sea. On a whim I checked breweries in the countries we were visiting and found one within walking distance of the port of Tallinn, Estonia — Beer House Brewery. There were taps at the tables with digital counters above to keep track of amount poured."
(List: A Beer Geek's Travel Checklist)
There are certain visits along the way that are more meaningful than others. Jean and Greg's  500th visit was to Stone Brewing in Escondido, California. At the time, Mitch Steele was Stone's head of brewing operations. He gave Jean and Greg a personal tour that included an autographed copy of "The Craft of Stone Brewing." After the tour, they were treated to a lunch on the patio and  given a cake commemorating their remarkable achievement.
Jean and Greg have plans to spend visit number 1,000 at Iron Hill Brewery's Hershey, Pennsylvania, location that is slated to open in November 2018. Jean has worked part-time for Iron Hill Brewery for many years and is extremely popular among employees, regulars and locals at Iron Hill in Lancaster, Pennsylvania.
(Find: A US Brewery Near You)
Kevin Walters, now the owner of Love City Brewing Company in Philadelphia, used to work for Iron Hill and held a special celebration for these two at his Voorhees location.
Needless to say, celebrating visit 1,000 at one of Iron Hill's locations will also be extra special for Jean and Greg.
Telling Tales of Brewery Visits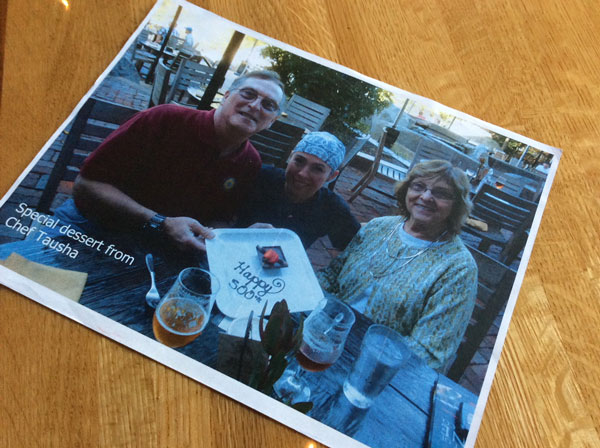 From time to time, this well-traveled craft beer couple gets to share their story with people who haven't heard it before. Bartenders often make them feel like celebrities, going out of their way to tell other customers about their incredible journey. When a bartender asks the two what style of beer they prefer, Greg typically looks for anything hoppy, while Jean seeks out the more traditional style lagers, pilsners, or the German-style Kolsch.
Living in the Lancaster, Pennsylvania area, Jean and Greg have quite the selection of local breweries to frequent. They like the way the area is expanding its options when it comes to craft beer. Even the bars that only used to have the domestic beers are now converting their taps over to craft beer.
(Seek the Seal: Post Your Photos on Instagram)
One thing that Jean and Greg would like to see happen is for bartenders to become more knowledgeable about the beers they're pouring. It would make them happy to hear about the flavor profile, alcohol content and color of the beers they have on tap.
Favorite Destinations?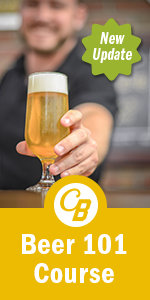 Out of the hundreds of breweries that Jean and Greg have visited, they find it hard to pick one that stands out as their favorite. But one thing that factors into how memorable a location is the architecture. Willimantic Brewing Company in Connecticut is housed in a classic granite-faced, old post office. Oakbrook in Pennsylvania and Firehouse Brewing Company in South Dakota are both built in old firehouses and stand out among the list. Repurposing old, vacant buildings  adds extra character and meaning, according to Jean and Greg. But with 957 breweries under their belts, picking a favorite is just too hefty a task for Jean and Greg.
"We've been to breweries in all states except Alaska, and several countries including England, Wales, Belgium, Mexico, Puerto Rico, Virgin Islands, Estonia and Canada," Greg says.
(More: What is Craft Beer?)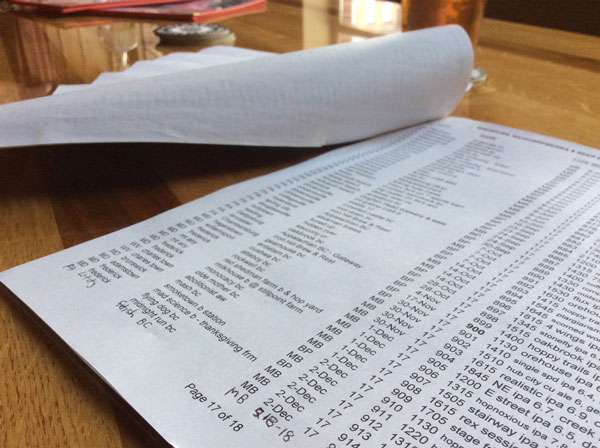 When asked which geographical area has the best craft beer culture,  Gregis quick to reply.
"I suppose the area with the most breweries would have the best culture. That means for us, the San Diego, Denver/Boulder and Seattle/Portland areas have the best cultures that we've encountered so far, He says."
The future for craft beer?
"A while back the Brewers Association reported that this country was heading for 7,000 breweries, nearly twice what was the max in the 1870s. Sooner or later there's going to be a point where there will be too many breweries for a given area," Greg says."Craft beer is expensive to produce and a dwindling customer base cannot support the cost of the product. I hope before that happens the number of breweries will level off or grow at a rate supportable by a growing beer culture."
Jean and Greg are some of the most inspirational people I have met. Besides their love for craft beer, they stay physically active in their 70s and don't look a day over 60. I always heard that drinking beer moderately is the secret to living a long healthy life. If I ever doubted that theory before, this craft beer couple are living proof that there's some truth to those words. Here's to Jean and Greg, happy brewery hunting! Cheers.
CraftBeer.com is fully dedicated to small and independent U.S. breweries. We are published by the Brewers Association, the not-for-profit trade group dedicated to promoting and protecting America's small and independent craft brewers. Stories and opinions shared on CraftBeer.com do not imply endorsement by or positions taken by the Brewers Association or its members.