San Leandro, California, may not be on your craft beer travel radar, but it should be.
Like many industrial post-war suburbs in the East Bay, this unassuming city is reinventing itself. Traditional manufacturing is being replaced by next generation manufacturing, bringing small start-ups with highly-skilled tech workers into the area.
Small and independent craft breweries are also a big part of this change, moving into carefully preserved industrial neighborhoods that are the pride of the community. San Leandro, home to Ghiradelli Chocolate, is now also home to three outstanding independent breweries that sit within a half-mile of each other: Drake's Brewing Company, 21st Amendment and Cleophus Quealy.
Add to this a new downtown taproom called The Cooler and a beer-centric restaurant called the Sons of Liberty Alehouse, and it's easy to see why this quiet, unassuming town is quickly becoming a tech-friendly urban center, fueled by coffee, the internet, art, and craft beer.
(MORE: 14 Spring Beers Brewers are Excited to Release in 2017)
Drake's Brewing Company
The flagship brewery of the East Bay, Drake's Brewing Company has called San Leandro home since 1989, when founder Roger Lind began selling and distributing English-Style ale, one keg at a time.
The original dusty blue, 20-barrel brew house hides at the end of a former Dodge/Chrysler assembly plant, a massive metal warehouse that spans the length of an entire football field. Known to locals as the West Gate Shopping Center, this mixed-use building is now home to retail stores like Walmart and Home Depot, as well as several advanced manufacturing start-ups and art studios.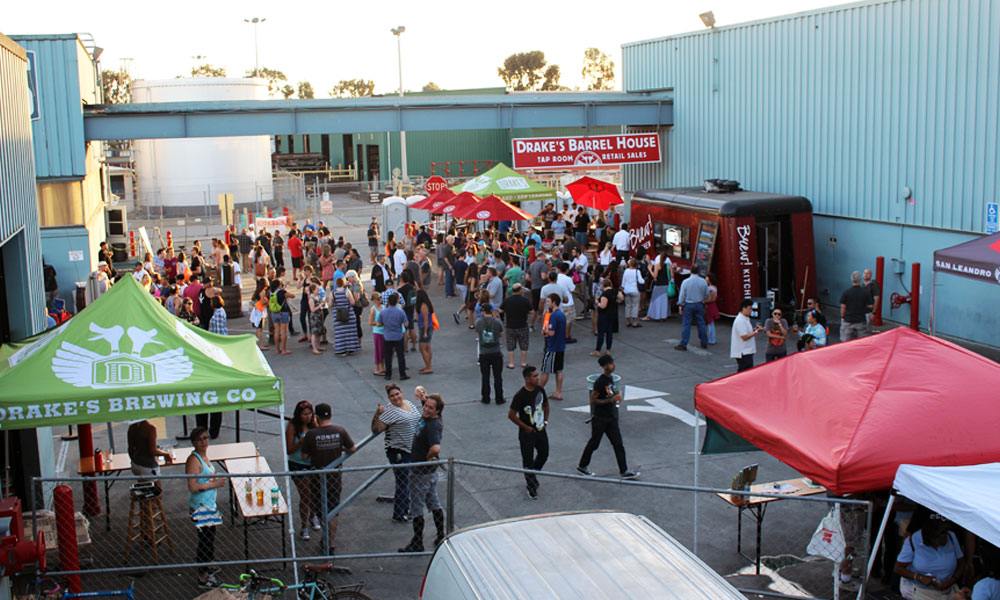 John Martin, co-owner of Triple Rock Brewery in Berkeley (among the oldest brewpubs in the United States), took Drake's over in 2008 with partner Roy Kirkorian, and has since rebranded and expanded, adding a new 60-barrel brew house that allows them to experiment with small, one-off batches while still producing enough bottled standards to distribute throughout the state.
Said Martin, "Our first thought was that we need to get this great beer out to people." They have also recently started a barrel-aging program called The Oak Project, specializing in creating some amazing sour beers infused with spirits, wine and fruit.
When you first arrive, you're greeted by a bright red food truck known as the Brew! Kitchen, which sits permanently out front, surrounded by patio seating. Burgers, tortas, salads and tater tots are on the menu.
Drake's spacious, barrel-lined tap room is entered through a large, roll-up door. Inside, visitors will find a large bar with 24 taps, providing an incredible variety of rotating flavors, from their classic Drakonic Imperial Stout and Denogginizer Double IPA, to the seasonal Jolly Rodger, to limited-run specials like Macho Man Razzy Savage, a raspberry kettle sour, and Cocoa Caliente, a bourbon barrel-aged porter with ancho and chipotle peppers.
Martin is just getting started. In 2015 he opened Drake's Dealership in Oakland, a full-service taproom and beer garden serving wood-fired pizzas and, of course, Drake's beer. And plans are in place to open a beer garden in Sacramento called The Barn.
(MORE: 7 Offbeat Places for People Who Like Craft Beer)
21st Amendment Brewery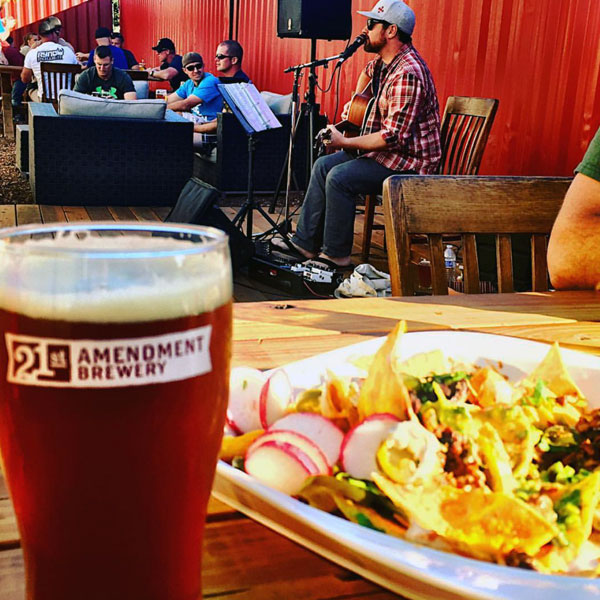 Located over a fence and across an empty lot, literally a stone's throw away from Drake's (the city is planning to connect the two with a pedestrian path), is another behemoth of a building. This is the place 21st Amendment Brewery now calls home, having expanded from their San Francisco brewpub in 2015.
The building used to be a 150,000 square foot Kellogg's factory, but now it churns out 500 cans a minute, their signature product. Says co-owner Nico Freccia (whose 21st Amendment business parter, Shaun O'Sullivan, was formerly brewmaster at Martin's Triple Rock), "We were among the very first on the West Coast to do cans for craft beer."
Their seasonal Hell Or High Watermelon beer, a classic American wheat beer with a kiss of watermelon, is the perfect canned refreshment on a hot summer day. Their Mexican-style lager El Sully is a year round favorite and Brew Free! Or Die IPA has become a top-seller — an accurate reflection of 21st Amendment's rebellious attitude.
The tap room at 21st Amendment is steps away from the 100-barrel brewing system, fermenters, brite tanks and canning line. Stacks of cans help divide the space, with tables and benches fashioned from the shipping crates that the brewing equipment arrived in. There is a bocce court and cornhole boards along with a 2,500 square foot outdoor beer garden where the brewery hosts live music and family-friendly events.
The bar features 12 rotating taps, many of them experimental brews, seasonals and collaborative beers. Their latest creation is a Blood Orange IPA, a smooth and hoppy ale with a sweet citrus nose (which we included in our 2017 round-up of new spring beers). Freccia likens it to that long, extended jam session in a Grateful Dead song that you love.
Grab some beer to go in a crowler – a 32 ounce can that can be filled with a brew of your choice, then sealed. Food is currently available from food trucks that park nearby, but plans are in the works for a part-time kitchen.
(MORE: 8 Women in Craft Beer Who are Making a Mark Right Now)
Cleophus Quealy
One mile north of Drake's and 21st Amendment lies Cleophus Quealy, a nano-brewery located in a nondescript business park. If it weren't for the food truck parked right outside the entrance, you might walk right on by. But step inside and you'll be transported to another time and place, where old world charm blends with modern style.
Part speakeasy, part lounge, this intimate space is where lovers of craft beer gather to drink, play board games, watch TV, listen to live music, and have intellectual discussions until the wee hours. As their motto goes, all dogs, children, and well-behaved adults are welcome.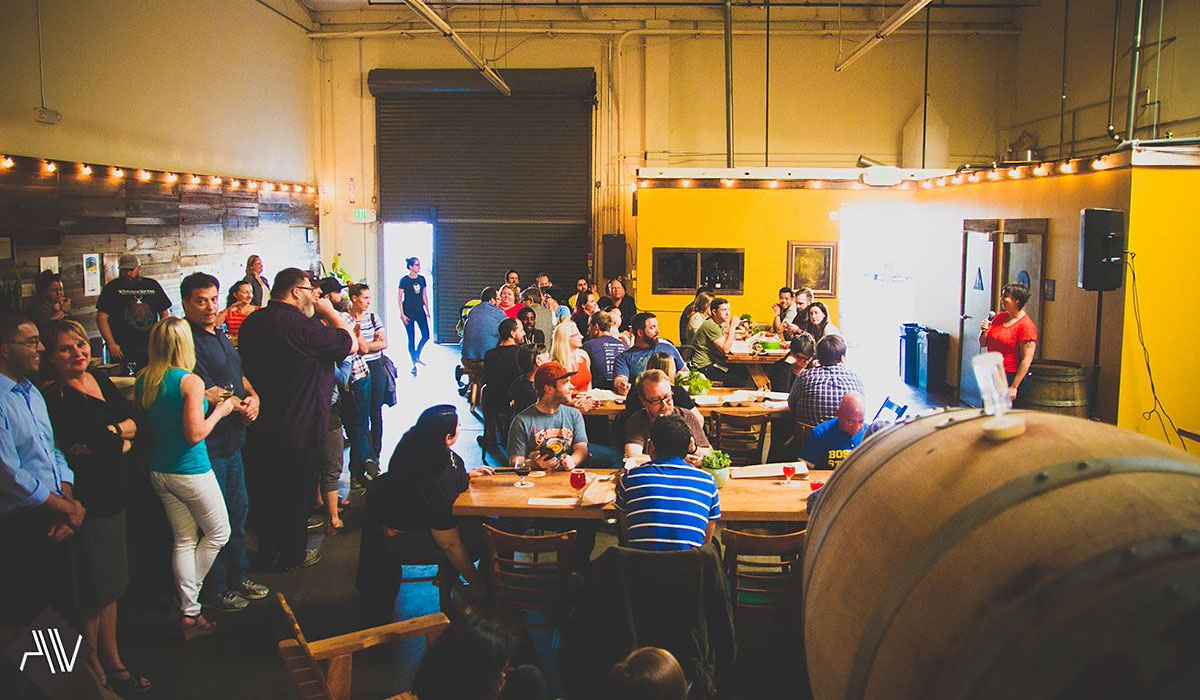 Cleophus Quealy was founded in 2014 by former Google employees Dan Watson and Peter Baker. The name is made up of two real names from their family trees.
"It's meant to evoke the Gold Rush era," says Watson.
After traveling around Europe and falling in love with the beer, the two began homebrewing out of their garage. Opening a brewery was the next logical step.
Cleophus Quealy specializes in Belgian-style and barrel-aged beers, with limited bottle runs. Their seven-barrel direct-fired brewhouse produces about 400 barrels a year. Everything is made by hand, and each batch is numbered.
A bar with eight taps provides an eclectic mix of ever-changing flavors, including fruited, spiced, and sour beers, with the recent introduction of two year-round beers (a hoppy rye ale and a dry-hopped session saison). Sweet Henrietta is a milk stout made from the cold pressed coffee of Zocalo Coffeehouse, a San Leandro favorite. And, in honor of the town's annual Cherry Festival, they have just released a 2017 Cherry Red, a Flanders-style red ale aged one year in wine barrels with sour cherries.
The San Francisco Bay Area is a mecca for craft beer lovers. Consider San Leandro craft beer on your next trip, where you'll discover some amazing new breweries that pay homage to the industrial past.
CraftBeer.com is fully dedicated to small and independent U.S. breweries. We are published by the Brewers Association, the not-for-profit trade group dedicated to promoting and protecting America's small and independent craft brewers. Stories and opinions shared on CraftBeer.com do not imply endorsement by or positions taken by the Brewers Association or its members.