Beer yoga is nearly as universal at craft breweries as IPAs: you can find a class almost anywhere.
Yoga and I had only crossed paths once before, and I walked away feeling it just wasn't for me. But could beer yoga be different? I wanted to find out.
My Young, Inflexible Years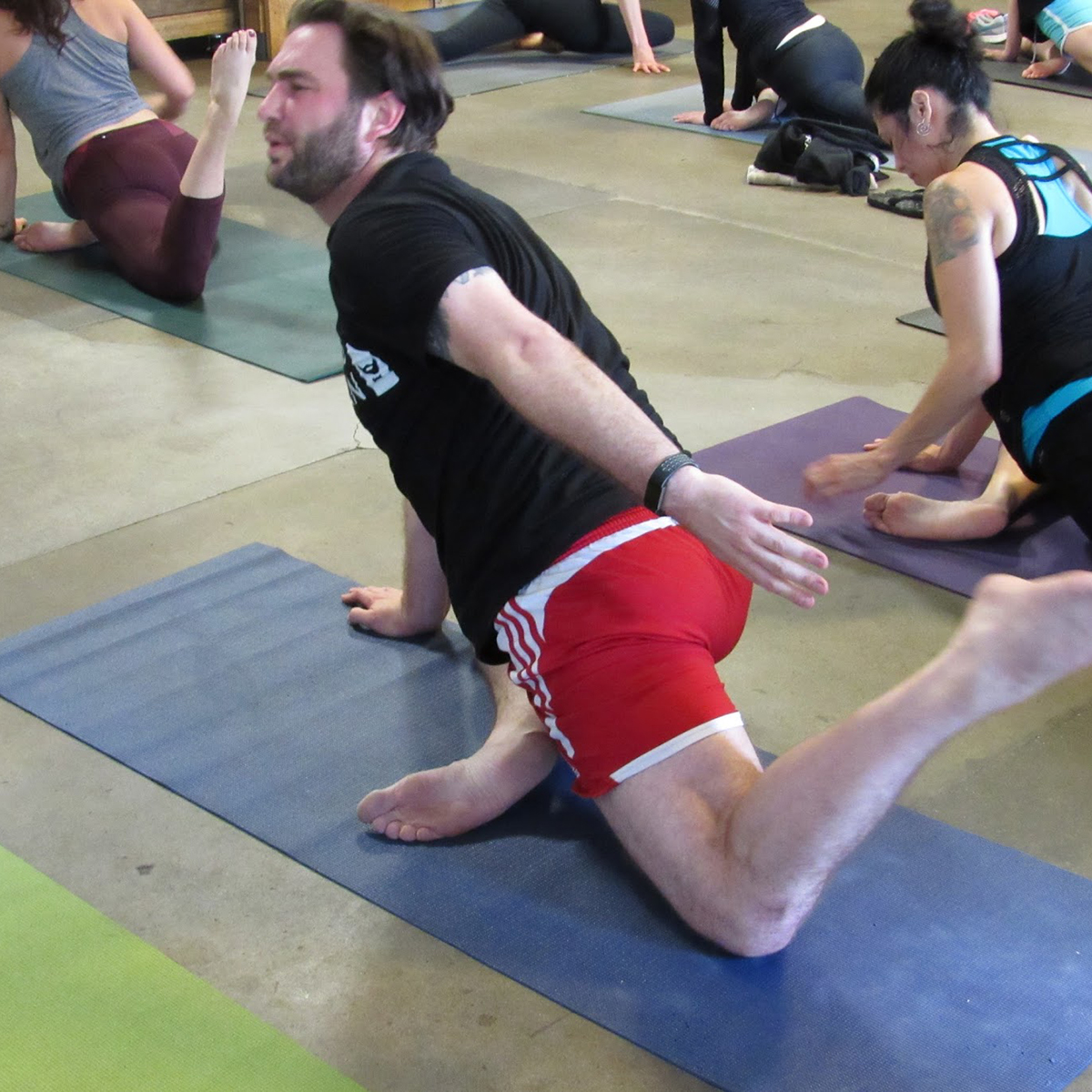 At a young age, I was periodically informed by childhood educators that I was not flexible enough. I was told that I did not measure up to my peers across the United States. Or at least, that is how my adolescent mind interpreted these educators' words.
(TRAVEL: Plan Your Next Beercation)
I can also thank the Presidential Physical Fitness Test, specifically the sit and reach exercise, for those encouraging results. The sit and reach is commonly used to measure the flexibility of the hamstrings. My hammies are definitely wound like a tight yarn ball of fury.
Fortunately, throughout my adulthood I learned how stretching is essential to my survival. A little stretching here; a little stretching there. I fit it in when I remember. Unfortunately, that wisdom came at the cost of countless pulled hamstrings due to impromptu comical renditions of martial art kicks.
Yoga must be the answer.
My First Date with Yoga
A Bikram studio set the stage for my first yoga introduction. (Thanks Groupon for that stressful initiation.)
The environment was too intense for me. I played rugby, baseball, basketball and ran cross country, but this new form of intensity challenged me beyond my inflexible body could fathom. Everyone looked like a professional with their fancy spandex yoga gear. I walked in with shorts from the secondhand store and a t-shirt.
(READ: 7 Breweries Worth a Detour)
I set up my mat in the back, guided by the out-and-out fear of potentially embarrassing myself. I was constantly looking around to make sure I was doing every pose correctly. Spoiler alert: I was not.
I still had three sessions left, but I did not go back after my second visit.
Don't get me wrong, I loved how Bikram yoga challenged me physically and mentally, but it just was not the best yoga style for a person like me. I need a pressure free atmosphere to explore stretching activities.
Beer Yoga Lures Me Back to the Mat
Two plus years and endless beer yoga ads on social media later, I find myself wanting to try yoga again. Images of beer taps, kegs and worts filled my childlike wonder and adult fantasies.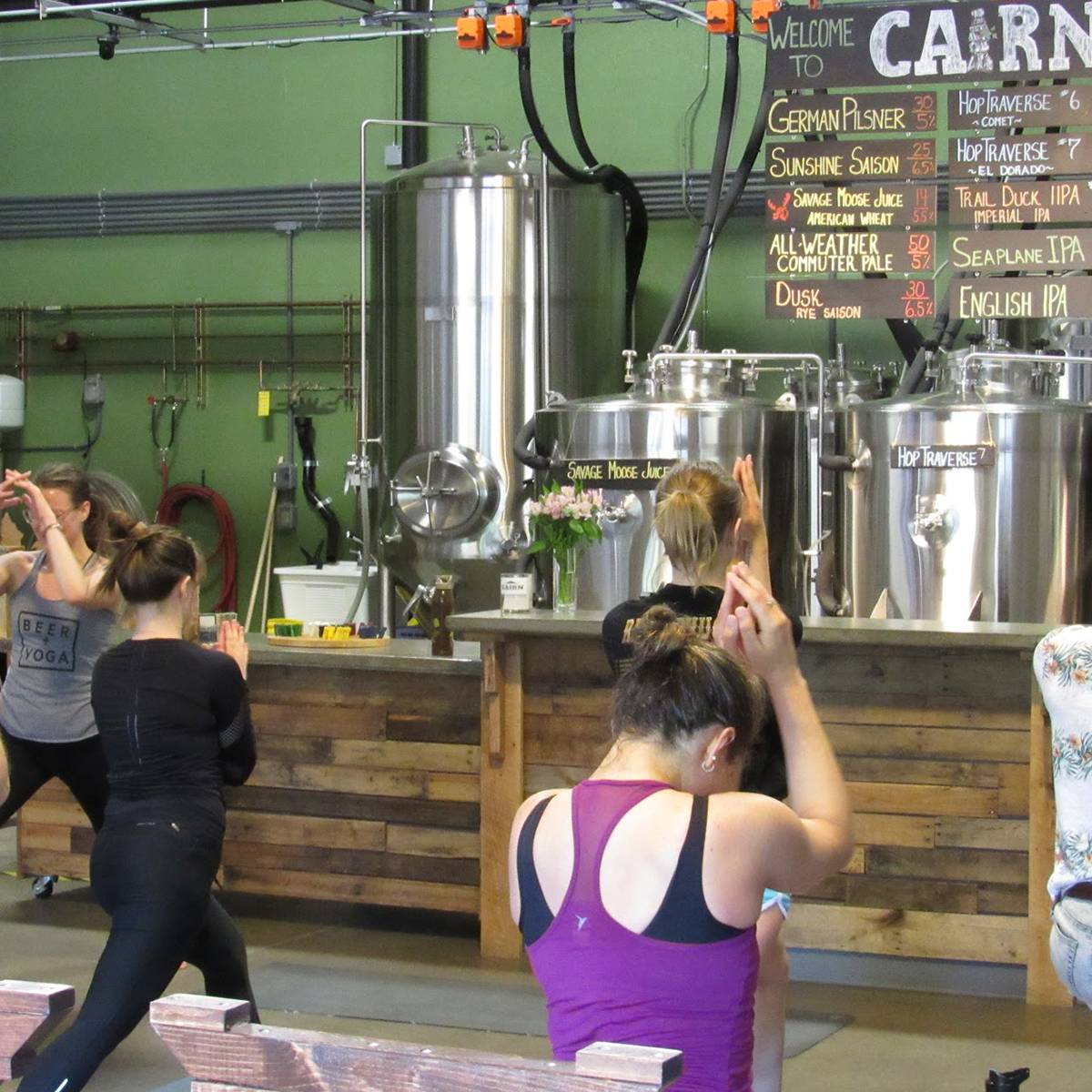 "Beer yoga must be better than studio yoga," I thought to myself.
So I gave yoga a second chance. My goal was redemption, and of course, to avoid being a total and epic failure.
I reached out to two beer yoga instructors, Dawn Hood and Erin Sonn, for some advice. Dawn and Erin eased my fears by answering several questions; however, I was scared to ask them all. One particular question was just too embarrassing; I wanted to know if yoga could relax someone so much that they would pass gas. Looking back, now believe I likely did not pass gas during the Bikram yoga, because I was simply too tense. (Dawn and Erin, if you are reading this article, I just wanted to let you know.)
Two social media influencers of 21st Amendment Girls, Renee and Chelsea, referred me to Erin. She's the founder and an instructor for Eat Yoga Drink. She has been a yoga practitioner for a decade but started Eat Yoga Drink in 2015. She finds that "both yogis and people in the beer world espouse creativity, community and connection."
(READ: 3 Stories Behind Athlete-Inspired Breweries)
Not to give away the ending, but I also found this to be true.
Erin calmed my nerves by giving me a high-level overview on what to expect during a beer yoga session. She shared with me that beer yoga "cultivates mindful awareness of breath and movement."
The expectation is to participate at a level of challenge-by-choice and then enjoy the socializing afterwards while sipping on craft beer.
These words were wise, but I needed insight from my beer yoga session hosts.
Dawn hosted my first beer yoga session at Cairn Brewing. She is also the co-founder and a teacher for Just Add Yoga. She discovered more enjoyment teaching beginners than she did actually guiding a studio session through a sequence of yoga poses. She also loves the craft beer culture.
Aha! Dawn had a brewtiful idea to just add yoga to her beer sessions with a laid-back backdrop. This infusion attracts a more diverse group of people who want to be healthy and drink beer. I am Dawn's target audience, as well as thousands of other craft beer lovers around the world.
Say Yes to Vinyasa-Style Yoga
Contrary to what you see in many YouTube videos, Dawn and Erin's sessions do not incorporate the beer as a prop during the yoga sessions. Many of those videos are from other countries, such as Germany, Australia and Japan. Plus, they use glass beer bottles. As a yoga novice, I choose not to push the boundaries of my flexibility and balance while holding a glass bottle full of beer. That seems too advanced and potentially hazardous. I would be scared of dropping the bottle while in the triangle pose.
Dawn and Erin both practice Vinyasa style yoga. The best way I can describe Vinyasa is one breath, one movement. I found myself gravitating towards this style of yoga rather than the Bikram style. I experienced a flow from one pose to the next. Vinyasa is truly for all skill levels. I was also pleasantly surprised that I did not worry if I was as skilled as everyone else. However, I did catch myself thinking about the beer token in my possession, laying on the floor next to my mat.
(READ: 6 Craft Beer Bars That Changed Their City's Beer Scene)
My teacher, Emily Bond, had a calm, patient, but playful presence during the session. Her teaching incorporated beer humor and elementary teaching stories that made the whole class smile and laugh. She was even kind enough to gently correct one of my poses, so I did not struggle and fall over.
I suspect that if I had noticeably passed gas in class, I would be doing so among craft beer friends.
How to Plan for a Brewery Yoga Session
I found that combining beer and Vinyasa yoga made the whole experience more approachable. This form of yoga allowed me to relax and destress by unplugging from activities of daily living. It goes to show that craft beer can pair with anything. I have already registered for my next Just Add Yoga session at Dirty Bucket Brewing.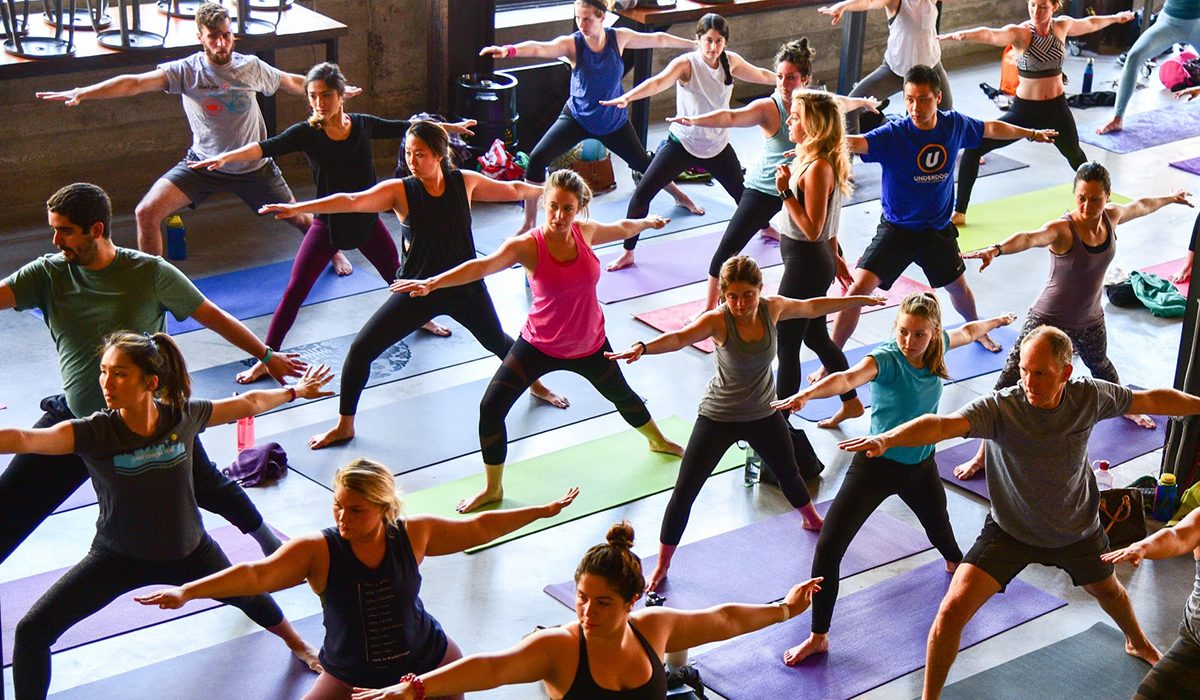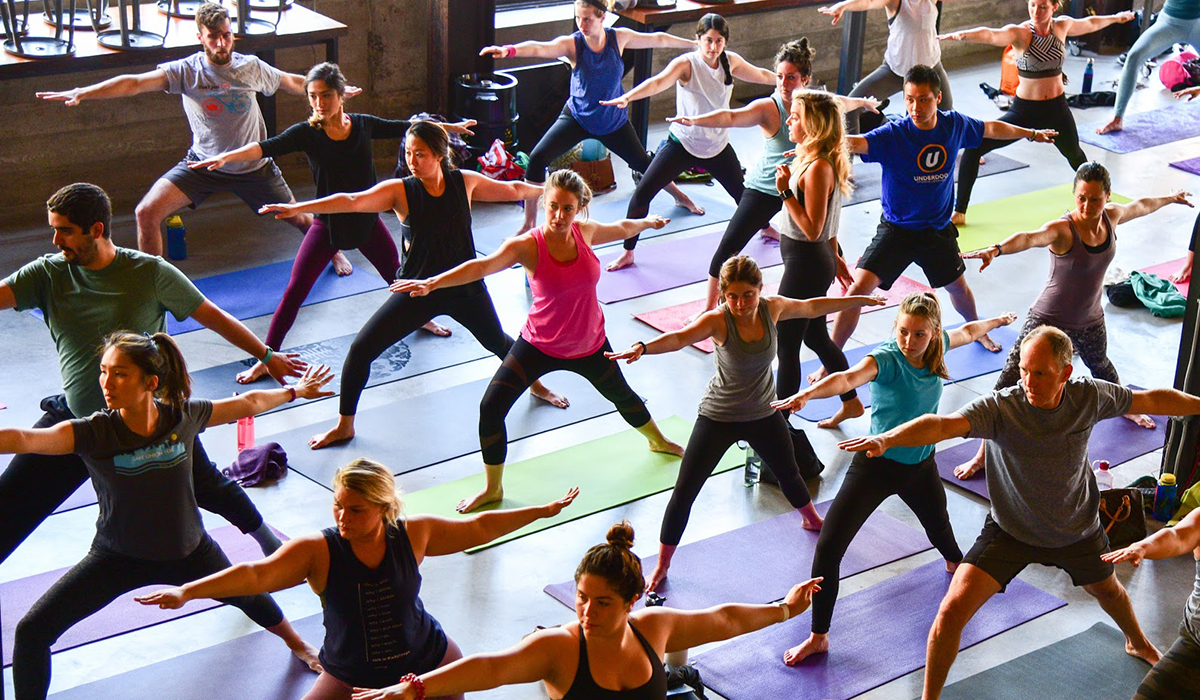 If you love craft beer and socializing, but do not like the rigid yoga studio atmosphere, try beer yoga. If you decide to be adventurous, you do not have to do as much research as I did. Here's my advice.
What to Expect When You are Expecting Beer Yoga
Beer comes second in beer yoga
Laid-back atmosphere
Participants of all levels of experience
A fun and helpful teacher
Beer and socializing
What to Bring
Water bottle
Comfortable and stretchy clothing
Yoga mat (sometimes they are provided)
Extra money for additional pints of beer
Namaste and cheers!
CraftBeer.com is fully dedicated to small and independent U.S. breweries. We are published by the Brewers Association, the not-for-profit trade group dedicated to promoting and protecting America's small and independent craft brewers. Stories and opinions shared on CraftBeer.com do not imply endorsement by or positions taken by the Brewers Association or its members.