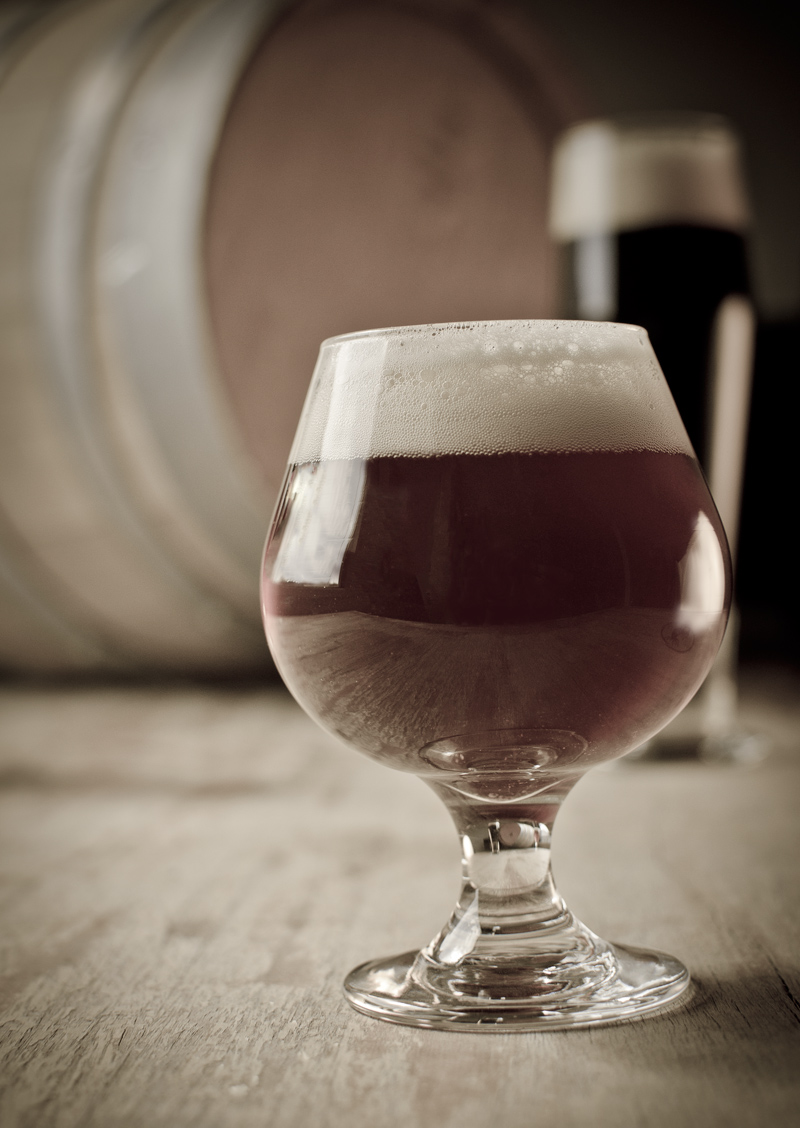 Cellaring Beer: Grand Teton Cellar Reserve Series
Do you ever worry that cellaring beer at home means that it isn't being stored or served in a way that will best highlight the character of the beer? The opportunities to experience craft beer are as numerous as the choices, but how do we ensure we're getting the most out of the beer sitting in front us?
How To Get the Most from Your Craft Beer
Strive to purchase the freshest beer possible from retailers.
Avoid introduction of beer to UV light to avoid reaction with isomerized hops (often the culprit for skunky beer).
Serve beer at a suitable temperature: excessively cold beer restricts flavor and aroma. Learn more in: "Frosted Glassware Is Not Cool: Temperature Tips for Craft Beer Retailers."
Pour beer into a glass that will best highlight the aroma and flavors. Learn about craft beer glassware in the Beerology section.
Should You Age Craft Beer?
While the majority of craft beer available today is meant to be consumed shortly after packaging, some beer styles are able to develop and improve over time if properly stored. These styles can be enjoyed years after being bottled, offering an entirely different beer experience than if it was consumed fresh.
Many craft breweries, like Grand Teton Brewing Co. in Victor, Idaho ask for their customers to help ensure that their beer is not being served past its prime. In their January 2013 newsletter, Grand Teton highlighted the importance of paying attention to the date code printed on each of their bottles.
"Each year, we receive consumer complaints about product quality. Almost exclusively, it's another case of out-dated beer (usually WAY out-of-date)," the newsletter reports. "Great efforts are taken to keep our products fresh in all our markets, but inevitably some old product slips through the cracks or is stored too long."
In addition to their Signature Beers, which they recommend should be consumed within four months of the printed date, Grand Teton's Cellar Reserve Series is meant to be aged, and will change and develop for months and years to come.
We asked Rob Mullin, Grand Teton's brewmaster and COO, just how long they suggest aging the beers in their Cellar Reserve Series, and he was gracious enough to respond in detail.
---

By: Rob Mullin, Grand Teton Brewing Co. | Victor, Idaho
We've been brewing our Cellar Reserve Series for ten years and have tried dozens of styles. We've had the best luck cellaring the beers you'd expect: big, strong, malty beers. All of our beers are bottle-conditioned, a necessity for long-term storage.
Our Sheepeater Scotch Ale is now three years old and still getting good reviews on RateBeer.com. It was brewed with a fair amount of peat-smoked malt, and we're happy with the way the phenolics have mellowed over time. Our 2-year-old Belgian-style quad, 2010 Coming Home, is better now than ever, and we like the way our 2011 Coming Home, a tripel, is aging, too.
Lagers can be cellared as well, particularly strong and dark ones. Our Double Vision Doppelbock was still good after two years in the cellar. I think our Persephone Imperial Pils peaked at about one year.
At the other end of the spectrum, we've tried to cellar a double IPA and were not too impressed. Now we recommend our Lost Continent DIPA and Pursuit of Hoppiness Imperial Red be consumed within four months of packaging, just like our Signature Beers. Darker, hoppy beers like our Trout Hop Black IPA and our XX Bitch Creek Double ESB seem to fare better.
Cellar Reserve Series
Two years ago we made the decision to only include those beers we were confident would age well for a year or longer in our Cellar Reserve Series. So hops are not playing much of a role anymore. Our major challenge with this renewed focus on cellarability has been finding styles to release in the summer. We're trying to find crisp, refreshing styles that are drinkable right off the bat, but that will store well too.
Last year's Summer Cellar Reserve, an imperial Berliner weisse called Snarling Badger, was just about perfect that way. It was wonderful on a hot summer's day, and has become even more tart and refreshing with time. I bought two cases for myself, and plan to open one a month for two years. So far I haven't been disappointed. It's changing slowly, which makes me think it will continue to improve for a very long time—perhaps longer than two years.
Two summers ago we brewed The Grand Saison, a Belgian-style farmhouse ale. It's drinking really well now—drier and spicier than when fresh. We aged some for a year in French oak, and that (draft-only) version is even better.
As our Cellar Reserve program matures, wood-aging is one of the things I'm most interested in exploring. I think it offers a lot of cellaring potential, particularly for lighter styles and even for hoppier beers. I like the way the tannins from the wood dry out the beer as the hoppiness diminishes over time.
This year, we're brewing another sour style for the summer: Oud Bruin Belgian-style Brown Ale. It's been in the tanks for two months now and is already complex and highly drinkable. We're hoping it will continue to gain complexity and age as well as the Snarling Badger has.
In 2010, we switched our Cellar Reserve Series from one-liter flip-top bottles to crowned 750 ml bottles. We believe the standard beer crown is the best available closure for beer. It keeps the air out and the carbonation in better than any other seal. Unlike corks, which must stay wet to maintain their integrity, the crown allows for upright storage. I like that, because it allows any sediment to fall to the bottom of the bottle.
In general, I like to store beer as cold as possible without freezing. Brewers are lucky because we have giant walk-in refrigerators to use as cellars. Very few have that luxury at home, so cool cellars and crawl spaces are the next best thing. The colder the storage, the slower the maturing process. If you have a beer that's "rough around the edges," "hot" with alcohol, or, like our Sheepeater, phenolic with smoked malt, then slightly warmer temperatures might help to mellow the flavors a bit more quickly. Beers like our Oud Bruin and Snarling Badger, with wild yeast and bacteria in the bottle, are best kept around 50°F, if you're hoping for more tartness or complexity from the microorganisms.
CraftBeer.com is fully dedicated to small and independent U.S. breweries. We are published by the Brewers Association, the not-for-profit trade group dedicated to promoting and protecting America's small and independent craft brewers. Stories and opinions shared on CraftBeer.com do not imply endorsement by or positions taken by the Brewers Association or its members.