No fear: You're never too old to enjoy a good beer. Just ask the residents who live at one of the active retirement communities and senior centers that are adding craft beer to the list of activities.
As the nature of senior living varies, so do beer programs at these communities and retirement homes. From communities with an operating craft brewery or beer bars on-site to homebrewing programs, there are at least half a dozen places showing that interest in craft beer reaches America's more seasoned generations.
Craft Brewery Operates at Arizona Active Living Senior Community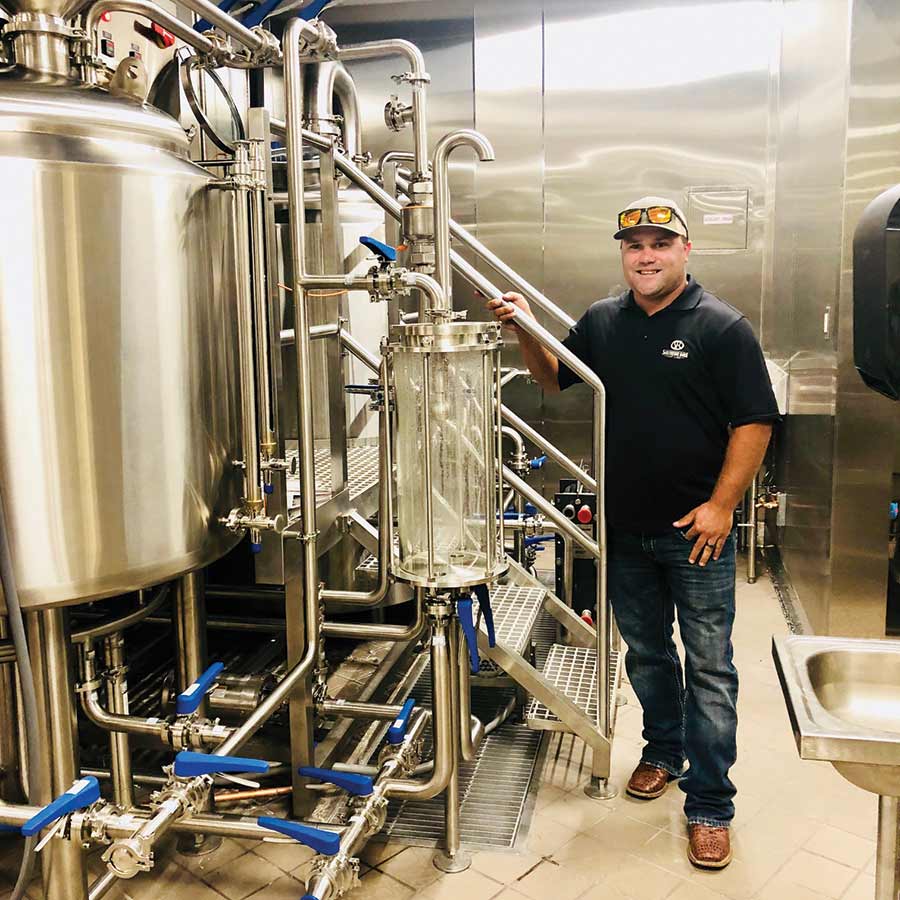 SaddleBrooke Ranch is an active living community for seniors in Oracle, Arizona, north of Tucson. On the property, you'll find the Ranch House Grill & Brewery, what may be the first and only licensed brewery/restaurant at a retirement community in the country.
The Ranch House Grill & Brewery opened in October 2018 to residents of the 55-and-up community and the public. It features 12 taps, with five with its own regular and rotating concoctions and the rest from other small Arizona brewers.
"It's been crazy, man," says brewery manager Joshua Johnson. Ranch House had to switch from five- to seven-barrel tanks to keep up with demand.
(More: The Precarious Future of Wild Hops of the American West)
Many residents came from the Pacific Northwest and like the beers they were first introduced to there.
"They like the older styles from when the [craft beer] movement first took off," Johnson says.
He adds that he's converted some wine drinkers into craft beer drinkers. Johnson says he can't say to what extent the brewery encourages people to move to SaddleBrooke, but it has attracted people to take a look.
Robson Resort Communities owns SaddleBrooke and five other 55-and-up communities. George Atwell, Robson vice president for food and beverage, came up with the idea. Some of the residents had previous homebrewing experience and were into craft beer, Atwell relates.
"We're starting some brewing classes, beer tasting venues. It's evolving as we go," he says. "It's evolving into a little bigger brewery than I thought."
The brewery also sends its product to Robson's four other Arizona communities (but can't to the one in Texas until it gets a distributor).
"Everybody that's heard of it says 'Why can't we get one in our community?' In Arizona, you have to brew 5,000 gallons to keep your license and that makes it tough to put one in every community," he explains.
Homebrewing at Senior Living Communities
Since running a public brewery constitutes a major task and requires a large audience, other senior living communities have found a more common way of involving seniors in the beer community: homebrewing.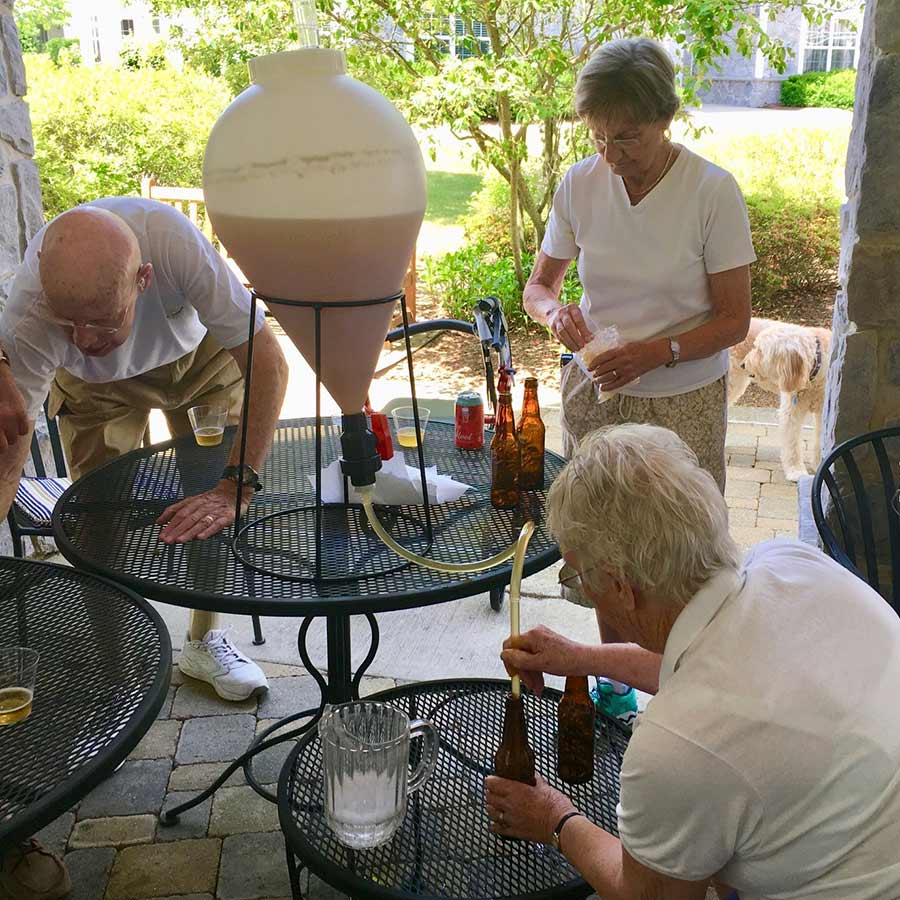 Michael Langlois, director of community life for StoneRidge, a resort-style senior living community in Mystic, Connecticut — and a dedicated homebrewer himself — thought of the idea.
(More: The Art of Smoke Beer and How to Enjoy It)
"It certainly gets people socializing," he explains. "There really is an intellectual component to it because you really have to calculate, pay attention to what you're doing and follow a plan. It is physical … It gives me a chance to talk about where beer comes from, what goes into making a good beer."
Langlois and his crew brew five gallons for the community at special events such as holiday parties. So far, they've made 14 different beers ranging from cream ales to an Irish-style red and a saison. While residents brew beer only a few times a year, "It enhances their interest in beers," he says. "They drink more craft at dinnertime," he says, and have been eager to tour local breweries.
Maine Senior Community's 'Brew Crew' Brews with Local Brewery
Brewing can even get senior community staffers and family members involved. Stroudwater Lodge, an independent and assisted living community near Portland, Maine, started its "brew crew" this year as residents teamed up with family members and staffers (who were also eager to learn) to create an American pale wheat.
"The idea started based on conversations with residents reminiscing about what they used to do with their kids. They brewed their own root beer. They made their own wine, some their own beer," recalls Director of Social Programs Rebecca Roy. "We said 'Let's do it!' We have a beautiful gourmet kitchen we can utilize … One member said he'd like a dark ale for fall. We really look to them to see what they want to do."
Assembly line fashion, they do everything from stirring to bottling to picking out a name and designing labels, Roy says.
"[The] older population is changing and they want to do more and have more expectations. Hobbies are changing and we're trying to keep up with that," Roy explains.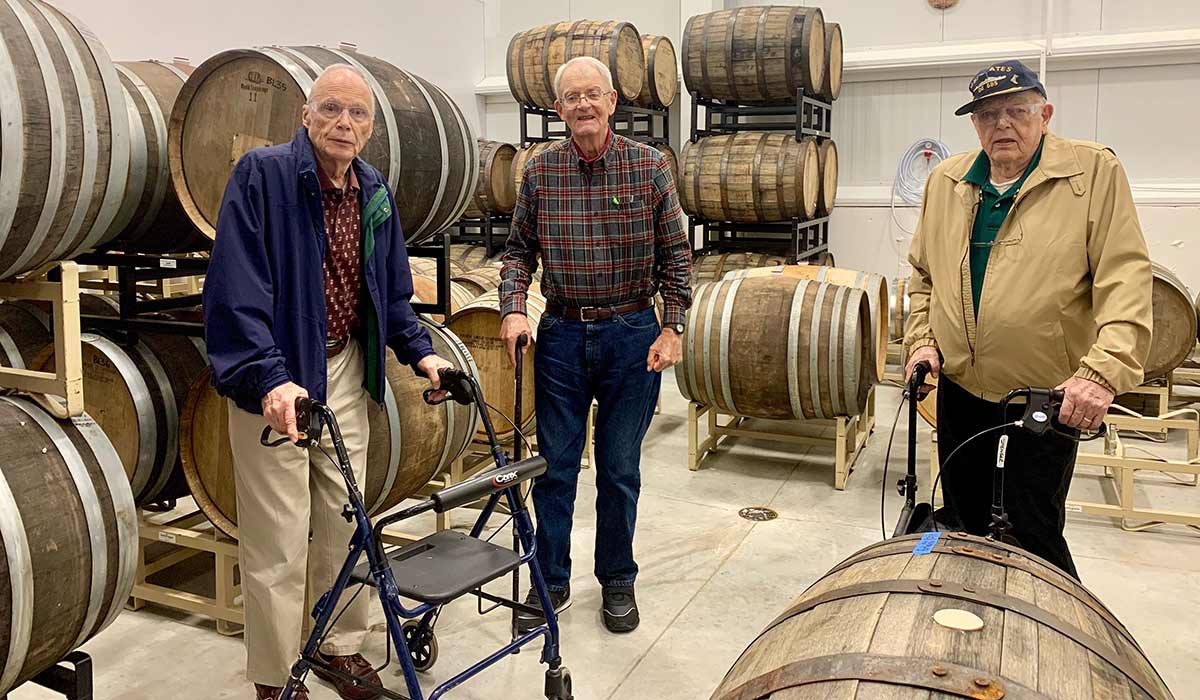 Stroudwater also works with local Sebago Brewing Co.
"They wanted to see if we could come down for happy hour and try their beer," recalls Tiff Gillespie, Sebago tour and tastings manager.
"We brought some of our brewers and tried their beer," Gillespie says. The Sebago staff enjoyed it, so she says the brewery folks thought "it would be fun for them to brew a beer on our pilot system."
The Stroudwater brew crew did a tour and lunch at Sebago in June. They'll brew on the pilot system later this summer. "We'll try to get together a few times a year," Gillespie says.
Homebrewing at Retirement Communities in the Pacific Northwest
You can find homebrewing at retirement homes in the Northwest too. Frontier Management, an operator of multiple senior living communities around the country, saw it work at one of its places and spread it to another.
One of the earliest efforts to do group homebrewing took place at Bay Pointe Assisted Living in Bremerton, Washington in 2012. Current Life Enrichment Director Shirley Rojo took over from her predecessor and had to learn from scratch. On brew days, five or six residents will show up to help. But many more of the residents (mainly in their 80s and 90s) will show up to taste the homebrew, she says.
(VISIT: Find a Brewery)
Aspen Ridge Retirement Community in Bend, Oregon, another Frontier property, has also been homebrewing since 2012, working with the Central Oregon Homebrewers Association.
"We brew our own beer about twice a month," Life Enrichment Coordinator Zachary Ellis says. Aspen Ridge's homebrews have won several awards in competitions at the Oregon State Fair and Deschutes County Fair.
"Every other Tuesday at 9:30 am, we go through the process of mashing. We take it outside, light it up with our propane heating unit. All the residents have different jobs during the fermentation process," Ellis explains. The crew usually includes six or seven residents. "We have plenty of residents who enjoy the beer – far more than seven," he notes.
Bend proves a good place to start a brew team as the town is filled with professional and homebrewers.
"The first step was inviting our community college. They came in and talked about the process, going from mash through boiling, fermentation … After that, we brought them back and brewed a batch," Ellis says.
He has also taken residents on tours of local breweries.
Beer Bar at The Villages in Florida
If a community is big and active enough, the outside world can bring in the beer. The Villages, a large active living 55-and-up community in central Florida, attracted a franchise to operate two World of Beer taverns that serve more than 500 different beers.
"We find the residents really enjoy craft beer," says Erin Hyder, who served as marketing manager for the pubs earlier this year. "A lot of it is nostalgic for them."
Residents want to drink beer from places they used to live in or have visited. Those who come from Rhode Island, for instance, order a lot of Narragansett beer, she says.
(More: CraftBeer.com's Great American Beer Bars)
Residents are not too old to convert, Hyder adds.
"We try to steer them to craft. If they come in and ask for a Bud Light, we say 'We have Narragansett on tap,'" she says. Many are open to trying a craft beer.
Beer and brewing programs for retirees appear to be catching on. Stroudwater and others are owned by management companies who are seeing the success of the efforts and considering expanding them. As a bonus, they certainly don't have to card most of their patrons.
A decades-old beer may go flat with age, but as these active living communities and senior centers illustrate, your appetite for a craft beer doesn't have to.
CraftBeer.com is fully dedicated to small and independent U.S. breweries. We are published by the Brewers Association, the not-for-profit trade group dedicated to promoting and protecting America's small and independent craft brewers. Stories and opinions shared on CraftBeer.com do not imply endorsement by or positions taken by the Brewers Association or its members.